Take a Free Pregnancy Class
What can I eat? Can I still exercise? Learn the do's and don'ts of pregnancy and what you can expect as your baby continues to grow.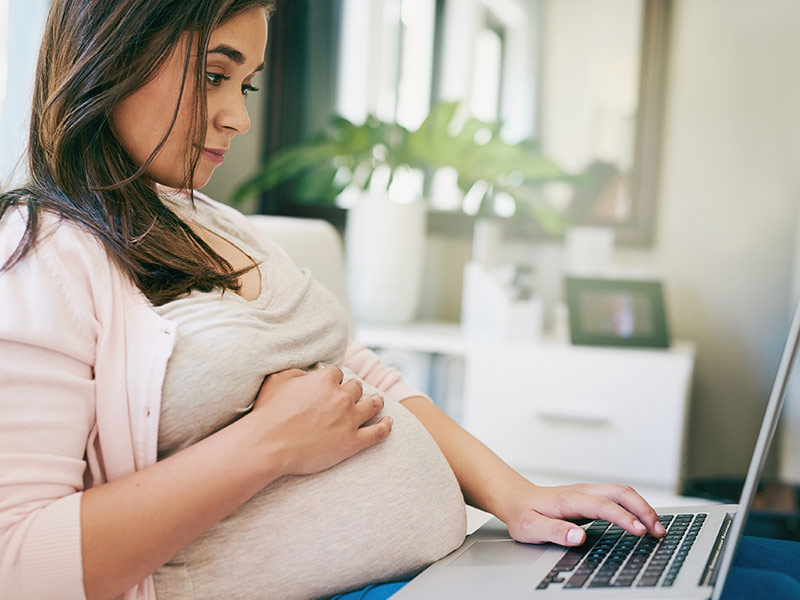 Your Pregnancy and Delivery during COVID-19 Precautions
What to expect when you arrive at the hospital for a maternity stay.
Your Labor and Birth
Note: See
restrictions on visitors
during coronavirus pandemic.
You may already know how you want your baby's birth to happen. We work with you to achieve the birth you want, while keeping you comfortable and secure. We support family involvement in your birth, as part of our family-centered care philosophy. We know that babies thrive when their family is engaged in the birth.
When your labor begins, follow your physician's or certified nurse midwife's instructions on when to go to the hospital. In an emergency, please go to the Labor and Delivery entrance.
The main hospital entrance is open daily from 5 a.m. to 10 p.m. If you arrive after the doors are locked, please ring the bell at the entrance and you will be let in. Take the elevator at the main entrance to Labor and Delivery on the second floor.

All patients who are over 20 weeks gestation, always go to the main entrance for access to Labor and Delivery.

Free valet parking is available at the main hospital entrance every Monday through Friday from 6:30 a.m. to 6 p.m.

If you do not wish to use valet, please park in the blue parking lot at the main hospital entrance.

Your Labor and Delivery Room

One of the biggest decisions you'll make is where to deliver your baby. You will want to select a hospital where you feel comfortable and can receive excellent care throughout each phase of delivery. At Texas Health Huguley, you will find a compassionate environment focused on family-centered maternity care philosophies, with the latest medical technology to provide only the best for you and your baby.

Our Women's Center boasts the newest and biggest rooms in the area. Each room has a couch that folds into a bed for an overnight guest.

Visitors During Labor and Birth

Take the time to determine who will provide your labor support and stay with you during your labor, delivery and recovery period. Three guests in addition to your support person/significant other are generally the number of individuals allowed to attend delivery. However, at any time the physician and/or nurse have the authorization and the discretion to ask any and/or everyone to leave. The amount of guest may also be determined by your nurse and your obstetrician based upon your labor progress, your comfort and your safety. All birth partners and visitors must be free of illness.

Pain Management and Labor Support

Women have different pain thresholds. If you find that you want additional pain management during your labor, the options available include:

Scheduled and Unscheduled Cesarean Births

Most pregnant women anticipate a vaginal delivery. Some patients know in advance that the delivery of their baby will be a scheduled cesarean section due to known issues of mom or baby. However, there are cases when a cesarean section delivery is necessary for the safety of the mother or baby. This is known as an unscheduled or unplanned cesarean section. The physicians on the medical staff at Texas Health Huguley Hospital perform unscheduled cesarean sections only because of unexpected problems that arise during labor.

For cesarean deliveries, scheduled or unscheduled, all visitors and family members must wait in the main waiting room during the surgery. Only one support person is allowed to attend the delivery in the operating room.

After the cesarean section, mom is transported in a bed to PACU to recover for two hours. During the first hour of recovery, only the support person who accompanied her to the operating room will be allowed in PACU at bedside; no swapping in and out of visitors and family members during this first hour of the recovery period. However, after the first hour of recovery, provided you and baby are stable, an additional visitor or family member is allowed by your request. Visitors, family members and support people at bedside should never exceed the maximum of two people. Please remember, at any time the nurse has the right and the discretion to ask any and/or everyone to leave based upon your diagnoses, comfort and safety.

Prepare the designated person or people, other than your husband or labor support person, who will care for your children while you are in labor. Also, please assign one person the task of giving out information about you and the baby's birth. Encourage your family and friends to wait for your designated person to call. Hospital staff will not provide any information about you or your birth.

Generally, patients stay in Labor and Delivery for about two hours after the baby is born. The first hour after birth is often called "The Golden Hour". The Golden Hour is devoted to just mom, baby and dad or significant other, getting to know each other. In regulation with the Ten Step Program, skin-to-skin contact is encouraged and initiated immediately after birth. Infants will remain skin-to-skin with mother until completion of the first feeding. We ask that the three guests in addition to your support person/significant other who attended the delivery do not swap in and out with other visitors and family members during this first hour of the recovery period.

Non-emergent, routine procedures, such as weight, vitamin K, eye ointment, baths or procedures requiring separation of the mother and baby will be delayed until after this initial period of skin-to-skin or completion of initial feeding and, when possible, performed at bedside. Routine procedures, such as, assessments and Apgar scoring will be completed while the baby is skin-to-skin with the mother. After the first hour, generally visitors plus siblings may visit mom and baby in Labor and Delivery.

Please bring only those comfort items needed while in labor to the labor/delivery/recovery room. Additional items may be brought into you once you arrive in your postpartum room.
Related Classes to Take During Pregnancy
Childbirth, Baby Care, Dad Basic Training — sign up for all the classes to prepare you for a new baby.
Pack Your Bags
Packing can be confusing when trying to determine what you will need for your baby's arrival.
During Your Hospital Stay
Mom's Recovery: What to Expect

How Long You Will You Stay

Typically, you will be discharged between 24 and 48 hours after a vaginal delivery. For a cesarean, you can be discharged between 48 and 72 hours after surgery. Please know there are exceptions for shorter and longer hospital stays, if desired or needed. Talk with your nurse about when you hope to be discharged.

Get Up and Walk

Within six hours of your birth, your nurse will help you get out of bed to walk around. Walking will improve your circulation and prevent blood clots.

Pain Management During Your Stay

We encourage you to be proactive about your pain management while you are at Texas Health Dallas. If you experience discomfort, please tell your nurse as soon as possible. Your nurse will discuss options for safely reducing your pain.

Your Nurse Will Visit Hourly

Your nurse will check on you about every hour. If you would like less frequent visitations, just let the nurse know.

Baby's Hospital Stay: What to Expect

Texas Health Huguley works to minimize separation of moms and babies and encourages moms to keep their babies in their hospital rooms (including nighttime), a practice called rooming-in. Even your baby's evaluations and examinations may take place in your room, giving you an opportunity to learn your baby's cues with personnel nearby to answer questions and provide education. With support and guidance from nursing staff, parents gain the skills needed to confidently care for their babies, in the comfort of their hospital rooms.

While rooming-in, please record each diaper change and breast/bottle feedings on the Rooming-In Worksheet provided.

Feel free to walk the Postpartum and Labor Unit with your infant. Always transport your infant in a crib, never in your arms or the arms of your husband, partner or support person.

Never leave your infant alone in your room. A person with the ID band must be with the infant at all times.

Labor and Delivery and postpartum are continuously locked. Regular visiting hours are from 9 a.m. to 9 p.m., with respect to "Snuggle Time" on postpartum. "Snuggle Time" is observed between the hours of 1 p.m. to 3 p.m. These two hours are set aside for you, your baby and your husband or partner, or one adult family member or significant other to get to know each other. No additional visitors may visit during 1 p.m. to 3 p.m. The lights are dimmed, and the energy level is decreased. This is a great time to focus on breastfeeding your baby, skin to skin, napping or just being together.

During regular visiting hours, anyone you chose may come to visit you. Sibling visitation is encouraged. We ask that all children always be accompanied by a responsible adult and never left unattended. Children under the age of 12 are not permitted to stay overnight in the hospital. To ensure patient confidentiality and safety, we ask that your visitors and family not congregate in the hallways or around the nurses' station.

All visitors should be free from any illnesses or infections with no recent exposure to communicable disease.

For patient and staff security, access to the hospital is restricted to the Emergency Department entrance during the hours of 10 p.m. to 5 a.m. Only the father, partner or one support person is welcome to stay overnight.

Moms staying in the Maternal-Newborn area will receive meals three times a day.

The Texas Health Huguley Cafeteria is available for guests. Cafeteria service includes a grill with made-to-order sandwiches, a salad and soup bar, hot food, drinks, desserts and other food selections. Hours may vary during observed holidays.

Take the visitor elevators to the ground floor level and follow the signage to the cafeteria.

Cafeteria Hours of Operation: Monday - Friday
Breakfast 7:30 a.m. - 9:15 a.m.
Grab and Go 9:15 a.m. - 11 a.m.
Lunch 11 a.m. - 1:45 p.m.
Dinner 5 p.m. - 6:30 p.m.



Cafeteria Hours of Operation: Saturday and Sunday
Lunch 11 a.m. - 1 p.m.

Bistro SeventySeven is located in the main hospital lobby. Service includes grab-and-go sandwiches, salads, parfaits and snacks. Fresh baked pastries are available daily. Fresh fruit smoothies are available made to order as well as Starbucks™ beverages.

Bistro SeventySeven: Hours of Operation Monday-Friday
7:00 a.m. - 7:00 p.m.

During your hospital stay, your nurse will be the primary contact for breastfeeding education. Lactation consultants are also available seven days a week to provide one-on-one assistance in the privacy of your room. If you'd like to speak to a lactation consultant, call 817-568-3255.

In preparation for the birth of your baby, Texas Health Huguley encourages you to explore and learn as much as you can about breastfeeding, and the benefits breastfeeding provides to babies and moms. Enroll in our Prenatal Breastfeeding course in your third trimester, any time after 26 weeks.

Texas Health Huguley has been awarded Texas Ten Step Program for Supporting Breastfeeding Mothers. The goal of the program is to have 82% of all infants exclusively breastfeeding at discharge. At Texas Health Huguley, we are committed to breastfeeding. Lactation consultants will visit with you and are readily available to answer any questions throughout your hospital stay. All the nursing staff of Texas Health Huguley Women's Center have breastfeeding training. You are never alone; we will stand by you and support you. Call 817-568-3255 to schedule your breastfeeding class.

Is Your Baby Eating Enough?

The stomach of a full-term baby is only the size of a cherry on day one and a walnut by day four. You will know that your baby is eating if you see signs of swallowing. The first milk you produce comes in small, concentrated amounts, called colostrum, which is the perfect combination of nutrients. Even though it seems small, it's all a baby needs.

How to Know When Your Baby Is Hungry

Babies let their mothers know when they are ready to eat. Watch for these signs of hunger:

Smacking or licking lips
Moving, squirming or stretching
Bringing hands to the face or sucking on fists
Opening and closing the mouth
Turning the head from side to side

Donor Milk

In our efforts to completely support mothers and their desire to exclusively breastfeed, Texas Health Huguley has donor milk available for breastfeed infants that are preterm and/or may have low blood sugars after birth.

Breast Pumps

Commercial health providers are now required by law to allow breast pumps as a covered expense for lactating women. Each health insurance carrier and plan provide breast pumps with some variation around co-pays and model availability. Prior to admission, it is your responsibility to verify eligibility and coverage with your insurance plan. If you are issued a breast pump during your stay at Texas Health Huguley Women's Center, make sure you take your whole pump kit home. The pump kit has parts that fit two other Medela pumps and a manual hand pump included. For any questions, ask the lactation consultants and specialists at Texas Health Huguley Women's Center.

If you do not already have a breast pump, one can be obtained at Texas Health Huguley through Breast Pump Depot and it will be filed on your insurance. The lactation consultants will be able to help you in this process.

Listed below are websites to use to order your breast pump using your insurance:

Moms Get More
Supply Hygeia Breast Pumps only and will provide replacement parts from 1-12 months depending on individual insurance company.
Award-Winning Maternity Care
Texas Health Huguley Hospital Fort Worth South has been named one of America's Best Hospitals for Patient Safety by the Women's Choice Award®, America's trusted referral source for the best in healthcare. The award signifies that Texas Health Huguley is in the top 15% of 3,005 U.S. hospitals for patient safety.

The Texas Ten Step (TTS) Program for Supporting Breastfeeding Mothers was developed by the Texas Department of State Health Services in collaboration with The Texas Hospital Association in 1999. It is designed to help hospitals and birthing centers support mothers in breastfeeding before, during and after delivery.

The goal of the program is to have 82% of all infants exclusively breastfeeding at discharge. The TTS designation is awarded to facilities that have addressed 85% of the WHO/UNICEF's Ten Steps to Successful Breastfeeding and also must be designated as Texas Mother-Friendly Worksites.

The Texas Medical Association endorses the TTS program as a method to improve maternity care practices surrounding breastfeeding and the program is a springboard to becoming a Baby Friendly facility. The Baby Friendly Hospital Initiative, (BFHI) is a global program sponsored by the World Health Organization (WHO) and the United Nations Children's Fund (UNICEF) to encourage and recognize hospitals and birthing centers that offer an optimal level of care for infant feeding.

The Women's Center at Texas Health Huguley was recognized by the National Safe Sleep Hospital Certification Program as a silver level leader for their commitment to best practices and education on infant safe sleep. Only a few hospitals in Texas are certified as safe sleep hospitals for newborns.

Women's Center staff are trained on the importance of safe sleep for newborns, and the staff models and educates new parents on safe sleep practices. For example, newborns use wearable blankets so there is no loose bedding in the crib.

The National Safe Sleep Hospital Certification Program was created by Cribs for Kids®, a Pittsburgh-based organization dedicated to preventing infant sleep-related deaths due to accidental suffocation. In addition to being Cribs for Kids® partners, Texas Health Huguley was recognized for following the safe sleep guidelines recommended by the American Academy of Pediatrics and providing training programs for parents and staff.