How to Talk to Your Family About COVID19

With most schools closed indefinitely and new government guidelines changing up our normal routines and limiting how we interact with each other, society as a whole is coming to terms with some unusual new realities. The same is true for kids.
If you are a parent or caregiver and feeling unsure about what to share, how much to say, and how to cope with COVID-19 when so much is uncertain, you're not alone. That's why we asked Sandy Potter, a licensed clinical social worker and Vice President and Chief Operations Officer of Behavioral Health at Texas Health Resources, to provide tips on how to navigate these unprecedented times with your young ones.
Helping Your Kids Understand What's Going On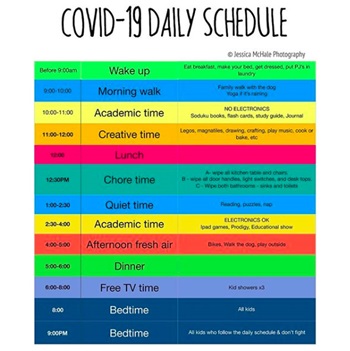 While current data suggests that children seem to be at a lower-risk for contracting COVID-19 or developing life-threatening symptoms, they're not immune from the anxiety and confusion that surrounds this novel virus.
"It's very important to include your children in your family's plan for managing this crisis," Potter says. "This will lead to a better understanding; it'll counter all the fears and anxieties of the unknown. We need to help children and adolescents have a sense of control during times like this."
This includes watching your words and tone and staying calm. Reassure your children and yourself that this is temporary and everyone is going to be alright.
Lead a Healthy Discussion
It's natural for children to be full of questions about what's going on around them, but during these uncertain times, their questions may leave you scrambling for age-appropriate answers. Potter says starting a healthy dialogue with them about what they know and fielding any questions they may have is a good place to start.
"We need to ask them what they've heard — that's a good way to start the conversation," she says. "Frequently having these conversations the way the news is changing every day, we should be asking our kids every day what they've heard, what they're worried about, and encourage them to share their concerns."
Be Honest
Children need simple, honest answers. Depending on the age of your child, you may describe the virus as a type of germ. Reiterate that these germs are very tiny, and when they get inside your body, they can make you sick. This is a good way to also include the importance of washing hands and covering coughs and sneezes, since that's how the pesky germs get into the body. This can also help you explain why their school is closed and why it's best to avoid large crowds right now.
A rule of thumb that Potter suggests is letting them lead the discussion. Too much information can create more anxiety, so only answer what they ask, and use kind language that doesn't place blame on races, animals or cultures.
If you're looking for specific words to use, BrainPOP has a great kid-friendly video discussing the topic.
Explain & Empower
Since children and young adults seem to be better off against coronavirus than older individuals, explaining the need for social distancing and enhanced cleanliness can quell fear and empower children to be superheroes for their more susceptible friends and family members.
"They have both been told that a lot of people are getting sick and even though it might not hurt us badly, we could accidentally share our germs with people that could be hurt badly so it's our job to stay to ourselves for a little while," says Candice, a Frisco mother of two young children.
Let them know that they can help keep their friends, neighbors and loved ones safe and healthy by frequently washing their hands with soap and water for at least 20 seconds. You can make a game out of it as well. Singing "Happy Birthday" twice in a row, "Twinkle, Twinkle Little Star," or "Baby Shark" (from the beginning to where the "Daddy Shark" lyrics start) will help them learn proper timing.
Coping with Isolation and Cancellations
For some families, helping kids understand the need for social distancing even from loved ones may be the most challenging aspect of all.
Candice says her family is currently practicing social distancing from high-risk family members who they usually see fairly often, and it's been hard on everyone.
"We learned the hard way that even if we talk about not hugging, [our kids] will instinctively do it anyway," she says. "The first day we were trying this, we had to go get something from my parent's home and one of my children wanted to come with us. They were told that if they came they had to stay far away from their grandparents, and they agreed. When we arrived, the very first thing they did was forget what we agreed to and ran to their loved one with a big hug. So now we know we can't even bring them along for the ride if one is necessary. This is probably the hardest part of this situation; my children are very close with their grandparents."
But Potter adds that social distancing does not have to mean social isolation. She suggests continuing phone calls with loved ones you can't see and making a FaceTime option available if you can. Your children may not be able to physically visit with high-risk loved ones right now, but they can still keep in touch virtually.
Accepting the Reality of Canceled Events
Adults are not the only ones missing meaningful events such as weddings, coming of age celebrations, or vacations. Many kids and teens are missing out on school dances, graduations, dance recitals, sports playoffs, and end-of-year field trips.
As upset as you are by missing life's big events, your children may be feeling the impact even more, and that's OK. Allow your kids to express the full range of their emotions, and receive those feelings with empathy.
For kids feeling the pinch of isolation or upset about important events getting canceled, get on their level and say something along the lines of, "I know it's frustrating to not compete in [extracurricular event]. You had looked forward to that for months!" Then work through what they're feeling. You don't have to agree with a child's thoughts or feelings to acknowledge them without judgment or minimizing.
Adapting to the "New Normal"
It may be easier said than done, but sticking as closely to a normal routine as possible is good for everyone, including you.
In a now-viral post, Massachusetts mom Jessica McHale details a schedule she created to help her family feel a measure of comfort and normalcy.
While the post has been duplicated and recreated millions of times, Potter says the original post isn't far off from what you should be doing to help ease into being home more.
"Keep the family's schedule as consistent as possible, especially when it comes to bedtime, and any things you do to take care of yourself, like exercise," Potter explains. "If you can't leave the house, create your exercise routine as a family at home. It's important that we encourage kids to continue their normal routines. We don't want to break the routine."
Model the Behavior You Want to See
If you're concerned about how much screen time your child is getting lately or worried they won't be getting as much physical activity as they used to, demonstrate good habits for them.
"We don't have to stay up all night. We don't want to stop doing the healthy things that we do every day," Potter explains. "As parents, we need to model healthy behaviors and not be sitting there watching the news all day long ourselves. Create family time; be intentional about having a discussion every day. I think that's really critical for kids and everyone."
The days ahead will be different for us all, and difficult for some of us. But this doesn't have to be viewed as a bad time for your family. Instead, focus on the positive changes and try to see the silver lining of your new normal. Slow down, play games, read books, snuggle, cook together, teach valuable life skills — think of it as an opportunity to do all the things you always wish you had more time to do with your family.
You and your family will get through this; and at the end of this, your relationships may be stronger than ever before.