Are Plant-Based "Meats" Really Better for You?

If it seems like everywhere you turn, you're seeing options for plant-based items, you're not mistaken. Plant-based food sales jumped 27% in 2020, topping $7 billion in sales, according to the Plant Based Foods Association. In 2021, sales grew another 6.2%.
According to the association's data, 62% of all U.S. households purchased plant-based foods in 2021. The greatest sales came from milk alternatives, such as oat or almond milk, followed up by meat alternatives.
In the last three years, plant-based meat sales have grown 74%. Nearly 1 in every 5 U.S. households purchased plant-based meat in 2021, with 64% of those households opting to purchase it multiple times throughout the year.
Based on the association's data, plant-based burgers continue to lead the plant-based meat category as the top-selling product type. At the same time, the association adds that the industry is responding to a consumer desire for more variety within the plant-based meat category. In fact, plant-based chicken was a growth leader in 2021 as more products that match the taste, texture, and appearance of animal-based chicken hit retail shelves.
You know that eating a more plant-based diet is good for you. Just a few months ago we published a post detailing the findings from a study that showed a plant-based diet can actually add years to your life — no matter when you start it up. However, you may also know eating highly-processed foods is not ideal, either. This conundrum can put consumers in a bit of a pickle when they're deciding between a package of plant-based, yet highly processed ground "beef" or a standard package of lean ground beef, for instance.
"There can be some misconception that all plant-based products are inherently healthy or healthier than other alternatives, and that's not always the case," says Kaylee Jacks, a sports nutritionist at Texas Health Sports Medicine. "A real grilled chicken nugget is going to beat out a fried plant-based chicken nugget in overall health most of the time. This is because the saturated fat in fried food outweighs any cons of the alternative. On one hand, animal proteins do tend to be higher in saturated fat and cholesterol, but many plant-based meats lack protein, iron and vitamin B12, which are abundant in animal proteins."
Jacks notes that it may take comparing nutrition labels to help you make a decision, especially if you're choosing to eat more plant-based for health reasons. Her advice? The shorter the ingredient list, the better.
"Processed ingredients can lack nutrient value when compared to animal-based meats or even plant sources that are naturally high in protein, such as lentils, black beans, soy and tofu," Jacks adds. "Additionally, these products may contain less healthful additives such as sodium and salt."
A Side-by-Side Comparison
This is how popular plant-based proteins stack up compared to leaner animal proteins, such as chicken breast or ground turkey, and a standard 80/20 package of ground beef. All proteins are represented by standard 4oz servings.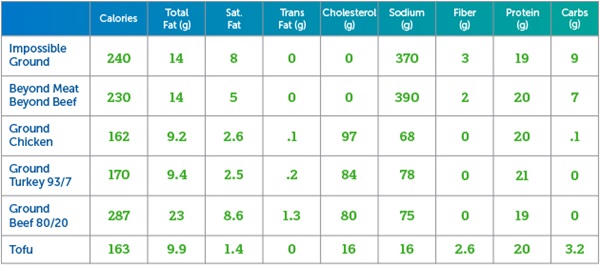 It's helpful to consider plant-based meat products on an individual basis. If your nutrition goals are to decrease fat and calories, or increase fiber, make choices amongst the products that can meet your needs. Also, be aware of potential additives such as salt, sugar and/or high saturated fat that can be in plant-based meat. And, remember, grilled or baked are the healthiest cooking methods compared to fried.
"Some plant-based proteins can have a saturated fat added, such as coconut oil, which the American Heart Association lists as a risk factor for heart disease in high levels," says Denice Taylor, a registered dietitian nutritionist on the staff at Texas Health Arlington. "If it's still important to you that you eat plant-based, ways to offset this higher level of fat can be to include toppings and condiments that are low fat, such as mustard and ketchup, and plenty of vegetables, such as tomatoes, greens, and onions."
The Takeaway
There are pros and cons to both lean animal proteins and plant-based proteins, so if you're still scratching your head in the grocery store on which to choose, Jacks has an answer for you: both.
"At the end of the day, if your inclusion of more plant-based proteins is motivated by health, I do not recommend entirely removing lean animal meats from your diet because they provide a lot of healthful value with the high-quality protein, iron, vitamin B12 (which is only naturally found in animal products), zinc and other nutrients," Jacks explains. "I think it is an overall win to incorporate the more healthful options from the animal protein category and the plant protein category."
Jacks says it starts with understanding your purpose and then understanding the products you're considering purchasing beyond the marketing or media hype behind them. Both Jacks and Taylor say it's important to have a balanced diet that includes fruits, vegetables, whole grains and low-fat dairy.
"Plant-based meats are purposely designed to imitate meat. Food scientists have been working for years to create products that consumers will find the flavor, texture, 'mouth feel' and ease of cooking these products as similar as possible to real meat," Taylor adds. "Consequently, there's going to be some processing that goes with that. Really look at those Nutrition Facts and weigh the pros and cons for you and your family, and no matter which protein you choose, remember to load up at least half your plate with veggies."