Soccer Goalie Scores Big with Texas Health

Ireland Jeffrey has had a passion for playing soccer since an early age. It was a part of her life all through high school and has carried over into college. She even made 2nd Team All District while playing in the Plano school district. But at the age of 15, Ireland's love of the game almost came to a halt.
While playing one night in the rain during her sophomore year, Ireland remembers her leg slipping out from under her and hitting her hip forcefully on the ground as she fell.
"It immediately felt like my leg was dislocating and going right back in every single time I'd kick the ball," she says. "It was pain that I just couldn't handle."
But somehow the dedicated goalie kept on playing through the pain for 11 months, thinking it was simply a deep bruise that would heal in time. Then the pain started to occur even when Ireland wasn't moving. Several doctors advised her to trial a course of physical therapy and stop playing. Nothing worked until a teammate introduced her to John Christoforetti, M.D., FAAOS, an orthopedic and sports medicine physician at Texas Health Orthopedic Specialists, a Texas Health Physicians Group practice with locations across DFW.
"Her hip, through a period of repetitive training and repetitive sports had shaped itself into an area that we call hip impingement form," Christoforetti explains. "That hip impingement form is when the ball and socket doesn't allow enough room for the soft tissues, called the hip labrum, to live very happily within the sport of soccer."
Due to all the kicks, falls and saves she was repeatedly doing, Ireland's labrum had finally given out causing a tear. A bone spur had also developed in the affected area. There was no way for her to rehab or train hard enough on her own to power through the injury. Her options were to stop playing the sport she craved or have surgery.
Fortunately for Ireland, Dr. Christoforetti specializes in arthroscopic techniques for hip impingement correction and hip labrum repairs. During the minimally invasive procedure, the orthopedic surgeon changed the shape of Ireland's ball and socket while also repairing the soft tissues that were damaged in her hip and shaving down the bone spur. "We were able to turn this into a sport renewing surgery rather than a sport ending surgery," Christoforetti admits.
Ireland's path to recovery continued after the procedure with physical therapy initially three times a week at Texas Health Sports Medicine in Frisco. Through a regimen of physical therapy focused on functional strength and endurance, she was able to make good progress. Unfortunately, the pandemic hit during her rehabilitation, so Ireland had to complete therapy at home with virtual guidance from the Texas Health staff.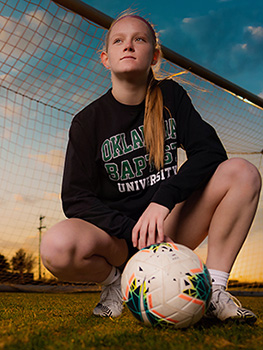 She started walking the track at school and then progressed to running. Ireland began soccer specific activities at 5 months following surgery and was back on the soccer field ready to play during her final year in high school. She had missed her entire junior year, along with many club games, but she wasn't complaining.
"Being back in physical therapy helped me regain all the muscle I had lost and work my way to being even stronger than I was before," she says.
Ireland is now able to play at the collegiate level as a sophomore at Oklahoma State University. As a freshman she started every conference game, which doesn't happen often for college freshmen, and has been awarded Goalkeeper of the Week twice in the conference. She credits Dr. Christoforetti and the Texas Health Sports Medicine staff with helping her reach her ultimate dream of playing at the collegiate level.
Texas Health physicians have game. To find the right one for your care, sports nutrition, physical therapy, concussion management or other concern, visit Texas Health Sports Medicine.