When Ralph Gourley returned home from a hunting trip last December, it felt as if someone had punched him in the chest. The feeling was sudden and quite foreign for the extremely fit, 52-year-old, avid cyclist. He had to be airlifted to Texas Health Presbyterian Hospital Dallas for emergency surgery. During his helicopter ride, Gourley, a pastor for more than 10 years, had an epiphany.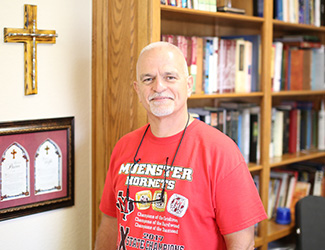 "I thought to myself, if I don't make it, I will be in heaven," he said. "But if I do survive, it will be my mission to continue praising God. I couldn't lose either way."
And because of thoracic endovascular aortic repair (TEVAR), a minimally-invasive procedure offered at Texas Health Dallas, Gourley is grateful to be alive.
Gourley had a large tear near his aorta, the main artery in the body that supplies oxygenated blood to the circulatory system.
For Gourley, finding himself in potentially explosive, life-threatening situations was a common occurrence during his military service. Thirty years ago, he was a member of a specially-trained, tactile bomb squad in the United States Air Force that defused grenades and other explosives.
He never suspected an aortic tear would be his closest brush with death years later. "I was fighting for my life, and the enemy was my own body," Gourley said.
"An aortic dissection can happen suddenly, and it can end fatally," said Dr. Brandon Hill, a cardiothoracic surgeon on the Texas Health Dallas medical staff. "In Gourley's case, we were able to make a small incision in his right leg using a catheter with a stent graft attached to it. With the aid of X-ray technology, we thread the stent graft near his torn artery wall. Once the stent is in place, we expand it, creating a new channel for proper blood flow."
The alternative treatments for aortic repair require surgeons to make a large incision near the breastbone or cut through the side of the chest. Repairing Gourley's torn artery helped protect him from another potential threat.
"Over a long period of time, aortic dissections can sometimes develop into aneurysms. It can be deadly if it ruptures," Hill said. To date, Hill, and other trained physicians on the medical staff, have performed close to 100 TEVAR procedures at Texas Health Dallas.
Originally created to repair aneurysms, TEVAR is also used to address other conditions where the blood vessels require emergency repair, such as aortic dissections; or in Gourley's case, aortic tears.
After spending three days in the hospital, Gourley continued his recovery process at home. A month after surgery, Gourley was running and cycling short distances. The avid cyclist has been riding for more than 20 years and hopes he eventually can get back to competing in long-distance races.
"I'm even training for a 100-mile race that takes place in August," Gourley said. "My experience taught me that you can't control when and how you leave this earth. Just live every day in the moment."
To learn more about treatment for aortic repair, visit Texas Health Dallas' Heart Valve Center.