A summer day in North Texas can leave anyone feeling a bit over-heated. But as Michael Exum prepared to mow his lawn one September afternoon, he knew the excessive sweating and lightheadedness he was experiencing weren't quite normal. His grass didn't get cut that day, but Michael did end up getting three stents placed in his arteries.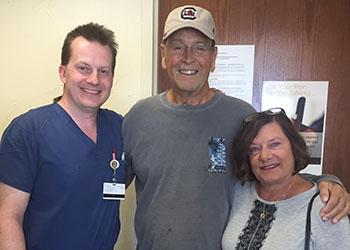 The 72-year-old husband and father of four had been a smoker for more than 50 years but had never had any heart issues. After the stents, Michael expected to be back on his feet but his cardiologist was still bothered by what he heard when listening to Michael's heart. There was a swishing noise that occurred with every heart beat.
Instead of discharging Michael from Texas Health Presbyterian Hospital Denton, his physician had him transported to Texas Health Dallas where cardiothoracic surgeon Mark Pool, M.D., of CVT Surgical Associates, was waiting for him.
"Upon review of an electrocardiogram of Michael's heart, it was evident that he had a ventricular septal defect ― a hole that was causing problems," said Dr. Pool. "The situation was rather grave. The heart muscle had deteriorated around the hole and Michael had about a 90 percent chance of not surviving long-term without open heart surgery."
"Dr. Pool was very comforting when he gave me the news," Michael recalled. "He exuded such confidence and optimism that everything would be okay. The way he spoke about the operation was like 'I've done this before,' yet he left the decision of what to do up to me. When the doctor tells you you can increase your chance of survival by 40 to 50 percent, you go for it."
Michael underwent a four-hour open heart procedure during which he was connected to a heart-lung machine to support his body while his heart was stopped. The hole was patched, and Michael is now on a better health course. He is completing outpatient cardiac rehabilitation with home therapy.
"The coordination of care through CVT Surgical has been amazing, and I've had great faith in Dr. Pool because of his spiritual manner. I am forever grateful for his compassion and care."
Providers employed by Texas Health Physicians Group practice independently and are not employees of Texas Health Resources or its hospitals.