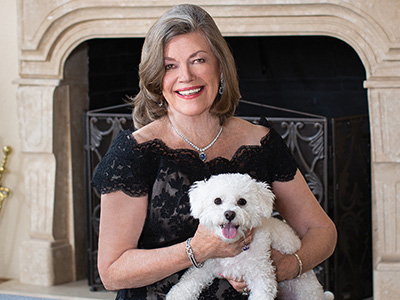 Louella "Lou" Baker Martin's connection to Texas Health Harris Methodist Hospital Fort Worth runs deep.
Martin was born at the hospital, as were her two daughters, now grown. But the connection doesn't stop there. Rather, it stretches back a century.
When Fort Worth, Tarrant County and the Methodists in the Central Texas Conference embarked in 1922 on a lofty endeavor to raise $1 million to build a modern hospital to better serve residents, Edward L. Baker Sr. and Maxine Baker, Martin's parents (pictured below), were among those who made a large contribution. Because of such generosity, Methodist Hospital, now known as Texas Health Harris Methodist Hospital Fort Worth, opened its doors in 1930.
And like her parents before her, Martin has continued her support of Texas Health Fort Worth. Most recently, the Louella Martin Charitable Fund at the North Texas Community Foundation made a generous donation to the Jane and John Justin Patient Surgical Tower, the largest construction project in the history of the Texas Health system.
"We've always based our philosophy on the fact that we've been so blessed, we'd been given so much, that we need to give back to the community," Martin explained. "That's the Methodist creed, really."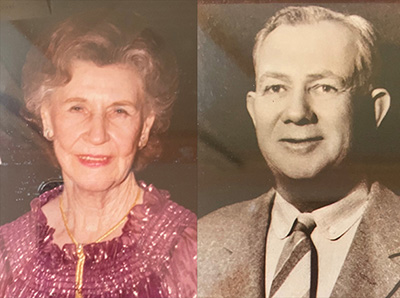 The Justin Tower, set to open in April, will add 144 beds, 15 surgical suites, and new pre- and post-operative services to address the healthcare needs of the more than 1 million residents in Tarrant County and beyond whom the hospital serves.
To show appreciation for Martin's generous support, the tower's lobby will be named The Baker Martin Lobby.
"From its beginnings to present day, Texas Health Fort Worth exists, grows and continues to evolve to meet the needs of those it serves, thanks to the support and commitment of community members like Lou Baker Martin and her family," said Joseph DeLeon, hospital president. "We are a better hospital because of their generosity."
For Martin, lifting up her community is a lesson that's been handed down through the generations.
Her great-grandmother and namesake, Louella Bales, used to deliver food and share the word of God to those in need in Fort Worth by horse and buggy.
Bales and Martin's grandfather, James Baker, helped build the First United Methodist Church of Fort Worth's original one-story chapel at the corner of Fourth and Jones streets in downtown Fort Worth. Later, James Baker served as the building committee chairman for the present church.
"The generosity of Lou Martin and her family extends far beyond Texas Health," said Laura McWhorter, president of the Texas Health Resources Foundation. "Their contributions through the years have helped shape Fort Worth into the community that it is today and will continue to improve the lives of its residents for generations to come."
Martin said supporting Texas Health Fort Worth is important because of the role the hospital has played in the community and to her own family. "It's just a wonderful hospital," she said.
Supporting the construction of the Justin Tower, she said, was also a way to honor the memories of Jane and John Justin Jr., longtime supporters of the First United Methodist Church, whose foundation provided the lead gift for the project.
"We Methodists stick together," Martin quipped.