New Women's Center Opens at Texas Health Denton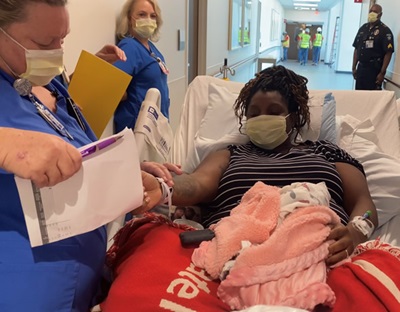 July 26 was moving day for several expecting women and mothers with newborns as Texas Health Presbyterian Hospital Denton officially opened The Center for Women, a $128 million expansion aimed at meeting growing healthcare needs in Denton and surrounding communities.
In all, 17 patients – 11 women and six babies – were wheeled in their hospital beds from the former women's center into the new four-story, 215,000-square-foot tower.
"Wow. It's beautiful," Justice Johnson exclaimed, taking video on her phone while a team of nurses moved her and her newborn daughter, Mayzee Naomi Jackson, into their new room. "You're the first person in this room, little girl."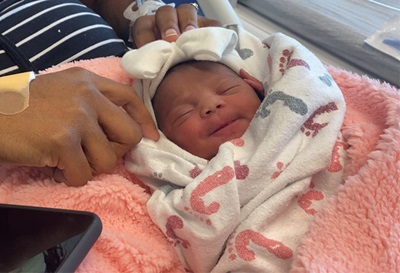 Jackson said she believes her daughter planned her early entrance into the world – born at 8:03 p.m. July 25 at 36 weeks – to make sure she got to enjoy the new center.
"I have three daughters. My water breaks, they're here within an hour. My water broke with Mayzee Saturday, and she wasn't born until last night," Johnson said. "It was like she was waiting for her appearance and now she's here and she's like, 'This is what I've been waiting for, Ma. I know what I deserve. I deserve new, fresh, shiny, sparkly.'"
Summer Hughes, director of Women and Infant Services at Texas Health Denton, said months of brainstorming and preparation went into planning a move day that was safe and comfortable for all patients.
"We are so excited that our patients and their families can now enjoy the beautiful facility we created with input from recent mothers and mothers-to-be," said Hughes, M.S.N., RNC-OB, C-EFM. "From the spacious rooms with panoramic views to the details like USB ports near the bedside, our patients will enjoy comfort and convenience throughout their stay."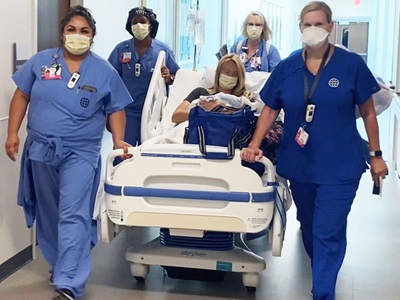 Jeff Reecer, president of Texas Health Denton, said that as the county's largest provider of obstetrical services and the city's only provider of obstetrical and neonatal intensive care services, Texas Health Denton looks forward to helping many other families grow for generations to come.
"Texas Health Denton has long been a trusted member of the Denton community," Reecer said. "With this expansion, residents can feel confident they'll continue to get the same great care they've come to expect in a modern facility that provides the latest in healthcare innovation, technology and comfort."
The Center for Women includes 12 labor and delivery rooms, 23 postpartum rooms and six antepartum beds. Additionally, there are two surgical suites dedicated to cesarean deliveries, which are also referred to as "C-section suites."
The hospital's Obstetrical Emergency Department (OBED), which treats women experiencing gynecological or obstetrical emergencies, is embedded in the Emergency Department.
The new building features a breast center, Rehabilitation Services and Cardiac Rehabilitation, as well as an education center. Ongoing enhancements to the Emergency Department will bring 10 additional ED beds – raising the total at Texas Health Denton to 40.
A new helipad allows for landing on the tower rooftop and immediate access to the Emergency Department.