When conservative care failed to resolve 28-year-old Marina Ozee's chronic lower back pain, orthopedic spine surgeon Dr. Carson Fairbanks recommended minimally invasive surgery.
Marina Ozee has been active her entire life. From competitive cheerleading in high school to yoga instruction and now golf, the 28-year-old believes in staying healthy through movement. When low back pain began to threaten her way of life, Marina turned to her stretching plus over-the-counter medications to get relief — to a point.
During the course of preparing for her wedding in 2021, Marina went all in with a personal trainer, lifting weights and running. As she got more active, she began to notice the pain in her lower back become increasingly unbearable. Shooting pain down her leg would keep her up at night.
"I would wake up several times throughout the night and even have to get up and walk around in order to lay back down and go to bed," Marina recalls.
The pain also affected her ability to work in outside sales. Marina was often in her car for long periods of time, which only aggravated the pain in her leg. She sought the help of a spine surgeon in Dallas, who identified the remnants of a stress fracture Marina had experienced while in high school that unfortunately didn't heal well. Although he found a possible cause for her pain, the physician didn't offer much of a solution.
That's when Marina turned to Carson Fairbanks, M.D., an orthopedic spine surgeon on the medical staff at Texas Health Clearfork and Texas Health Harris Methodist Hospital Southwest Fort Worth. Dr. Fairbanks did a thorough evaluation and ordered imaging tests of Marina's spine.
"We got an MRI of her lumbar spine, which did show a pretty large disc herniation that was putting pressure on the nerve going down to her left leg," Dr. Fairbanks says.
Doctor and patient agreed to try a conservative plan of action that included physical therapy, medication and steroid injections to reduce inflammation and manage the pain. Although the approach enabled Marina to get through her wedding and travel eight hours for her honeymoon, the side effects left the new bride feeling less than ideal and the pain returned several weeks later.
The conversation then turned to talk of a minimally invasive spine surgery known as microdiscectomy. Microdiscectomy is a type of spinal decompression surgery that allows the surgeon to use small tools and instruments to work precisely in the restricted space of the spine.
During the outpatient procedure, Dr. Fairbanks removed small fragments of the herniated disc in Marina's lower back to free the compressed nerve that was bringing pain to her leg. "By taking the pressure off of the nerve, you can alleviate the symptoms going down to the leg," he explains.
The hour-and-a-half procedure went well, and Marina was back at home the same afternoon. Dr. Fairbanks encouraged her to walk every day but refrain from bending, lifting or twisting for several weeks.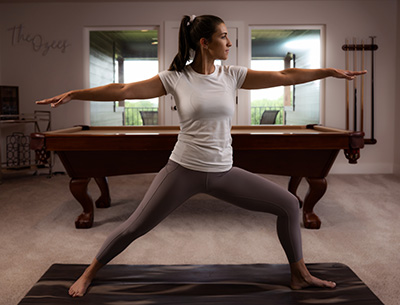 After six weeks of rest and rehabilitation, she was back to doing yoga, playing golf and living pain free. Marina had previously modified her yoga postures to accommodate her pain, now she can do all positions. She's back to sleeping without the need for pain medication, and she's driving with no discomfort.
"The most wonderful thing about it is that I don't have to think about my back pain or adjust any of my activities, like driving, working out, enjoying just my normal daily activities; I can sleep through the night without pain," she says.
"Dr. Fairbanks really treated me as a person and considered my lifestyle when we were looking at different treatment options… The future for me is really kind of unlimited."
Take the Back Health Assessment to measure your back pain or visit YourBackHealth.com for more information.
Ready to schedule an appointment? Find a back and spine specialist on the medical staff near you.
Doctors on the medical staffs practice independently and are not employees or agents of Texas Health hospitals or Texas Health Resources except for resident doctors in the hospital's graduate medical education program. © 2023 Texas Health Resources