Turkey Day the Texas Health-Y Way

While the spirit of Thanksgiving often brings families and friends together to share a meal, rejoice in gratitude and create memories, the day is also deeply steeped in tradition for many families. For some, participating in the Turkey Trot is one of those traditions. This year, in partnership with the Dallas and the Fort Worth YMCA, Texas Health wants to help make having a "healthier Thanksgiving" a new tradition for years to come.
Texas Health is thrilled to join as the presenting sponsor of the 2023 YMCA Turkey Trots in Dallas and Fort Worth. This exciting collaboration aims to promote health and wellness in the community, providing an opportunity for North Texans to have a fun and active start to the holiday season while supporting a beloved Thanksgiving tradition in the communities we live, work and serve.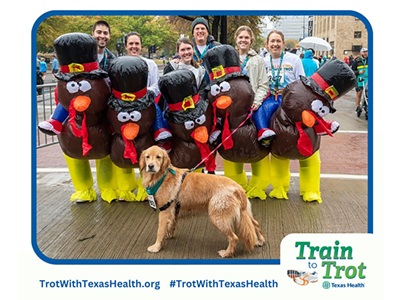 Turkey Trot proceeds support diverse programs of the Y that strengthen our community, including preschool and afterschool care, water safety and swim lessons, camps, youth sports, health programs, as well as providing scholarship opportunities for these programs and more. So, it's a tradition that you can feel extra good getting behind.
The Dallas Trot has two courses you can choose from — a 5K race/walk or an 8-mile race — both timed or untimed. The Fort Worth Trot also has two timed/untimed courses — a 5K or 8K race/walk — as well as a youth 1K course. This year, the Fort Worth Trot is also offering up the option for participants to take on both courses, equaling 13 kilometers!
That's a lot of ground to cover! At Texas Health, we understand participating in any kind of marathon can seem daunting, especially if you're new to running or even walking. That's why we also created a "Train to Trot" program to help you prepare. This self-paced, 10-step program was designed to make getting ready for the Trot simple and easy for participants of all fitness levels.
"We've created an engaging program that invites our community to do Thanksgiving Day the Texas Health-Yway," says Deena McAllister, Senior Vice President, Brand Experience at Texas Health. "We want to inspire families to make healthy choices — and training for the Trot is a fun way to do it."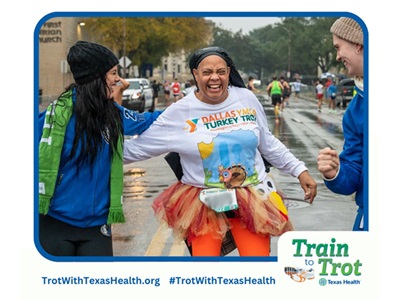 The Train to Trot program includes advice on everything from stretching, eating healthier, and rewarding yourself — to the importance of having the right shoes and much more. While the program was originally intended to be followed over the course of 10 weeks, don't sweat it if you jump in late; due to the self-paced nature of the program, it can be taken at whatever speed you find helpful. Just print out the run/walk tracker and get started!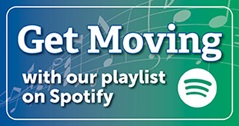 The program even includes a curated Spotify playlist for extra motivation and encouragement while you train. Feel free to keep the playlist with you during the race as well! Whether you choose to run, walk, or volunteer, the Turkey Trot is a fantastic way to give back to the community and kick off the holiday season on a healthy note.
Visit TrotWithTexasHealth.org to get registered and for more information on how to participate in Train to Trot. Don't forget your Run/Walk Tracker and link to our special Spotify playlist. Follow us on social media and share your Train to Trot experience along the way by using the hashtag #TrotWithTexasHealth and tagging @TexasHealth when you post!
We can't wait to see you there!