Urgent Care vs. ER: Know Where to Go

When you need care quickly, it's important to know your options, so you can make the best decision for you and your loved ones. That's why we're breaking down the different options for after-hours, at-home and emergency care to help you get on the road to recovery as quickly and efficiently as possible!
Urgent Care
Urgent Care centers are great for addressing medical issues that require care quickly but are not considered life-threatening. Urgent Care can also be helpful if you require care after typical office hours or if you have to wait longer than you would like to see your primary care physician.
Texas Health Breeze Urgent Care is open 8am to 8pm, 7 days a week, 365 days a year, including weekends and holidays, to make getting the care you need a breeze. And because your time is valuable, Breeze Urgent Care has gone to great lengths to ensure an efficient, comprehensive experience, with an average time of 30 minutes from when you arrive to when you leave.
Every Texas Health Breeze Urgent Care is family-friendly and able to provide care for a wide range of patients from 6 months to seniors. Additionally, every center is equipped with an on-site pharmacy kiosk stocked with many commonly prescribed medications, likely saving you an extra trip the pharmacy.
Some conditions that can be treated at Breeze Urgent Care include:
Allergies
Cold or Flu Symptoms
Earache
Fevers
Foreign Object in Eye or Nose
Headaches
Minor Allergic Reaction
Minor Burns or Bruises
Minor Fracture
Minor Lacerations & Abscesses
Rash or Poison Oak
Scrapes or Minor
Skin Complaints
Sore Throat
Sprains or Breaks
Urinary Tract infection (UTI)
Upper Respiratory Infection (URI)
As an added benefit, every Breeze Urgent Care offers transparent pricing that helps you know what you'll pay upfront — without any add-ons, hidden fees or surprises. In most cases, your cost will be the standard urgent care copay outlined by your insurance provider, often $50 or less. If you do not have insurance, we offer a flat-rate price of $185, which covers most everything.
It's important to keep in mind that Urgent Care facilities are not a substitute for regular medical care offered by a primary care provider but are a great resource for those occasional illnesses or injuries when you can't get in to see your provider quickly.
In-Home Care
Chances are you have been spending a good amount of time at home these days and may be longing for the 'good old days' when house calls were a thing. Thankfully, DispatchHealth, in collaboration with Texas Health, is bringing back the house call.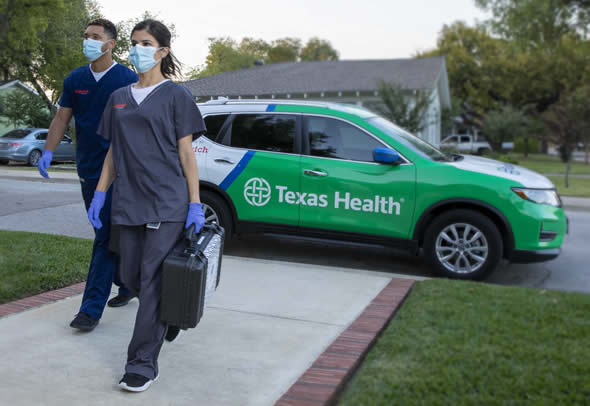 DispatchHealth delivers care for your urgent health needs directly to your front door, seven days a week, including holidays. From minor to serious injuries and illnesses, DispatchHealth brings a mobile medical team equipped with the technology and tools necessary to provide advanced medical care in the comfort of your home. Each team consists of a physician assistant or nurse practitioner and a medical technician. These clinicians are supported by a remote on-call emergency room physician. Prescriptions are called in to your pharmacy of choice and the team updates your primary care physician after the visit. DispatchHealth can also test for COVID-19 for the same cost as an urgent care visit.
Similar to Urgent Care facilities, in-home urgent care is not a replacement for a primary care physician and regular health screenings or appointments. But DispatchHealth can act as the "eyes and ears" on the ground for your physician when they are unable to see you, and you require immediate care.
Emergency Care
You might head to the Emergency Department because you feel that you will receive the quickest and most comprehensive care at the hospital. While that is true for many emergencies, if you're not experiencing a life-threatening medical emergency, such as a heart attack or serious head injury, your wait time can be much longer than you might expect as physicians and staff tend to more time-sensitive patients.
"When patients present to the Emergency Department, staff use a method called triage to determine who is most at risk for a life-threatening emergency and should be seen first," says Matthew Muller, M.D., an emergency medicine physician on the medical staff at Texas Health Dallas. "Thus, patients in the Emergency Department are evaluated in the order of severity of illness and risk, and not by the order of their arrival."
The triage process is a standard practice in hospitals across the world and is a rapid assessment based on vital signs, the type and severity of symptoms, and other risk factors such as age and associated medical conditions. While this can lead to longer wait times for patients with less emergent illnesses, it's essential for patient safety and the delivery of high-quality care.
In general, an emergency condition is one that can permanently impair or endanger your life. Dial 911 or head to the nearest Emergency Department immediately for any medical problem that appears life-threatening. Some examples of conditions that need emergency medical care include:
Difficulty breathing
Chest pain
Deformed fractures and fractures with open skin wounds
Fainting or severe dizziness
Sudden numbness or weakness
Bleeding that cannot be stopped
Abdominal pain that is intense and localized
Fever with convulsions or any fever in children under 3 months old
Confusion or rapid changes in alertness
Coughing or vomiting blood
Severe headache or head injury, especially if the individual is on aspirin or blood thinners
Black or bloody diarrhea
Sudden inability to speak, see, walk or move
You should also consider how fast your symptoms are worsening, and whether multiple symptoms are present, as multiple rapidly worsening symptoms are more concerning.
In the absence of the symptoms listed above, it is often safe to consider a visit to an urgent care center or at-home urgent care if you require treatment within 24 hours. But if you are unsure or concerned, it's always OK to head to the emergency room for evaluation.
So How Do I Choose?
Ask yourself these questions to help you figure out where to be appropriately treated?

It is up to you if you prefer to head to an Urgent Care facility such as Texas Health Breeze Urgent Care or be seen at home through providers such as DispatchHealth. If you are highly contagious or unable to leave your home, in-home care may be the best option.
When you or someone in your family needs care quickly, it can be hard to make a judgment call on where to be treated. Whether it's in an Emergency Department or Urgent Care, we've got you covered.