A Better Way for Women after Heart Surgery

Texas Health is proud to be the North Texas Go Red for Women Cause sponsor, joining the American Heart Association in the nationwide movement dedicated to raising awareness, improving health and ending heart disease as the No. 1 killer of women. Texas Health is committed to inspiring and empowering women to better achieve health and well-being through education, personal action and collective impact.
One in 3 women dies from heart disease each year in the United States. That's more than all cancers combined. With so many women falling victim to heart disease such as heart attack or stroke, it's no wonder the American Heart Association created a national movement to empower women to take charge of their heart health.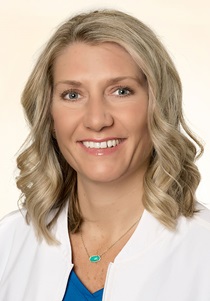 Yet even with good awareness campaigns and so much on the line, heart disease often goes unrecognized and unaddressed in women. "Women wait to get help and have more negative outcomes because of delayed treatment," explains Jennifer Dalton, RN, nurse manager of the cardiac telemetry unit at Texas Health Harris Methodist Hospital Fort Worth. "This is largely due to the fact that heart attack symptoms can present differently in women than men. Women often have pain in their jaw or neck, back and/or abdomen with no chest pressure. But much of the education on heart attack references chest pain, shortness of breath and sweating as key warning signs."
When a heart event is caught in time, recovery from surgery also tends to differ between women and men. Women's smaller body size and anatomy are thought to play a role in increasing cardiovascular risk by increasing the difficulty of the surgical procedure. Beyond the operating room, female patients also tend to experience shortness of breath at a greater rate post-surgery, have poorer heart function during their initial recovery and stay longer in intensive care.
Because of some of the striking differences that can exist for women who undergo heart surgery, Dalton set out to do something to help promote better recovery experiences for her female patients. What she especially noticed was that some of her female patients had more incision pain due to the nature of the surgery.
Open-heart surgery involves cutting the breastbone to access the heart. For women, this means moving the breasts down and to the sides, potentially increasing the risk for post-surgery discomfort and infection if the incision were to open. To reduce the risk of infection, patients usually are sent home with a tight elastic wrap around their chest that can cut into a woman's underarms.
"A lot of women aren't comfortable talking to their physicians about the extra pain they're experiencing from the binder because of their large breasts," Dalton says.
Something Better
Dalton put together a healthcare team to come up with a better solution than the elastic wrap. What they found was a post-surgical bra with supportive Velcro straps and a front zip closure.
While a variety of post-surgical bras are available through drugstores, the team found that not all are great options. Bras with hook-and-eye fasteners in front, for example, can be difficult to use. Some don't offer enough support. Others have led to shortness of breath because of the tight fit.
Now staff members at Texas Health Fort Worth send several of the zip bras home with female patients who need them. "They don't have to make an extra trip to a store and, compared to the tight binder, this kind of makes the woman feel more human."
"A patient's movements are severely restricted after heart surgery. They can't raise their arms or do anything else that could put stress on the breastbone incision for four to six weeks, and they can't drive for two to three months. This is a way to help them feel more comfortable and set them up for success during the critical recovery period," Dalton adds.
Once Dalton and members of her team settled on the right bra, the nurse manager worked with cardiothoracic surgeons on the hospital's medical staff, physical therapists and representatives from supply chain, finance and other areas to get the bra approved for distribution to the appropriate patients upon discharge. It's just one way Texas Health is always working to provide patient-centered care.
"As the first hospital in the country to earn the designation as a Joint Commission Primary Heart Attack Center, we strive to provide patients with the quality of heart care they would expect here — no matter their gender," Dalton says.
Find out about Texas Health's commitment to the Go Red for Women initiative, and learn more about women and heart health at TexasHealth.org/GoRed.