Pulmonary Rehabilitation: What It Is and Who It Benefits

If you, or a loved one, suffers from a chronic respiratory disease, such as chronic obstructive pulmonary disease (COPD), emphysema, chronic bronchitis, pulmonary fibrosis or asthma, there is hope for rebuilding strength and enjoying a more full and active life through pulmonary rehabilitation. These programs are designed to improve lung function, reduce symptom severity and improve quality of life.
We spoke to Esther Castilleja, a registered respiratory therapist at Texas Health HEB, to shed some light on what pulmonary rehab is, who it benefits and how to get started.
What exactly is pulmonary rehabilitation?
"Pulmonary rehabilitation is a program designed to meet the health care needs of people affected with chronic lung disease and their families, by providing individualized care through disease management education and a progressive exercise program for the participant," Castilleja says.
The education part of the program involves classes on proper use of medications, nutrition, coughing techniques, smoking cessation, disease management and energy conservation techniques.
During the exercise portion of the program, a registered respiratory therapist will monitor your heart rate, blood pressure, oxygen saturation and level of shortness of breath (or dyspnea). You may not think that you can exercise when just walking across the room makes you breathless, but there are standard exercises that have been found to work well for people with breathing problems. Your respiratory therapist can help guide you through these exercises. The type and amount of exercise you will do will depend on what you can do now, and as you get stronger, your exercises will increase.
Who typically administers pulmonary rehab?
Pulmonary rehab is typically administered by respiratory therapists, registered nurses and/or exercise physiologists, depending on the staffing availability of the specific program.
Castilleja adds that the goal is to have multidisciplinary involvement, such as utilizing dietitians, physical therapists and/or occupational therapists as well, to round out your program and meet your specific needs.
What can you expect from pulmonary rehabilitation?
During the first two weeks of the program, you will meet with their pulmonary rehabilitation team twice each week for two hours each. During those sessions, you will learn about the various pulmonary diseases and undergo initial exercise testing to find the best-personalized exercise program for you.
Thereafter, sessions range from one to two hours and are held three times per week. Participants should expect to attend organized exercise and education sessions from one to two hours, two to three days/week; the full length of program attendance is dependent on physician order and/or patient progress.
Do you need a referral, and is it available at certain locations?
The cost of pulmonary rehabilitation depends on your insurance coverage and the extent of your specific program. Medicare and most insurance companies will pay for components of pulmonary rehab; however, a referral from a physician is required, along with a qualifying diagnosis and lung function testing, the cost of which will also depend on your insurance.
"There is limited access to these programs in some areas of our country, especially rural areas," Castilleja says. "But at Texas Health, we have pulmonary rehab programs across the metroplex."
What are the health benefits associated with PR? What can patients expect?
"Some of the reported health benefits associated with pulmonary rehab from my patients are improved strength/endurance, improved ability in completing activities of daily living, confidence and ability in symptom management, and improved mental/social state, which results in decreased hospitalizations and/or length of stay," Castilleja says. "Participants gain an overall improved quality of life!"
One participant who knows all too well the impact pulmonary rehabilitation can have is Helmi Flick, a Bedford resident who enrolled in the program after learning she had emphysema, despite quitting smoking more than three decades ago.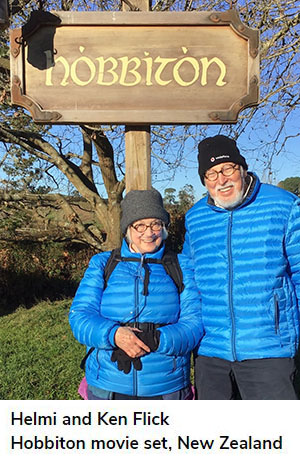 "I was devastated," she recalls. "I saw my future as someone plodding along, dragging a tank of oxygen on a little cart. But then my doctor told me there were things I could do to slow down the damage and I enrolled in pulmonary rehabilitation.
"I learned that with a regimen of exercise, the negative effects of emphysema can be slowed down and lung function can improve. I learned what foods are good for the body and what actions I needed to take when the weather was not conducive to easy breathing. But I also developed a camaraderie with my fellow attendees which made the time spent in rehab very enjoyable and fun."
It wasn't until a trip to New Zealand — and the 17-hour flight — that Flick realized the importance of the lessons she was learning in the program, plus the guidance she received from Castilleja, who recommended she bring a portable oxygen concentrator (POC) with her on the trip.
"Once we were back home from New Zealand, I was so convinced of the value of the exercise regimen and lifestyle lessons I learned from Esther during the Rehab program that I was determined to continue working out at the Texas Health Fitness facility on a regular basis, and I convinced my husband to sign up for a membership with me," she says. "The pulmonary rehab program did more for me than just education. It gave me peace of mind, reduced my anxiety and probably saved my life."
If you or a loved one has been diagnosed with a chronic lung condition, ask your health care provider if pulmonary rehabilitation would be a good fit for you. Or, if needed, find a pulmonologist today.