The Ups and Downs of Pulmonary Hypertension at Birth

Amniotic fluid is what surrounds an unborn baby as it grows inside the womb. It isn't something that most moms-to-be give much thought to during pregnancy, even though it plays an important role in fetal development.
In fact, amniotic fluid may be considered the workhorse of a healthy pregnancy. It acts as a shock absorber, insulator and infection control mechanism for baby. But sometimes too much of a good thing can cause problems. As it did for expectant mom Bethany Luna.
Bethany was diagnosed with a rare condition known as polyhydramnios in her second trimester. Polyhydramnios is the gradual buildup of amniotic fluid during pregnancy. The March of Dimes shares that too much amniotic fluid can cause premature birth, placental abruption, incorrect fetal positioning and other complications.
In Bethany's case, her baby was turned sideways rather than in the ideal head-down position for birth. So at 37 weeks and 1 day, Bethany found herself at Texas Health Dallas to have her baby repositioned and readied for delivery.
"Dr. [Ted] Fogwell said it was the easiest turn he had ever done because of my polyhydramnios," she says. "Baby stayed in position and I was started on Pitocin for labor. I also was weaned off my epidural so I could have a normal vaginal delivery. Once I was fully dilated, I pushed."
After just two pushes, Baby Cohen had arrived. It wasn't until then that Bethany and her husband Matt knew they were having a boy.
Cohen seemed healthy enough at 7 pounds and 14 ounces, so Bethany got to hold him before the family was moved to their postpartum room.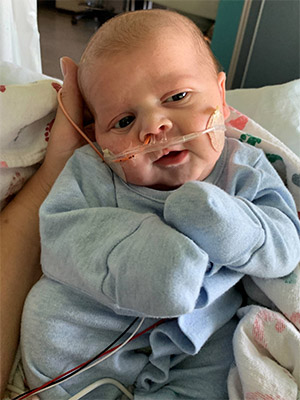 Bethany placed Cohen on her lap to rest, where he suddenly started retracting (breathing hard). She quickly called for a nurse, who took the newborn to the Level III Neonatal Intensive Care Unit (NICU) at Texas Health Dallas.
28 Days of Big and Little Care
In the NICU, Cohen was immediately put on CPAP equipment to help with his breathing and sedated. "They weren't quite sure what was wrong with him, but he wasn't holding his saturation levels," Bethany explains. "The staff also put him on antibiotics in case it was pneumonia. He remained this way until he was switched to pure oxygen through a nasal cannula several days later. Things escalated quickly the following morning. He went to a ventilator and then to a high-frequency ventilator with nitric oxide. There was discussion of him being moved to a children's hospital for ECMO [Extracorporeal Membrane Oxygenation for the treatment of severe acute respiratory failure]."
Just before the hospital transfer took place, Cohen started responding to the medicine and ventilator. He was eventually diagnosed with persistent pulmonary hypertension, a condition that affects the blood flow to an infant's lungs at delivery. When an infant is born, the blood pressure in the lungs should drop and circulation changes take place to allow for baby to breathe alone. With pulmonary hypertension, the transition process doesn't go as smoothly as it should, resulting in breathing difficulty and potential heart problems.
"He was the biggest baby in the NICU by almost double, but I was told he was the sickest," Bethany recalls. "But as his blood oxygen levels started improving, Cohen was slowly weaned off the medicine and then the ventilator."
After 19 days in the NICU, Baby Cohen was moved to the hospital's Special Care Nursery, still on a nasal cannula and feeding tube. On day two in the Special Care Nursery, he developed pulmonary interstitial emphysema (PIE) in his right lung. Newborn babies placed on ventilators can develop the condition when air gets trapped in the tissue outside the air sacs in the lungs. The Luna's found themselves back in the NICU when Cohen stopped holding his oxygen and an X-ray showed that his right lung was expanding over to his left side.
Cohen got the care and extra time he needed to heal in the 8 days he was back in the NICU. After spending 28 days at Texas Health Dallas, the Lunas finally were able to take their son home.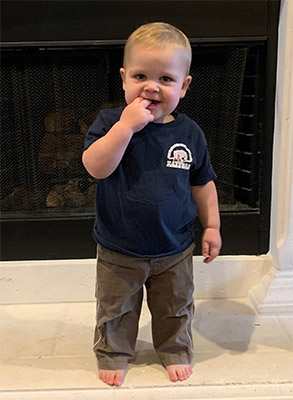 Looking back on her maternity experience, Bethany is thankful for the big things like an advanced NICU and staff, including nurses, therapists and physicians on the medical staff, that supported her family during their journey. But she says it was also the little things that made a difference.
"The nurses were all incredible. I may forget their names, but I will never forget their faces. Vickie, who was with me during the escalation day, was so reassuring. I asked her if Cohen was going to die, and she said he was very sick but that she was not worried. She promised to let me know if that changed. As ECMO was being discussed, she knelt down next to me and said she was now getting worried. Her honesty and getting to my level are things I will never forget, and I cannot express how grateful I was to her. She also was Cohen's cheerleader when he stopped escalating and came off everything a few days later."
"Things like being able to spend the night in the NICU to be near Cohen and having a chair to sit next to him as much as possible were very special. Conversations with the nurses about 'normal life' outside of having a sick baby, and sharing a laugh with Dede up front about my three other kids made it easier to manage my emotions," Bethany adds.
To learn more about NICU care at Texas Health, visit TexasHealth.org/NICU.