Advanced Orthopedic Treatment Delivers for 'Adrenalin Junkie'
When you live life at full speed, there's bound to be some pitfalls from time to time. Just ask Matt Jones.
The 45-year-old may best be described as an extreme athlete. Matt is all about being active and finding the next big adventure. He grew up snow skiing, wakeboarding and being outdoors as much as possible. Unfortunately, it was one of his biggest passions that nearly sidelined him several years ago.
Matt was wakeboarding at the time, doing flips and turns, as he had always done. But one particular landing didn't end well. He felt a pop in his knee and sudden pain and instability.
"Immediately, I knew that I had done something wrong," Matt admits. "Time continued and a year went by and it still restricted my way of living. I didn't have the capability to go up and down stairs without pain. I couldn't do the sports that I had always done."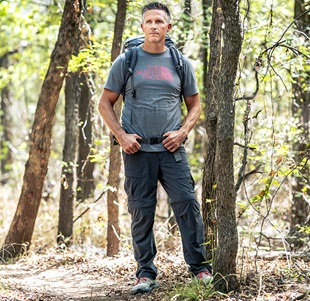 Matt sought the help of multiple doctors around the country. Some offered a wait-and-see approach to treatment, thinking the knee would ultimately heal on its own. Although there was no damage to the bone, Matt had torn a central portion of his patella (knee) tendon. The pain never went away because he developed chronic tendonitis.
Knee tendonitis, also known as jumper's knee, happens when the tendon that connects the kneecap to the shin gets injured. Tenderness, swelling and pain upon bending and straightening the knee are often experienced as a result.
Things changed for Matt when he found Paul Whatley, M.D., an orthopedic surgeon and sports medicine specialist at Orthopedic Surgery Specialists, a Texas Health Physicians Group practice in Denton. An MRI scan showed that, while the tendon in Matt's knee was diseased, it wasn't ruptured. "That's why he could still walk and run and do the physical activities that he liked to do," Whatley explains. "But it was enough damage that those activities would cause pain when that portion of the tendon was stressed."
To fix the problem, Whatley suggested an innovative multifaceted approach to treatment. First, surgery would be done to remove the unhealthy portions of the tendon and repair the healthy part followed by a nonsurgical procedure called platelet-rich plasma (PRP) therapy to promote healing. During the hour-long outpatient surgery, a minimal section of Matt's tendon was removed and the remaining tissues around his kneecap were sewn together.
As a form of regenerative medicine, PRP therapy uses the body's natural ability to heal itself. In this case, that ability was then harnessed to heal the remaining tissue in Matt's knee. To create PRP, a blood sample was taken from Matt and placed in a device (centrifuge) that rapidly spun the sample, separating out the components of the blood from the platelets and concentrating them within the plasma. The plasma portion of Matt's blood was then injected into the injured part of his knee.
"Platelets are rich in healing factors that stimulate blood flow, so the theory is that by injecting them back into the injured area we increase the capacity for the repair to heal," Whatley says.
For Matt, the process meant returning to a more active way of life. After six weeks in a brace and several months of physical therapy, he was back to hiking, working out in the gym, water skiing and even doing a little rock climbing.
"I had gone for four years without being able to do the stuff that I loved doing. I was able to get back to 100-percent activity over what I could do.
Without reservation, I would recommend Dr. Whatley and Orthopedic Surgery Specialists. They were exactly what I was looking for. I had tried multiple times to get a resolution to my problem and they were the ones that delivered," Matt says.
To find an orthopedic specialist at Texas Health, visit TexasHealth.org/FindaPhysician.
Providers employed by Texas Health Physicians Group are not employees or agents of Texas Health Resources hospitals. ©2023 Texas Health Resources.