Athlete Regains Her Freedom to Move

Maddie Goin has lived much of her life on a sports field. She started out playing softball at the age of five. Then came rec league, select league and high school sports. And, just recently, the 22-year-old finished her college softball career at Tarleton State University in Stephenville.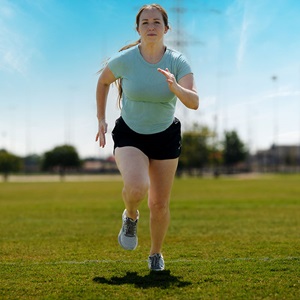 Maddie's ability to keep moving is what makes her thrive. But that freedom of movement was greatly jeopardized several years ago. During an intramural flag football game, she was running after the quarterback and planted her foot wrong. She felt a pop and her knee move.
"I immediately knew something was wrong; I fell to the ground and couldn't walk," Maddie remembers. "Initially, I sought treatment after my injury, and everything seemed to appear okay. Just some rest and I got a steroid injection. But two weeks later, I was still in a lot of pain, losing my balance and unable to do things."
On the recommendations of several of her friends, Maddie met with
Paul Whatley, M.D.
, an orthopedic surgery and sports medicine physician at
Orthopedic Surgery Specialists
, a Texas Health Physicians Group practice in Denton. An MRI scan showed a complete tear in Maddie's right
anterior cruciate ligament
, or ACL. The ACL acts as a stabilizer for the knee joint, allowing for twisting, turning and pivoting.
Treatment for a torn ACL largely depends on the needs of the individual. For younger, more active individuals — like Maddie, surgery is often the best option to allow for the safe return to sports and lots of movement. About half of ACL injuries also include damage to the meniscus, articular cartilage or other nearby ligaments, as Maddie knows all too well.
She tore her left ACL and medial collateral ligament (MCL) playing softball as a freshman in college. The injury sidelined her for a year. Now, she was looking at a similar process of surgery and rehabilitation for her right knee.
The Journey to Better Movement
Whatley suggested a three-step approach to treatment that started with several weeks of rest to encourage the swelling in Maddie's knee to go down. Once the inflammation subsided, Maddie was ready for reconstructive ACL surgery.
"This is a minimally invasive surgery we do with a camera through very small incisions," Whatley explains. "We have to drill tunnels where the native ACL would normally go in order to put a new ACL in. And that new ACL is tissue harvested from somewhere else in the knee."
In Maddie's case, Whatley used hamstring tendons as the substitute graft to minimize post-surgery stiffness and pain in her kneecap while promoting optimal healing.
The final step in the process was recovery. This included wearing a full brace on the leg and using crutches for several weeks. Maddie then did physical therapy two times a week for the first 6 weeks, followed by 6 more weeks at one time per week.
Determined to get back to 100 percent, she was diligent about adhering to the rest and rehab regimen prescribed for her and not rushing the process. As a result, Maddie was cleared for high-level activities seven months after her surgery.
"The issue with ACL recovery is that not only does it require a patient to put in the work to get it back to normal, it also requires biological healing and that's something that just takes time," Whatley says.
Maddie has regained full motion and stability in her right knee and is back to her vigorous workouts. "It feels great to do it again and I'm super excited to further my running and going on more hikes."
"I would definitely recommend Dr. Whatley and Orthopedic Surgery Specialists because he's really thorough with his appointments and his attention to detail. He is great with follow-ups. He would call me after surgery, asked how I was doing with PT and just would check in with me," Maddie says.
To find an orthopedic specialist at Texas Health, visit TexasHealth.org/FindaPhysician. To learn more about orthopedic services offered at Texas Health, visit TexasHealth.org/Orthopedics.
Providers employed by Texas Health Physicians Group are not employees or agents of Texas Health Resources hospitals. ©2023 Texas Health Resources.