It was April 15, 2013, and Ziggy Iglewski was on hand to support his son-in-law, who was one of the 26,000 participants in the 117th running of the Boston Marathon. The day would mark a turning point for the now 67-year-old father of two.
Like hundreds of thousands of other spectators, Ziggy watched in horror as several bombs exploded not far from the race's finish line. A fitness buff himself, Ziggy made a vow to his wife and family as the gravity of the situation set in.
"It was at that moment that a dream was born," he recalls. "I would do anything physically possible to return to this same site and join alongside other runners to prove to the world that we are collectively empowered and not afraid."
To qualify for the Boston Marathon is no small feat. To get there, Ziggy turned to the staff at Texas Health Fitness Center HEB, where he had been a member since 1992. The facility's nationally certified personal trainers, exercise physiologists and fitness specialists helped put a cross-training plan in place for Ziggy that included intensive workouts, a strict diet and an emphasis on the recovery necessary for someone in their 60s.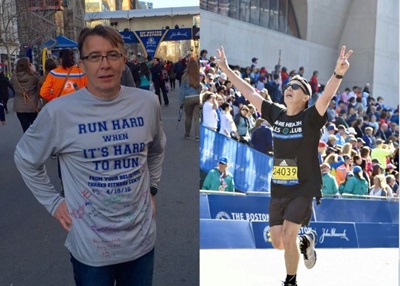 As a result, Ziggy managed to put forth his all-time-best performance in the 2014 Toronto Marathon in Canada. It was the start of a road to wellness that would lead to his qualification for the 2017 Boston Marathon, and then some.
"The feeling that overcame me when I realized I had qualified for Boston, and that all the hard work and sacrifices had paid off, is one I will never forget," Ziggy says. "The following year, I was ready to embark on one of the most memorable physical fitness events. Running for not only my ever-supportive family and those who helped me get to that point, but to be able to join those elite runners and show the world that 'We are Boston Strong!' was unforgettable."
After completing the Boston Marathon, Ziggy didn't return to Texas and call it a done deal. Instead, he revised his goal and again called on trainers Ryan Karnes, Angela Vizcaino, Sandy Angell and Karen Courtney at the Texas Health Fitness Center for professional support. Together, the group developed a more holistic fitness strategy to meet Ziggy's new goal: to run a total of six marathons on six continents.
"With Ziggy's aging body and several injuries incurred over the years that had to be taken into consideration, we knew a highly personalized fitness approach was in order to allow his body to move functionally for the marathon preparation he was about to endure," says Karnes, exercise service supervisor for the Fitness Center. "First and foremost, this involved understanding his limitations at that moment. Once we better understood the cause of some of his discomfort, we could implement functional movement in his training using the TACT program offered at Texas Health Fitness Center HEB.
We stretched his overly tight muscles and strengthened muscles that were lacking strength and endurance. Ziggy was then able to start performing in larger ranges of motion, making his body more efficient for his marathon training."
Ziggy has crossed four more finish lines in four continents—Israel, Poland, New Zealand and South Africa—and he is currently preparing for his sixth and final continental marathon in Buenos Aires, Argentina later this year. He greatly credits the Fitness Center team for his stamina and for giving him the opportunity day-in and day-out to put his fitness to practice and maintain a healthy regimen.
"My story is not about becoming a 'super-athlete', which I am far from," Ziggy admits. "My physical fitness training and sense of community at Texas Health Fitness Center HEB has simply allowed me to discover a better version of myself.
Staying healthy through physical fitness has been the best and most effective way for me to achieve and maintain a physically and mentally healthier lifestyle. Physical fitness has not only been a personal enjoyment of mine, but it has also been a tremendously beneficial approach to preventive health. Since I've increased my exercise regimen, I don't get sick nearly as often and my immune system seems to be more resilient than ever before."
Since he started his health journey at Texas Health Fitness Center HEB, Ziggy adds that one of the greater effects he has experienced is a true sense of happiness, purpose and personal connection with others. The staff members at the Fitness Center say they are just as grateful to be witnesses to his transformational journey.
"He is an inspiration to anyone wanting to accomplish more than simply joining a health club. It was an honor that Ziggy trusted the team from day one and has allowed trainers like Angela Vizcaino, Danielle Warne and myself to work together to implement a successful marathon training program for him," Karnes says.
To learn more or to join a Texas Health Fitness Center in your community, visit TexasHealth.org/Fitness.