Three Months of Care Ends Three Years of Ankle Pain

Keeping up with two young grandchildren is a big part of why being mobile is so important to Sara Wilson. It has meant being able to be there as her grandchildren learned to walk and now as they explore parks, playgrounds and other adventures.
Mobility also makes it possible for Sara to get around the University of North Texas campus, where she works. Parking and walking to and from her office and delivering and picking up things across campus require Sara to be on her feet, and on the move, a lot.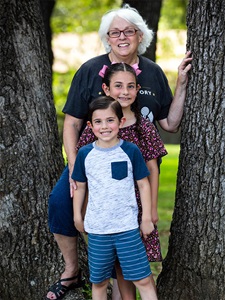 Her active lifestyle had never been an issue for Sara until she fractured her right fibula several years ago. The fibula is the smaller of two bones in the lower leg. It gives the calf structure and forms the top of the ankle, supporting lots of muscles, tendons, nerves and ligaments.
While rushing down the steps one day, Sara landed wrong on her ankle and felt a pop in her fibula. The fracture ultimately healed, but the 61-year-old was left with ankle pain that never went away. She lived with the pain for three years and sought the help of a number of doctors, without any real relief.
"It was quite excruciating; sometimes I would be almost in tears," Sara says. "I was thinking, okay, this I've got to do something about."
She then turned to
Stuart Michnick, M.D.
, an orthopedic surgeon at
Orthopedic Surgery Specialists
, a Texas Health Physicians Group practice in Denton, for answers. Michnick confirmed that Sara's bone had healed from her past injury but found that she had a very unstable ankle joint due to the ligament damage that had also occurred. The ligaments in her ankle had become weak and loose, leading to chronic ankle instability and ongoing pain. The next step was surgery.
Michnick performed a minimally open ligament stabilization procedure known as a Brostrom lateral ligament repair. Using a small scope inserted in Sara's ankle, Michnick was able to clean up the inflamed tissue that was causing her pain and was able to get a good look at the cartilage in the joint.
"I did not see any cartilage injury, but it was evident that her ankle was very unstable," Michnick explains. "At that point, we performed a procedure where we stabilized the ligaments by repairing them and then implanting a brace on top of the ligaments to help stabilize them."
"This is an outpatient procedure done a lot on athletes who experience ankle sprains; their ankle just gets looser and looser without intervention. They are often back to playing sports in three months," he adds.
In Sara's case, a splint was required for two weeks to protect the scope incision and promote healing. She then advanced to a walking boot for a month, followed by an ankle brace and physical therapy. Much like the athletes Michnick has similarly treated, Sara was back to walking pain-free just three months after surgery.
"My mobility was back. I was able to walk across campus. Getting in and out of the car is a breeze now… I have energy. I can walk briskly. I just feel a newness of being able to now be more active in my life and be more active with my grandkids. I just have a new hope for going on from here and what lies ahead," she says.
To find a foot and ankle specialist near you, visit TexasHealth.org.
Providers employed by Texas Health Physicians Group are not employees or agents of Texas Health Resources hospitals. ©2023 Texas Health Resources.