Writer Prepares to Share Her Miraculous Health Story on Paper

It was two o'clock in the morning on August 30, 2019, when Janie Sullivan woke with pain in her belly. She repeatedly dismissed the discomfort as gas. But when it wouldn't go away, Janie decided it was time to call for help.
Instead of dialing a family member, she reached out to 9-1-1. Not really sure why she made her first call to emergency services, Janie says she is now forever glad she did. The 69-year-old writer ended up in the Emergency Department at Texas Health Presbyterian Hospital Allen. Because she had undergone multiple surgical procedures and complex medical treatments in the past, the ER staff initially had some difficulty identifying the problem. They were also not able to get a pulse or blood pressure, even though Janie was alert and talking to them.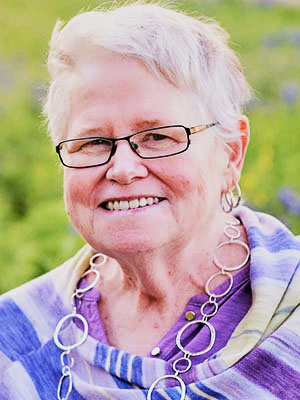 "My granddaughter, who is a nurse, had arrived at the hospital by this point," Janie recalls. "She was of course concerned about my situation and understood the team's frustration with not finding a pulse. It was very strange to be awake through this. I also remember the staff asking me if I had all of my parts. It seemed like an odd question at the time, but it actually makes sense when a diagnosis isn't clear."
Previous gallbladder surgery, radiation and chemotherapy for cancer, knee replacement surgery, a hysterectomy, insertion of a pacemaker for a heart blockage and surgical removal of her right kidney hadn't kept Janie down. Now, however, some pain in her belly was causing medical personnel (and Janie) to pause.
Janie would later learn she had a necrotic bowel. Once the diagnosis came, she was placed on sepsis protocol to reduce the risk of infection and Christopher Cottrell, M.D., of Advanced Surgical of North Texas and a member of the medical staff at Texas Health Allen, was called in to perform emergency surgery.
"Necrotic bowel is a condition characterized by the death of gastrointestinal tissue," Cottrell explains. "In Janie's case, a portion of her intestine had lost its blood supply because of a prior surgery and a resulting internal hernia. The sepsis it caused is life-ending without expedient surgery."
The surgery was complicated, requiring Cottrell to remove the most obvious site of necrosis in the bowel. To accomplish this, he had to define the anatomy and remove extensive scar tissue from Janie's prior surgeries. Once an internal road map was identified, the bowel could safely be removed. However, when the initial surgical site began to show additional signs of tissue death, Dr. Cottrell had to again remove bowel to prevent sepsis.
After two hours in surgery, Janie was transferred to the Post-Anesthesia Care Unit (PACU). Her ability to survive the ordeal had been and still was a long shot, but she arrived in the PACU in stable condition. Janie surprised everyone by being discharged from Texas Health Allen just one week later.
"I was told that Cottrell was called in because he knows about difficult cases—maybe miracle cases," Janie says. "When he first visited me after the surgery, he said: 'Wow, I didn't expect to see you; so glad you are still with us.'"
"I'm extremely grateful for Dr. Cottrell's expertise and the comfort he provided. He talked to me many times, and then my granddaughter and later my daughter (who had been out of town early on). He saved my life!"
"Cases like Janie's fortunately do not occur every day. I was grateful to be at Texas Health Allen where I had the utmost confidence in the facility, staff, support personnel and other consulting physicians. Saving someone's life is the most rewarding thing a physician can do. I am humbled by Janie's miraculous recovery from her ordeal, and I am happy to have served a role on a tremendous team that helped her that day," Cottrell adds.
So inspired by her experience in the ER and with Cottrell, Janie has begun the process of creating a book based on her miraculous recovery and the question presented to her by the ER staff: Do you have all your parts? "I don't necessarily want to be defined by my body parts, but what I no longer have, or what has been altered, did essentially help eliminate certain circumstances during my treatment. I'm glad I was around then to communicate my story, and I'm so glad I'm around now to write about it."
For more information about Texas Health Allen, visit us here.