May 20, 2019
Work-study project benefits teens and Texas Health recruitment efforts
ARLINGTON, Texas — Nallely Ruiz, 14, wants to be a neurosurgeon. Michelle Casas, 15, wants to be a pediatric oncologist. Both are dipping their toes into the world of health care at Texas Health Resources, through a work-study program that has resulted in a report that the system can use to recruit nurses.
Both attend Cristo Rey Fort Worth High School and are part of the Fort Worth Corporate Work Study Program, a Catholic learning community that educates youth of limited economic means. Four students — Nallely, Michelle, Akolde Chol and Hisleny Brizuela — are paid to work as interns at Texas Health, and their paychecks fund their tuition at Cristo Rey.
Their work at Texas Health ends May 31.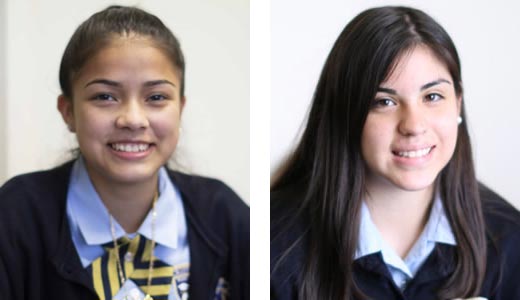 What they did
"I am just blown away by how mature, articulate and professional they are," said Kim Terhune, talent acquisition marketing manager. She put the students to work on a marketing study, looking at hospitals in so-called compact states — those that share nursing licensing with Texas — where it's easier to recruit nurses.
The result is a comprehensive report that will help Texas Health address the nursing shortage. Texas is expected to need 15,900 more nurses by 2030, according to the U.S. Bureau of Health Workforce.
The students took a deep dive into each compact state's hospitals, looking at location, number of employees, mission, social media, common employer brand, cost of living and competitive state information.
For example, in New Mexico they found 42 hospital locations with a total of more than 13,000 employees in 29 cities. They also included factors like climate and major attractions in each state, such as the balloon festival in New Mexico. They started their research 10 months ago, and recently wrapped it up.
"We will utilize the competitive analysis to craft an employer brand marketing strategy to create an awareness campaign to the compact states about Texas Health Resources and Texas while eventually moving into an action campaign," Terhune said. "The primary focus will be on RNs."
Furthering their aspirations
Nallely, the youngest of eight children, said she wanted to attend Cristo Rey because of the potential for a college education afterward.
"My siblings all graduated from high school, but they never got to the college part," she said. "I thought I would have a greater chance of going to college if I went to this school."
Michelle said she had attended a private Catholic school in Mexico and she and her mother wanted her to continue in one after they came to the U.S. four years ago. She said she has always wanted to be a doctor and decided to focus on pediatric oncology after a young relative suffered from cancer.
Both said they were excited when they were chosen to come to Texas Health for their internships.
"I already had my mind set on being a neurosurgeon," Nallely said. "Coming here gave me a greater chance of being able to do that."
About Texas Health Resources
Texas Health Resources is a faith-based, nonprofit health system that cares for more patients in North Texas than any other provider. With a service area that consists of 16 counties and more than 7 million people, the system is committed to providing quality, coordinated care through its Texas Health Physicians Group and 29 hospital locations under the banners of Texas Health Presbyterian, Texas Health Arlington Memorial, Texas Health Harris Methodist and Texas Health Huguley. Texas Health access points and services, ranging from acute-care hospitals and trauma centers to outpatient facilities and home health and preventive services, provide the full continuum of care for all stages of life. The system has more than 4,100 licensed hospital beds, 6,400 physicians with active staff privileges and more than 26,000 employees. For more information about Texas Health, call 1-877-THR-WELL, or visit www.TexasHealth.org.