April 16, 2019
Initiative targets seniors languishing in isolation and youth in life-altering situations
Texas Health Resources announced today that it will award $5.2 million in grants that will push beyond hospital walls and into the heart of North Texas communities, targeting seniors living in isolation — in some cases without access to healthy food — and youth in life-altering situations that leave them with persistent behavioral health issues.
The Texas Health initiative, called Texas Health Community Impact, pinpoints specific ZIP codes to address social determinants of health that often result in conditions such as chronic disease and premature death.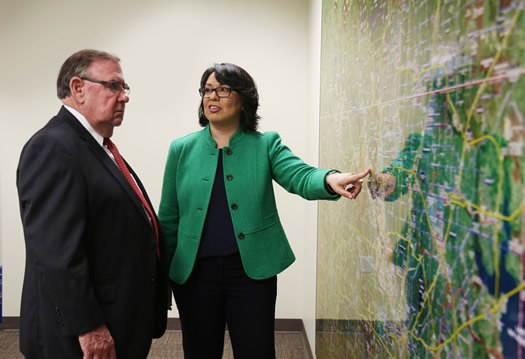 "This is our opportunity to play a role in upstream issues that impact health and well-being," said Catherine Oliveros, DrPH, Texas Health's vice president of Community Health Improvement. "Siloed efforts have limited success. If we are really going to transform health and health care, we must transform systems and communities."
The initiative calls on agencies from different sectors — education, health care, government, grassroots organizations and others — to unite against identified issues.
"Texas Health Community Impact is one of Texas Health's commitments to live our nonprofit, faith-based health system's mission: To improve the health of the people in the communities we serve," said the system's CEO, Barclay Berdan. "It's said that a person's ZIP code has a greater impact on their health than their genetic code. That's why we're reaching out into the communities we serve and hoping to make a real difference in the health and well-being of people in these areas of North Texas."
Texas Health Community Impact employs a data-driven, outcome-focused approach.
For example, in Johnson County the suicide rate among people 55 and older is at 20.1 per 100,000 people, higher than the statewide rate of 16 per 100,000. The grant in that county will help start programs that assess seniors' mental health, then provide counseling and enrichment activities to stop isolation and give them tools to fight depression.
"If we see the results we think we're going to see, this will make a big difference in the quality of life for communities," said Garry Hamilton, Texas Health Community Impact board chairman. "And we think this will be the tip of the iceberg. We're going to measure outcomes and see what works best for which communities and hope to see those initiatives grow."
The current grants to 12 agencies represent the work of numerous nonprofit organizations, along with Texas Health Community Impact's Leadership Councils supported by dedicated Texas Health Resources staff from across the system. The Leadership Councils are made up of community leaders in five geographic regions of North Texas comprising 401 ZIP codes.
Texas Health Community Impact Leadership Councils found that mental health needs came up again and again as they combed through the 2016-19 Texas Health Community Health Needs Assessments.
They layered in data from community readiness surveys and performed windshield assessments. During these visits, Texas Health learned more about the areas where seniors and youth lacked access to food and were isolated, which led to depression and physical problems. Living in food deserts (areas that lack healthy food options) can result in chronic ailments, such as diabetes and heart disease, that damage the well-being of individuals and entire neighborhoods.
Oliveros said the grants are considered seed money with plans in the works for further financial support to be gathered in communities to meet long-term goals.
The grants are just part of Texas Health's contribution to the communities it serves. In 2017, the system provided about $362.5 million in charity care for people who can't afford to pay; another $457.7 million for unreimbursed Medicare; and $31 million in community benefit, for programs provided in response to identified community needs and in volunteer hours.
Here's how the grants currently awarded break down. Another $840,000 will be awarded this summer, targeting Denton and Wise counties and the Dallas/Rockwall areas.
Collin County Region
LifePath System — Beyond Blue, a collaboration between multiple agencies to improve services to those at risk of depression, or who have been diagnosed with it in 75069 (McKinney), $450,000.
Plano Education Foundation — PlanoUp!, a collaboration to centralize services to address depression and social determinants of health on school campuses in 75074 (East Plano), $450,000.
Dallas/Rockwall Region
Well Together: A Dallas/Rockwall Behavioral Health Initiative, has been designed to mitigate depression in individuals in ZIP codes 75212, 75217 and 75032 through a continuum of care approach targeting underserved communities. The initiative seeks to maximize the impact of programs addressing behavioral health by using education to reduce stigma, developing a referral pathway to supportive services, and removing barriers to access to counseling and therapy for those who need it most, $1,116,665.
Denton/Wise region
Sanger Independent School District — Together Harnessing our Resources to give Individuals Voice and Empowerment (THRIVE) will lead to a collaboration to address identified needs – resiliency in youth 12-18, food insecurity and lack of transportation – in the 76266 ZIP code (Sanger) – bringing assistance directly to students at schools, $300,000
Southern Region (Ellis, Erath, Hood, Johnson, and Kaufman counties)
Senior Connect — Connections Project, to address depression and social isolation and increase access to healthy food for low-income adults ages 55 and older in 75161 (Terrell) and 75143 (Kemp), $300,000.
Tarleton State University — Texans Reducing Food Insecurity and Depression, to address depression and social isolation and increase access to healthy food for low-income adults 55 and older, in 76401 and 76402 (both in Stephenville), $300,000.
United Way of Johnson County — Supporting Our Seniors (SOS), to address depression and social isolation and increase access to healthy food for low-income adults 55 and older in 76031 (East Cleburne) and 76059 (Keene), $300,000.
Tarrant/Parker Region
United Way of Tarrant County — the Community Health Opportunities Impact Collaborative for Equity in Tarrant and Parker Counties (CHOICE-TPC), to address depression/social isolation and the social determinants of health and to address the resulting health inequities in 76010 (East Arlington), 76082 (Springtown) and 76119 (Southeast Fort Worth), $1,150,000.
About Texas Health Resources
Texas Health Resources is a faith-based, nonprofit health system that cares for more patients in North Texas than any other provider. With a service area that consists of 16 counties and more than 7 million people, the system is committed to providing quality, coordinated care through its Texas Health Physicians Group and 29 hospital locations under the banners of Texas Health Presbyterian, Texas Health Arlington Memorial, Texas Health Harris Methodist and Texas Health Huguley. Texas Health access points and services, ranging from acute-care hospitals and trauma centers to outpatient facilities and home health and preventive services, provide the full continuum of care for all stages of life. The system has more than 4,100 licensed hospital beds, 6,400 physicians with active staff privileges and more than 26,000 employees. For more information about Texas Health, call 1-877-THR-WELL, or visit www.TexasHealth.org.