December 01, 2020
Joint venture of Texas Health and AdventHealth includes new community hospital and medical office building
MANSFIELD, Texas — The North Texas community of Mansfield now has a new, advanced health care campus, Texas Health Hospital Mansfield. The campus, which opened Dec. 1, offers comprehensive services, including emergency care, general surgery, women's care, orthopedics and interventional cardiology.
A small, socially distanced group of leaders and employees commemorated the hospital opening by cutting a ribbon that spanned the entire north-side entrance of the campus.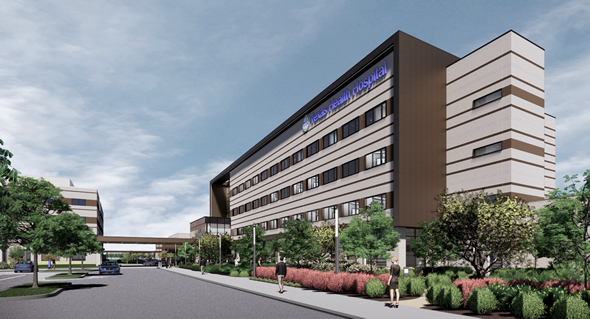 The four-story, nearly 200,000-square-foot hospital has an initial capacity of 59 beds, with opportunity for future growth to 95 beds.
The four-story, nearly 200,000-square-foot hospital has an initial capacity of 59 beds, with opportunity for future growth to 95 beds. At a cost of $150 million, the campus also includes an 80,000-square-foot medical office building that will offer primary care and specialty practices.
"We are so excited to open our doors and begin caring for the Mansfield community," said Kenneth Rose, CEO of Texas Health Hospital Mansfield. "We are blessed to have outstanding doctors, clinicians and team members who are eager to provide whole-person care to each person who trusts us for their needs. We look forward to working with residents and partners to help make this community healthier."
Texas Health Hospital Mansfield is a joint venture of Texas Health and AdventHealth. The two faith-based organizations have a long history of collaboration and also share Texas Health Huguley Hospital Fort Worth South, a 356-bed facility serving residents of Ellis, Johnson and Tarrant counties.
"While the pandemic has forced so many individuals and businesses to have to put plans on hold, we know that the health care needs of those we serve can't wait," said Barclay E. Berdan, FACHE, CEO of Texas Health Resources. "But thanks to the implementation of COVID-19 safety precautions, we were able to stay on schedule and bring these needed services to Mansfield and the surrounding areas."
The hospital and medical office building sit on a 38-acre campus on the southeast corner of U.S. Highway 287 and Lone Star Road in the Johnson County area of Mansfield.
"I am so proud to collaborate with Texas Health and grateful for the hard work of all those who brought this new campus to life," said AdventHealth President/CEO Terry Shaw. "We are deeply committed to improving access to health care, and opening this new health care complex is an opportunity to do that close to where people live, work and raise their families."
In lieu of a community celebration, Texas Health Hospital Mansfield donated the money that would have been used for a traditional grand opening event to five local nonprofits: Mansfield Independent School District, Harvest in Mansfield Center, Toys for Tots, Mansfield Mission Center and Mansfield Cares. The hospital is asking the community to partner with it in assisting these organizations by visiting the Texas Health Mansfield virtual tour site to unlock bonus donation funds.
Covering 50 square miles, Mansfield is located primarily in southeastern Tarrant County, with areas stretching into Ellis and Johnson counties. The city has expanded rapidly in recent years, with a population growth rate of more than 10% from 2011-2017. The city is expected to grow from 228,244 residents in 2017 to more than 251,000 by 2022. To address this future growth, all elements of Texas Health Hospital Mansfield have the capacity to grow, using an efficient, cost-effective design model.
For more information about Texas Health Hospital Mansfield, visit TexasHealth.org/Mansfield.
About AdventHealth
With a sacred mission of Extending the Healing Ministry of Christ, AdventHealth is a connected system of care for every stage of life and health. More than 80,000 skilled and compassionate caregivers in physician practices, hospitals, outpatient clinics, skilled nursing facilities, home health agencies and hospice centers provide individualized, wholistic care. A shared vision, common values, focus on whole-person health and commitment to making communities healthier unify the system's 50 hospital campuses and hundreds of care sites in diverse markets throughout almost a dozen states. For more information about AdventHealth, visit AdventHealth.com, or Facebook.com/AdventHealth.
About Texas Health Resources
Texas Health Resources is a faith-based, nonprofit health system that cares for more patients in North Texas than any other provider. With a service area that consists of 16 counties and more than 7 million people, the system is committed to providing quality, coordinated care through its Texas Health Physicians Group and 29 hospital locations under the banners of Texas Health Presbyterian, Texas Health Arlington Memorial, Texas Health Harris Methodist and Texas Health Huguley. Texas Health access points and services, ranging from acute-care hospitals and trauma centers to outpatient facilities and home health and preventive services, provide the full continuum of care for all stages of life. The system has more than 4,100 licensed hospital beds, 6,400 physicians with active staff privileges and more than 26,000 employees. For more information about Texas Health, call 1-877-THR-WELL, or visit www.TexasHealth.org.