Caring for our community is one of the ways we intentionally live out our mission: to extend the healing ministry of Christ. Instead of hosting a grand-opening event, Texas Health Mansfield is investing the money back into the community. We are providing a virtual tour of your new hospital and an opportunity to support four amazing local organizations. We are honored to be your neighbor in good health.
Unlock Bonus Funds to Help Support Our Community
Complete our guestbook that will pop-up once you have finished the virtual tour below. For each guestbook entry we will donate an additional $4 to Toys for Tots, HIM Center, Mansfield Mission Center and Mansfield ISD ($1 for each non-profit). The more people who fill out the form, the more bonus funds will be released!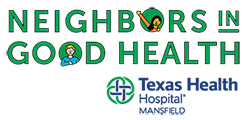 Take a Video Tour
Get a virtual sneak peek at your all-new,
all-modern health care campus.
A Gift to Our Community
A message from our hospital
President and CEO, Kenneth Rose.