Coping with 117 Days in the NICU

For a first pregnancy, Kristen Berger really couldn't complain. The mom-to-be didn't have to deal with much morning sickness or swelling in her feet. She generally had energy and was able to think rationally (no pregnancy brain!).
Everything was going along fine until she started having unexpected changes in her blood pressure, a condition known as labile hypertension, which occurs when a person's blood pressure repeatedly or suddenly changes from normal to abnormally high levels. It first happened during a work trip to Atlanta at 25 weeks pregnant. Kristen was happy to make it back to Dallas before being promptly put on bed rest to try to combat the sudden fluctuations. But during her 26-week prenatal visit, she was told that it was time for the delivery.
"Dr. [Kelli] Watkins [on the medical staff of Texas Health Plano] came in and took my blood pressure and told me it was time to have the baby," Kristen recalls. "I think I was in shock. I was 26 weeks pregnant and had to have an emergency C-section. I cried the entire time the sweet nurses were prepping me. Everyone was so kind even though I was a crying mess. The C-section was considered routine and Dr. Watkins told me Brooke might not cry because she was so small — but she did. It was music to my ears."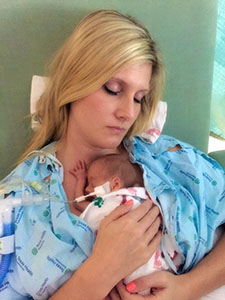 Baby Brooke weighed in at 1 lb., 14.5 ozs. She was on a ventilator for seven weeks while her lungs developed before being weaned to a CPAP machine and later a nasal cannula for breathing. While struggling with her own recovery from the C-section, Kristen had to cope with fears of her baby not making it. She had a hard time at first connecting with Brooke because she didn't want to fall more in love with her precious little one only to lose her. The NICU staff at Texas Health Plano was there to help Kristen along, whatever came.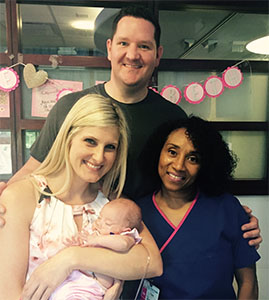 "The NICU is a rollercoaster of emotions," Kristen says. "At first it was terrifying. The sounds, beeps, my tiny baby hooked up to a million wires. I had a night nurse on our seventh day that insisted I hold Brooke. It was the first time I was allowed, and I was so afraid I would hurt her. The nurse had me pick Brooke up myself for kangaroo care. I have thought of her often and am so thankful for her kind nudge to hold my baby. It was a turning point for me."
Kristen and her husband found ways to cope with their NICU experience. Kristen relied on the unit's NICU cameras, especially in the early days when she was recuperating and wasn't able to be with Brooke. Encouragement and guidance from the many physicians, nurses and other care providers gave them hope and confidence in their parenting abilities for when the time would surely come to take Brooke home. Although Kristen doesn't remember all of the staff members who touched their lives during their 117-day stay in the NICU, she has fond memories of quite a few.
"I don't really even know where to begin, but our night nurse practitioner Nancy gave me so much peace when she took such good care of Brooke," she says. "My mom also got to meet her and we all just had a special connection. We still keep in touch.
Katrina made me feel like Brooke was so special, and I always felt like she was in the best hands when Katrina was there. Faye had positivity radiating from her. She would sing to Brooke and that made me feel like we were on the right track. But we probably had Patty the most consistently. She was extremely calm, even when things would get a little crazy. Jessica and Mary always dressed Brooke up so cute with bows and matching blankets; and Chris at the front desk was a ray of sunshine who always greeted me with a cheerful smile.
Kristin and Michelle in respiratory always made me feel confident to do kangaroo care and they took their time getting Brooke's ventilator reconfigured afterwards. Lanna helped me learn how to feed Brooke. She was so patient and had great tips. All were so amazing and have touched my life in a way I will never forget."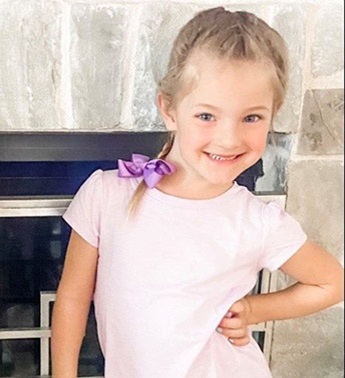 The Bergers finally took their little girl home just before she turned 4 months old. Now, Kristen says it is hard to find signs of her daughter's crazy start in this world. "Everyone who meets her says she is special and exudes positivity and love. She hugs anyone and everyone she meets. I always say she is just so thankful to be here."
To learn more about NICU care at Texas Health, visit Women and Infant Services.