May 02, 2019
Texas Health Volunteer, chaplain embark on Honor Flight
John McIntosh has heard the call to serve all his life.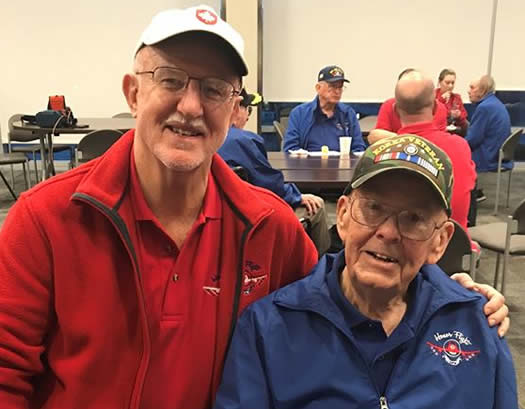 It first came when he left college to join the U.S. Navy in 1951, during the Korean War, again in the mid-1960s when a NASA subcontractor needed a flight simulation program manager for the Apollo space missions, and finally in 2006 when he joined Texas Health as a volunteer at Texas Health Arlington Memorial Hospital.
"The power of service comes from treating your neighbor as thyself, much like Our Texas Health Promise,℠" McIntosh said. He became a volunteer because his wife, Joyce, suffered a heart attack and during her time in cardiac rehab at Texas Health Arlington Memorial, McIntosh saw the amazing support the volunteers poured into each patient.
"I thought, hey this is pretty cool, what these volunteers are doing to make a difference," he said.
A Great Honor
McIntosh recently embarked on a once-in-a-lifetime trip to Washington D.C. The program taking him there, called Honor Flight DFW, flies veterans who served during a war up to Washington for a 36-hour trip to see the monuments dedicated to all the military branches and veterans who served in those wars.
"I was so excited when I found out I'd be going on this flight. However, I felt like I didn't deserve it because I didn't serve in a combat zone. I'd like to think that what I did in the Fleet Airborne Electronic Training Unit helped the pilots to serve better," said McIntosh.
Tapping into his spirit of service, he knew that he could use his skills to help his fellow vets on their trip to Washington.
"At the hospital, I volunteer in the cardiac rehab unit and hospice. I'm here for the patients and give all the love I can give 'em," said McIntosh, who was happy to "connect and help my fellow vets on this trip as a good listener."
Taking Flight
In the early morning hours of Friday, April 12, 43 veterans and their honor flight guardians gathered in a big conference room at Dallas Love Field Airport. Texas Health Arlington Memorial Chaplain Jim Dorsey has been friends with McIntosh for many years and served as his guardian on the trip. "I was absolutely thrilled and honored when John asked me to come. It's all about making him and the other veterans feel appreciated for their service," said Dorsey.
They were sitting amongst pairings of red and blue outfits distinguishing the group and enjoying donuts and chats with other vets. In the background, swing music was playing, volunteers were buzzing about finalizing details. A slideshow projected on two big screens cycled through the photos of each veteran at their pre-flight briefing the week before and a photo of themselves in uniform from their service days. They were formally escorted straight to their gate by Navy and Army reserve members.
Once in Washington, the whirlwind began with tours of the monuments followed by a dinner to honor the veterans. Each veteran was presented with an Honor Flight DFW certificate from active duty military personnel and signed by the U.S. Joint Chief of Staff. The next morning held more tours of historic places, including Arlington National Cemetery and World War II Medal of Honor recipient Audie Murphy's grave.
Coming Home
By early Saturday evening, the return flight to Dallas was en route. There was one more surprise in store as each veteran heard their name called over the plane's loudspeaker in the tradition of military mail call. McIntosh received a stack of letters from family, friends and even fellow volunteers and employees at Texas Health Arlington Memorial.
"I was overwhelmed, and it meant a lot to me. I knew it was going to take me a few days to read through all those letters," McIntosh said. When they deplaned, they were greeted by a rowdy crowd eagerly awaiting their arrival with the cheers of a hero's welcome home. "Well, the trip was fantastic, it really was!" he said.
"We took the 'promise' with us to Washington, by looking out for one another," added Dorsey.
About Texas Health Resources
Texas Health Resources is a faith-based, nonprofit health system that cares for more patients in North Texas than any other provider. With a service area that consists of 16 counties and more than 7 million people, the system is committed to providing quality, coordinated care through its Texas Health Physicians Group and 29 hospital locations under the banners of Texas Health Presbyterian, Texas Health Arlington Memorial, Texas Health Harris Methodist and Texas Health Huguley. Texas Health access points and services, ranging from acute-care hospitals and trauma centers to outpatient facilities and home health and preventive services, provide the full continuum of care for all stages of life. The system has more than 4,100 licensed hospital beds, 6,400 physicians with active staff privileges and more than 26,000 employees. For more information about Texas Health, call 1-877-THR-WELL, or visit www.TexasHealth.org.