March 11, 2019
Texas Health HEB honored again for preventing C-section infections
They just keep winning, and so do their patients at Texas Health Harris Methodist Hospital HEB.
Carol Wolf, M.S.N., RNC-OB, C-EFM, manager of labor and delivery and OB/GYN at the hospital, and her team recently scooped up the Texas Hospital Association's Bill Aston Award for Quality, the second honor they've received for their successful efforts at preventing infections after C-sections.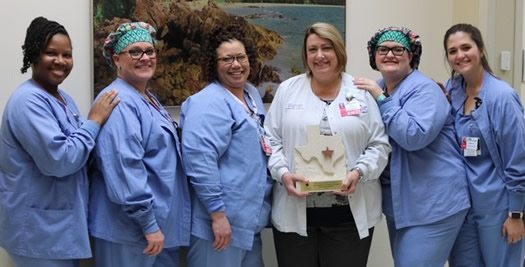 The award in the non-research, non-teaching hospital category demonstrates "a commitment and success in quality and patient safety improvement worthy of statewide recognition," according to the Texas Hospital Association.
"This is really close to my heart because I feel that I've contributed to improved quality outcomes for women having Cesarean sections," Wolf said.
Wolf said her efforts started because she was determined to drive down the number of surgical site infections at the hospital below 1 percent.
After considerable research and collaboration with Dr. Jeff Livingston, a physician on the medical staff at Texas Health HEB, she pinpointed a possible solution: A change in the type of dressing used on the surgical sites in some patients prone to infections. Those include patients with high BMIs and/or comorbidities such as diabetes or hypertension.
A trial period in 2017 showed that negative pressure wound therapy prevented infections in patients with those issues. Wolf's research also showed that the use of silver in the dressings — for its anti-microbial properties — was helpful.
Wolf, as part of her master's degree, developed an algorithm that guides surgeons in the type of dressing to use after the C-section is completed. At this point, most physicians who perform C-sections at Texas Health HEB are using the algorithm, she said — and the infection rate dropped from 1 percent in 2015-16 to 0.8 percent in 2018. The Standard Infection Ratio (SIR), already well below the national benchmark of 1.0 before Wolf's algorithm was shared with physicians on the medical staff, dropped from 0.745 to 0.575 for 2018 with the new guidelines.
"Patient safety is a priority. It's what consumers expect from us," said Texas Health HEB President Fraser Hay, FACHE. "We're proud of our care teams for their hard work and pleased at the recognition."
The algorithm also helped Texas Health Fort Worth lower its infection rate for C-section patients. The hospital adopted the algorithm as part of a yellow belt project by Prinu Gabriel, M.S., SM(ASCP)CM, CIC, manager, Infection Prevention, and her colleague, Kellie Whitton, B.S.N., RN-BC. Together, they worked with employees and physicians on the medical staff, lowering the SIR from 2.43 in 2016 to 0.514 in 2018.
About Texas Health Resources
Texas Health Resources is a faith-based, nonprofit health system that cares for more patients in North Texas than any other provider. With a service area that consists of 16 counties and more than 7 million people, the system is committed to providing quality, coordinated care through its Texas Health Physicians Group and 29 hospital locations under the banners of Texas Health Presbyterian, Texas Health Arlington Memorial, Texas Health Harris Methodist and Texas Health Huguley. Texas Health access points and services, ranging from acute-care hospitals and trauma centers to outpatient facilities and home health and preventive services, provide the full continuum of care for all stages of life. The system has more than 4,100 licensed hospital beds, 6,400 physicians with active staff privileges and more than 26,000 employees. For more information about Texas Health, call 1-877-THR-WELL, or visit www.TexasHealth.org.