April 10, 2019
Energetic advocate encourages patients at Texas Health Arlington Memorial, and they admire his dedication
Al Allums' career in the Air Force took him to all corners of the world, from San Antonio to Guam, giving him perspective on different cultures and countries. His journey with Texas Health hasn't covered as many miles, but his path from patient to volunteer has allowed him to relate to patients and visitors.
"It's amazing to watch him instantly connect with patients and their families," said Brenda Doughty, M.B.A., R.N.-B.C., C.V.R.N.-B.C., manager of cardiac rehabilitation and the fitness center at Texas Health Arlington Memorial Hospital. "He truly understands what they're going through."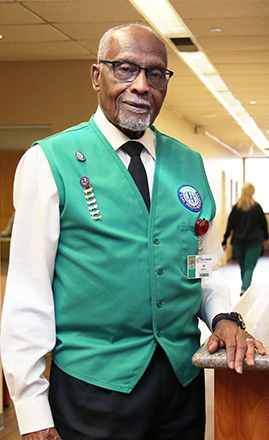 Allums had never been a patient in a hospital until he suffered a heart attack at the age of 52.
"From Day One, everyone at Texas Health treated me like I was special," said Allums, a volunteer at Texas Health Arlington Memorial. Doctors told him his weight gain contributed to a heart attack but Allums was determined to take control of his health by eating right and exercising.
Fitness member
He was introduced to the Texas Health Fitness Center Arlington through the cardiac rehabilitation program, which offers a personalized exercise plan, education and lifestyle-modifications to reduce the risk of future heart problems. "If I can help my heart by exercising, why would I stop?" Allums said.
And he didn't stop after cardiac rehab. He became a fitness center member and made plans to exercise four to five days a week. Being a regular at the fitness center allowed him to make friends and interact with people his own age. "If you're an eight o'clock person like me, you know what group will be there. It's like a fraternity," he said.
But in the back his mind was fear of another heart attack. He says the fitness center helped by offering him some comfort. "Having a cardiac nurse look after me and monitor my heart reassured me that I was going to be okay and if something did happen I was near the Emergency Department," Allums said.
He also formed relationships with the employees.
"His smile lights up the room," said Beth Arseneau, M.S.N., R.N.-B.C., CVRN-BC, a cardiac rehab nurse. "His energetic personality and determination to his fitness goals is an inspiration to others. He makes working out look fun!"
Giving back
After 16 years exercising at the hospital, he was approached by the volunteer manager. "She asked my wife and I if we would consider joining the volunteer program," he said. "I thought what a great way to support the hospital."
Since then Allums has volunteered on a cardiac unit, helped patients at the bedside as a senior ambassador, and now greets patients and visitors at the front desk of the McRae building.
"My goal is to offer support any way I can," he said. "I was treated like royalty as a patient and I want others to have the same experience as I did."
And he also leaves a lasting impression on patients and visitors.
"He's an example of living Our Texas Health PromiseSM Behaviors," said Doughty. "He encourages patients and they admire his dedication to helping others."
Now at 80-years-young, he can still fit into his old Air Force uniform. Every Veterans Day, he walks the halls in uniform and proudly represents Texas Health Arlington Memorial on a float during the Arlington Fourth of July Parade.
"Al's hard work and commitment to a healthy lifestyle are the reasons he looks and feels better," Doughty said.
"Nothing compares to this hospital as far as I'm concerned," Allums said. "This is home to me."
About Texas Health Resources
Texas Health Resources is a faith-based, nonprofit health system that cares for more patients in North Texas than any other provider. With a service area that consists of 16 counties and more than 7 million people, the system is committed to providing quality, coordinated care through its Texas Health Physicians Group and 29 hospital locations under the banners of Texas Health Presbyterian, Texas Health Arlington Memorial, Texas Health Harris Methodist and Texas Health Huguley. Texas Health access points and services, ranging from acute-care hospitals and trauma centers to outpatient facilities and home health and preventive services, provide the full continuum of care for all stages of life. The system has more than 4,100 licensed hospital beds, 6,400 physicians with active staff privileges and more than 26,000 employees. For more information about Texas Health, call 1-877-THR-WELL, or visit www.TexasHealth.org.