February 25, 2019
Heart attack survivor eternally grateful to colleagues at Texas Health Plano
Carolyn Peabody felt great as she arrived at Texas Health Presbyterian Hospital Plano to work the early-morning shift. But by 7:45 a.m., she knew something was horribly wrong.
"Suddenly, I was nauseous. I was vomiting uncontrollably and sweating," said Peabody, a nurse of more than 30 years. "The scary part was that it came out of nowhere, and I didn't know why."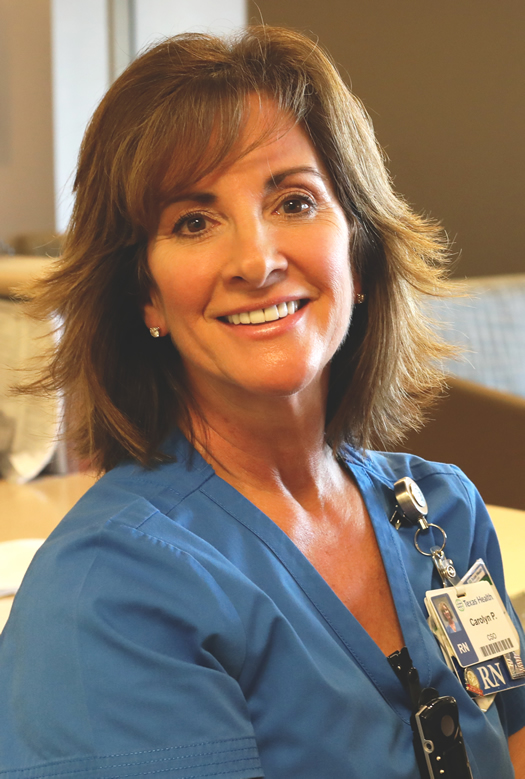 Thankfully, Peabody's fellow nurses in the Day Surgical Care Unit at Texas Health Plano recognized that their friend and co-worker was having a severe heart attack.
"It looked like she had just come out of the swimming pool," said Mimi Schwartz, a Texas Health Plano charge nurse. "She was soaking wet from sweat and extremely pale. We knew something was wrong with her heart, and I thought we were going to lose her."
According to the American Heart Association (AHA), cardiovascular disease kills one woman about every 80 seconds. Statistics put out by the AHA last year determined the estimated number of annual incidences of new heart attacks in the United States is close to 720,000, with the average age being 66 years for men and 72 years for women.
Peabody is just 57 years old.
"I've always incorporated physical activity and good eating habits into my daily routine," Peabody said. "The weekend before my heart attack, I had just started a new eating regimen with my exercise group. This was a complete shocker."
But being a committed nurse of more than eight years at Texas Health Plano, Peabody didn't want to leave her co-workers or her patients in a crunch.
"As I was vomiting in a trash can and dripping with sweat, I kept thinking, 'Gosh, I can't leave, I'm scheduled to work today,'" she said.
Schwartz and others took charge.
"We called the ER, explained Peabody's situation and told them to hold a room for her," said Megan Morris, an ER nurse.
Peabody was loaded onto a stretcher and wheeled to Texas Health Plano's Emergency Department.
"From the Day Surgical Care Unit to those in the ER, we moved swiftly and methodically. I think within 15 minutes of arriving in the ER, Peabody's EKG, blood work and IV insert were all done," Morris said.
A cardiac catheterization was performed by inserting the catheter through Peabody's right radial artery, located in her lower arm. She had 50 percent blockage in her right coronary artery, which is one of several major vessels that provide blood to the heart.
Knowing her family history has motivated Peabody to live a healthy life.
"I have the bad heart gene, no doubt," she said. "My parents had diabetes, coronary artery disease and coronary vascular disease."
Both her parents had open-heart surgery, while her grandmother passed after having open-heart surgery and her grandfather had a heart attack six months later.
"I think that was my grandfather's fifth heart attack, so my three brothers and I have always focused on our health and well-being," Peabody said.
After undergoing cardiac catheterization, Peabody did not require a stent — only medication and cardiac rehabilitation. She even returned to work a week after her heart attack.
Peabody wants all women to heed her warning — listen to your body and don't brush off signs and symptoms as minor things.
"A woman can have totally different heart attack symptoms, compared to a man," Peabody said. "It's easy to chalk up vomiting and a nauseous feeling to severe indigestion. It's imperative that everyone know women present differently when it comes to a heart attack."
Peabody commends her co-workers for quickly recognizing the uncommon symptoms of a heart attack that can occur in women.
"I'm good, and I'm going to figure out this new normal," Peabody said. "I'm just grateful, because God knew my angels were all here at Texas Health Plano's Day Surgical Care Unit."
About Texas Health Resources
Texas Health Resources is a faith-based, nonprofit health system that cares for more patients in North Texas than any other provider. With a service area that consists of 16 counties and more than 7 million people, the system is committed to providing quality, coordinated care through its Texas Health Physicians Group and 29 hospital locations under the banners of Texas Health Presbyterian, Texas Health Arlington Memorial, Texas Health Harris Methodist and Texas Health Huguley. Texas Health access points and services, ranging from acute-care hospitals and trauma centers to outpatient facilities and home health and preventive services, provide the full continuum of care for all stages of life. The system has more than 4,100 licensed hospital beds, 6,400 physicians with active staff privileges and more than 26,000 employees. For more information about Texas Health, call 1-877-THR-WELL, or visit www.TexasHealth.org.