April 22, 2019
Patients benefit from physician specialists collaborating on hospital tumor boards
ARLINGTON, Texas — They meet quietly at Texas Health Resources hospitals. Many patients don't know about them, but their work can save lives.
The system's hospitals together have more than 10 tumor boards. Some evaluate all kinds of tumors, while others have specialties — lung tumors, breast tumors, brain tumors.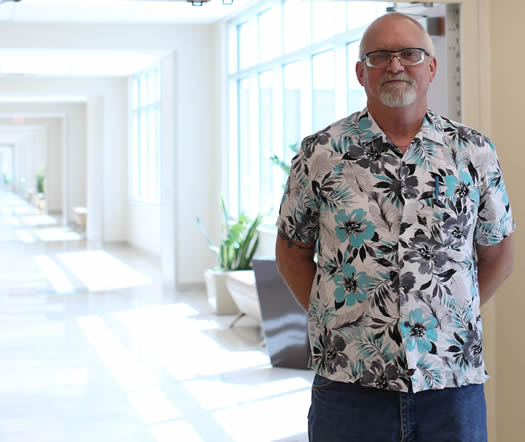 "A tumor board is basically a forum where all cancer specialists meet — surgeons, medical oncologists, radiation oncologists and other specialists involved in the patients' care," said Dr. Robert Ebeling, a radiation oncologist who is on the medical staff at Texas Health Presbyterian Hospital Denton, which has one general tumor board. "Different specialists present cases they've seen over the last week or so that have unusual circumstances, or something sort of out of the ordinary, where there's not a cut and dried answer as to what to do."
Patient David Williams of Denton, 60, was told by his cardiothoracic surgeon, Dr. Jose Fernando Escobar, a physician on the medical staff at Texas Health Denton, that his case would go before the board. As a result of the board discussion, plans for his initial course of treatment changed.
The first thought with a case like Williams' was that the patient was fit enough to tolerate a major surgery, Ebeling said.
But because Escobar and Ebeling were both in the same room considering the case, the decision was made to first try to shrink the tumor using chemotherapy and radiation. Ebeling said he also learned, because of the tumor board discussion, that Escobar preferred that less than the full dose of radiation be used on the tumor to reduce scarring that could make it more difficult to remove.
"I feel like I'm being fast-tracked," said Williams, who is undergoing chemotherapy and radiation now, with surgery planned for later this year. "I feel like I've been so blessed."
Treatment planning
Breast surgeon Dr. Archana Ghanaraj, on the medical staff at Texas Health Dallas, is on the hospital's breast tumor board, which also has lung cancer and hepato-pancreato-biliary (liver, pancreas, gallbladder and bile duct) tumor boards.
"It's a really important part of our treatment planning," she said. Breast cancer cases can be complex, she said, involving two to five doctors.
"In the old days a surgeon would see them and immediately operate on them," she said. "Now, the way we think about breast cancer treatment is different. It may be based on biology. They may get chemotherapy before we operate on them, or they may get radiation after the surgery."
A geneticist may attend the tumor board meeting and weigh in as well, she said. "Sometimes there are new genes to test."
Or a medical oncologist may know about a new clinical trial that would fit the patient's case.
"From the very beginning we are thinking in kind of a big picture scenario instead of everyone in their own specialty," Dr. Ghanaraj said.
Fewer visits for patients
Texas Health Dallas' lung cancer tumor board has a similar approach, said Dr. Haskell Kirkpatrick, an oncologist on the hospital's medical staff.
"You want someone from each area, a few from each department," said Haskell, who started the lung board three years ago, "a group of multidisciplinary doctors from different specialties looking at each case and problem-solving together."
Patients may not be aware their cases are being considered by the boards, some of which review cases anonymously.
Besides getting a kind of behind-the-scenes second opinion, patients may benefit from tumor boards because they can cut down on the number of specialists they have to visit.
"If you have a plan up front and everybody's on the same page, maybe it spares you a visit with another specialist," Kirkpatrick said. "If the board decides surgery is not a good option, it saves you a visit to the surgeon.
"It's efficient and provides good quality care by getting everybody's input on what's going to be best for the patient."
About Texas Health Resources
Texas Health Resources is a faith-based, nonprofit health system that cares for more patients in North Texas than any other provider. With a service area that consists of 16 counties and more than 7 million people, the system is committed to providing quality, coordinated care through its Texas Health Physicians Group and 29 hospital locations under the banners of Texas Health Presbyterian, Texas Health Arlington Memorial, Texas Health Harris Methodist and Texas Health Huguley. Texas Health access points and services, ranging from acute-care hospitals and trauma centers to outpatient facilities and home health and preventive services, provide the full continuum of care for all stages of life. The system has more than 4,100 licensed hospital beds, 6,400 physicians with active staff privileges and more than 26,000 employees. For more information about Texas Health, call 1-877-THR-WELL, or visit www.TexasHealth.org.