June 04, 2019
Texas Health Stephenville enhancing stroke care by offering patients convenience and immediacy
Enjoying retirement to the fullest, Lars Persson rested in bed planning his day. The 68-year-old reached for a glass of water by the bed, but his right arm refused to cooperate. Suddenly, his right leg wouldn't budge. Frantically reaching for his phone with his left hand, Persson called 911. "I said, 'Oh man, this isn't good, I'm having a stroke.'"
An ambulance arrived at his home within 10 minutes, rushing him to Texas Health Harris Methodist Hospital Stephenville, where a new telestroke program allowed him to be assessed by doctors miles away — without having to leave the comfort of his hospital bed in Stephenville.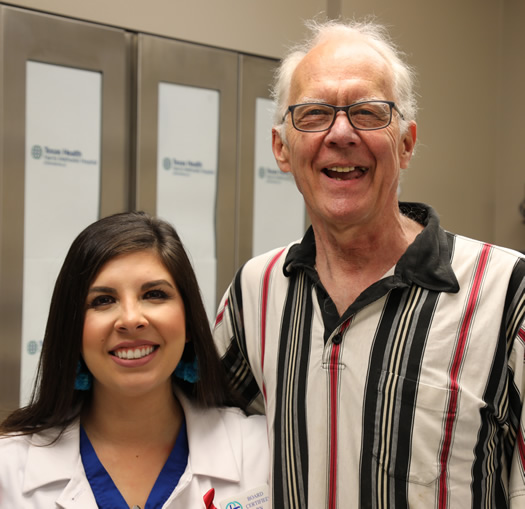 I spoke to the neurologist on the TV screen. She could see me, and I saw her. I'd never experienced anything like it," Persson said. After a thorough evaluation, he was administered the clot-busting drug alteplase.
"I'm not kidding, five minutes later, I could feel my toes again," he said. "I felt fine as a fiddle."
The virtual stroke program uses specialized software with high-definition cameras and monitors that enable board-certified stroke neurologists on staff at Texas Health Harris Methodist Hospital Fort Worth to remotely examine and diagnose patients like Persson. Working with the physicians at the patient's bedside, doctors in Fort Worth can make diagnoses and immediate medication and treatment recommendations. The system benefits communities like Azle, Cleburne, Southwest Fort Worth and Stephenville. Persson, originally from Sweden, moved to Stephenville 14 years ago.
With nearly two million brain cells dying every minute, time is of the essence when it comes to treating strokes, said Christie Hershey, R.N., stroke care coordinator at Texas Health Stephenville.
"The virtual care, telestroke program blends the power of technology to improve care and comfort for patients," Hershey said. "It's about bringing advanced care to outlying and rural areas that may not have stroke specialists available 24 hours a day, seven days a week."
Upon the patient's arrival at the rural hospital, an ER physician assesses the patient before they undergo a diagnostic brain scan, which helps to identify if there is bleeding in the brain. From there, blood draws and an EKG are performed, along with the virtual stroke assessment performed by a Texas Health Fort Worth medical staff neurologist – just one of three hospitals in North Texas certified by The Joint Commission as an Advanced Comprehensive Stroke Center.
Because Persson received alteplase, he was taken to Texas Health Fort Worth and kept under observation, though many patients are treated at their home hospital without being transferred.
Persson, who returned home four days after suffering the stroke, said he's lucky because he immediately called 911 after noticing the signs of a stroke.
"Early recognition is imperative, and it can be the determining factor between life or death," Hershey said.
According to Hershey, an acronym people need to remember to determine if someone is having a stroke is B.E. F.A.S.T.:
Balance problems
Eyes not working
Face drooping
Arm weakness
Speech difficulty
Time to call 911
"I think the virtual stroke care is helping Erath County residents tremendously," Hershey said. "It's convenient, care is immediate, and thanks to technology, a neurologist is just a click away, no matter the time or day."
About Texas Health Resources
Texas Health Resources is a faith-based, nonprofit health system that cares for more patients in North Texas than any other provider. With a service area that consists of 16 counties and more than 7 million people, the system is committed to providing quality, coordinated care through its Texas Health Physicians Group and 29 hospital locations under the banners of Texas Health Presbyterian, Texas Health Arlington Memorial, Texas Health Harris Methodist and Texas Health Huguley. Texas Health access points and services, ranging from acute-care hospitals and trauma centers to outpatient facilities and home health and preventive services, provide the full continuum of care for all stages of life. The system has more than 4,100 licensed hospital beds, 6,400 physicians with active staff privileges and more than 26,000 employees. For more information about Texas Health, call 1-877-THR-WELL, or visit www.TexasHealth.org.