November 06, 2019
Device at Texas Health Fort Worth helping athletes away from field of play
FORT WORTH, Texas — Texas Health Sports Medicine is using new technology to better identify concussions and track recovery of patients with significant head injuries.
The virtual reality (VR) device uses high speed infrared cameras to capture eye movements, which can be impaired by a concussion or head injury.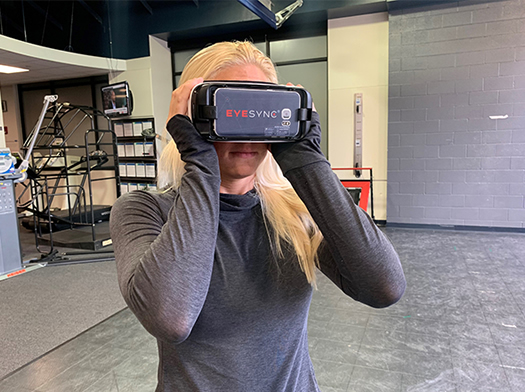 Texas Health Harris Methodist Hospital Fort Worth is the only hospital in the region to offer this technology.
"We're expanding our services with the growth of traditional diagnosis and treatment programs along with the latest technologies available on the market today," said Tom Caldwell, vice president of Texas Health Sports Medicine.
Using the VR device, clinicians can analyze eye movements to determine if any vision and sensory problems have occurred as a result of a collision.
"This advanced technology is an improvement over standard clinical evaluations, which traditionally had a clinician perform a vision test with their own naked eyes," Caldwell said. "It will record more accurate and precise assessments, which we hope will lead to improved safety, better patient outcomes and ultimately speed their return to competition."
About 3.8 million sports-related concussions are reported in the U.S. every year, according to the Centers for Disease Control and Prevention. Texas Health Sports Medicine sees more than 400 concussions each year.
After an athlete has a hard hit or fall on the field, they are tested for signs and symptoms of a suspected concussion. Symptoms can include nausea, vertigo, dizziness, blurred or double vision and difficulty tracking a moving target. A physician, athletic trainer or physical therapist will test a patient's mental state, balance, eye movements and ability to track an object.
"We could only speculate what might be taking place in the brain following a sport-related concussion, but we are now able to get a glimpse into the brain with this new technology," said Craig Garrison, PhD, PT, SCS, ATC, director of Texas Health Sports Medicine research.
A patient will place the VR headset — that's attached to a smartphone — over their eyes for advanced concussion assessment. While looking through the lens, the patient follows different dots on the screen with their eyes. The entire test or process lasts 60 seconds. A clinician programs each test and the data is immediately transferred onto a tablet for further assessment.
"The graphic that appears on the tablet should look smooth and circular, like a ball of yarn, if the patient doesn't have a head injury," said Bobby Jean Lee, PT, SCS, OCS, FAAOMPT, physical therapist with Texas Health Sports Medicine. "If the report shows abnormal patterns, it can be an indicator of vision and balance impairment."
Lee has been running these tests since the clinic started using the new technology in August. So far, twelve patients have used the device, which comes with no additional cost to patients.
The device is also being used for concussion research. Lee said it will provide the latest evidence and advancements in technology to help improve accuracy of assessment and the quickest recovery for patients.
"Patients like seeing the results right away on the tablet," Lee said. "They have a better understanding of their symptoms and they can see how an injury can really affect the brain."
Texas Health Sports Medicine provides care to athletes of all ages, different levels of participation and at numerous sporting events. There are six Texas Health Sports Medicine Clinics and Concussion Centers at Texas Health Fort Worth and Texas Health Presbyterian Hospital Plano.
Concussion patients will use the VR device during each clinical visit. Lee said over time, a patient's eye movements will improve as well as their symptoms if they follow their treatment plan. By being able to more accurately map their eye movements — and recovery from a concussion — means therapists can better gauge when it's safe to return to competition.
"If their eyes are moving more smoothly, the patient should be less dizzy and have fewer headaches," Lee said. "When we see that we know we can move them along in their post-concussion treatment."
The technology gained approval from the Food and Drug Administration in 2016. It's being used by clinical institutions across the country and top athletic programs such as the Pac-12 Conference.
"We hope this will serve as a guide for concussion evaluation and treatment and advance our sports medicine research," Lee said.
About Texas Health Resources
Texas Health Resources is a faith-based, nonprofit health system that cares for more patients in North Texas than any other provider. With a service area that consists of 16 counties and more than 7 million people, the system is committed to providing quality, coordinated care through its Texas Health Physicians Group and 29 hospital locations under the banners of Texas Health Presbyterian, Texas Health Arlington Memorial, Texas Health Harris Methodist and Texas Health Huguley. Texas Health access points and services, ranging from acute-care hospitals and trauma centers to outpatient facilities and home health and preventive services, provide the full continuum of care for all stages of life. The system has more than 4,100 licensed hospital beds, 6,400 physicians with active staff privileges and more than 26,000 employees. For more information about Texas Health, call 1-877-THR-WELL, or visit www.TexasHealth.org.