July 17, 2019
Spondylolisthesis affects young and old, with time of the essence for positive outcomes
PLANO, Texas — At just 12 years old, Kaleigh has a long list of accomplishments: exceptional student, competitive gymnast, budding pianist and religious singer. But less than one year ago, the young Allen resident was learning how to walk all over again. A debilitating disease that damages the spine almost left her in a wheelchair.
"I couldn't stand without being in pain, but now I feel like a walking miracle," she said.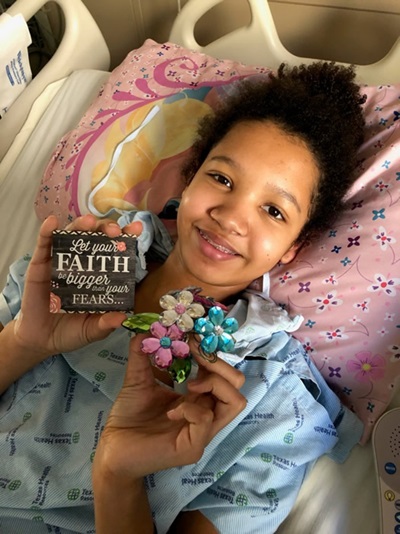 Kaleigh Clemons suffers from spondylolisthesis, a spinal disorder in which new cases affect more than three million Americans each year. Described as a crack or stress fracture in one of the vertebrae, the bone slips out of place, onto bone below it, along the spinal column. And after receiving surgical spine treatment at Texas Health Presbyterian Hospital Plano, Clemons is happy, grateful and walking on her own two feet.
"Four screws, two rods and God are all holding my baby up right now," said Kaleigh's mom, Cassey.
"We could live with changing her diapers and pushing her around in a wheelchair, if it came to that. But we were blessed. She's doing more than walking now, she's thriving and she's thankful."
"It can be hard to tell if you have spondylolisthesis, because most people don't have symptoms or overwhelming pain," said spine surgeon Isador Lieberman, M.D., and Texas Health Plano's Scoliosis & Spine Tumor Center medical director. "It's usually discovered on an X-ray when a person goes in for something else, and the radiologist might say, 'Oh, you've got a break in your back,' which is how some people describe spondylolisthesis," Lieberman said.
Kaleigh's situation was completely different. She was diagnosed by her pediatrician in November 2018, but her symptoms became progressively worse. By January 2019, Kaleigh arrived at Lieberman's office in a wheelchair, unable to stand or walk for more than five minutes without excruciating pain.
Using those four rods and two screws to hold her spine in place, Lieberman, an internationally known spine surgeon on the Texas Health Plano medical staff, performed a six-hour procedure to align Kaleigh's back and relieve the pain and pressure on her lower spine.
"The rods and screws are like a cast on a broken arm," Lieberman said. "It's holding the vertebrae in place until the bones knit themselves back together."
Lieberman used a specially-designed bone-scalping device to cut through Kaleigh's soft, still growing bones. Compared to standard bone-cutting tools, the ultrasonic device uses electrical signals and converts them into a fast, back and forth motion to move the blade as it cuts through bone, which is especially important during spinal surgery where bone repair is in close proximity to the spinal cord and nerves.
The worry that built for Cassey as Kaleigh underwent the procedure faded as they saw quick results as she woke up afterward.
"Kaleigh started snapping her fingers and pointing at her legs. That's when I saw her little toes wiggling underneath the sheets," Cassey said. "I thought seeing her first baby steps was great; but seeing her walk four days after surgery was the most amazing thing I've ever witnessed. I knew everything was going to be okay."
Spondylolisthesis is quite common and affects both children and adults. Lieberman said in adolescence, it's typically a congenital issue or possibly caused by a traumatic event. In adults, spondylolisthesis is based more on age-related degenerative changes, where one bone slips forward or sideways on another bone.
"If left untreated, the nerves can be irreversibly injured and irritated. It's very difficult to cope with your day-to-day activities with a crooked back," Lieberman said.
No matter your age, Lieberman said there are specific symptoms to look for to diagnose spondylolisthesis sooner, rather than later:
If the pain is persistent, for more than six weeks, seek treatment
If there's any sign of weakness in the legs (numbness or tingling), get it checked out
If there's a sudden change in posture, get it examined
And Lieberman said Kaleigh did everything she was supposed to do, which led to her positive outcome.
"She asked all the right questions before and after surgery, and she was motivated to get better. Now, there's nothing holding her back."
Follow this link to learn more about the Scoliosis and Spine Tumor Center at Texas Health Plano.
About Texas Health Resources
Texas Health Resources is a faith-based, nonprofit health system that cares for more patients in North Texas than any other provider. With a service area that consists of 16 counties and more than 7 million people, the system is committed to providing quality, coordinated care through its Texas Health Physicians Group and 29 hospital locations under the banners of Texas Health Presbyterian, Texas Health Arlington Memorial, Texas Health Harris Methodist and Texas Health Huguley. Texas Health access points and services, ranging from acute-care hospitals and trauma centers to outpatient facilities and home health and preventive services, provide the full continuum of care for all stages of life. The system has more than 4,100 licensed hospital beds, 6,400 physicians with active staff privileges and more than 26,000 employees. For more information about Texas Health, call 1-877-THR-WELL, or visit www.TexasHealth.org.