June 06, 2019
Three months after diagnosis, diabetes patient now 35 pounds lighter and off medication
AZLE, Texas — When Azle Chief of Police Rick Pippins noticed that he couldn't focus his eyes while driving he knew it was time to ask for help.
Pippins' general practitioner diagnosed him with Type 2 diabetes last August. That's when he reached out to Texas Health Harris Methodist Hospital Azle. He immediately sought assistance, starting with the Healthy Education Lifestyle Program (HELP) established at Texas Health Azle in 2012. The program helps patients like Pippins find the answers and support they need to make sustainable lifestyle changes.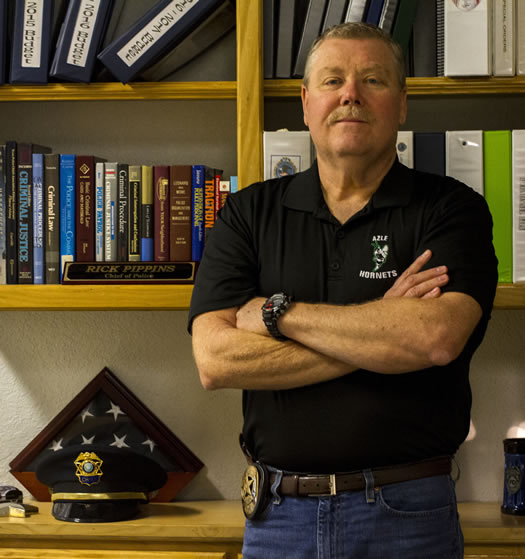 Participants who join have access to an introductory clinic visit, lab work, unlimited support groups, monthly educational packets and in some cases medication and supplies. Group sessions teach participants how to best manage diabetes day-to-day and highlight how to stay healthy while battling their condition.
"The poor choices I had made finally caught up with me in a very real way," Pippins said. "My overall health had deteriorated simply because I had not made it a priority."
Stress, family medical history, lack of physical activity and sleep, were just a few of the things that had caused him to develop Type II diabetes. But he was determined to change.
"Police work is difficult work and it does come with a certain level of stress," he said. "I knew at that point I had allowed my work to take control over my life, and my health had suffered because of it."
To take control, he was referred to a dietitian at Texas Health Azle to learn how to manage his diabetes.
Phyllis Nelson, R.D.N., L.D., C.D.E., was first on the scene to help Pippins on his road to recovery.
"From the beginning, Rick dove into these programs headfirst. He was dedicated to doing whatever he needed to do to get better," Nelson said. "We try to pave the way and make the road as easy as possible for people looking for information on how to manage the disease, but ultimately it is up to them. Rick is a testament to the fact that diabetes can be a difficult diagnosis to swallow, but it can be managed. It takes a lot of dedication, vigilance, and will power, but you can get better."
"Diabetes is not a death sentence," Pippins said. "Phyllis helped me to believe in that. She gave me the tools to make the healthy lifestyle changes I needed to conquer my diagnosis."
Within three months of his diagnosis, he lost more than 35 pounds and stopped taking his diabetic medication thanks to the support of the HELP program and dietitian's guidance.
"Recognizing the needs of our communities early on allows us to be more proactive in how we can support healthy lifestyles choices," said Marsha Ingle, Texas Health's senior director of community health improvement. "It's important we continue to create easy consumer access points that provide guidance and prevention education tools through programs like HELP. These initiatives help foster loyalty and forge lifelong partnerships with the people we serve."
About Texas Health Resources
Texas Health Resources is a faith-based, nonprofit health system that cares for more patients in North Texas than any other provider. With a service area that consists of 16 counties and more than 7 million people, the system is committed to providing quality, coordinated care through its Texas Health Physicians Group and 29 hospital locations under the banners of Texas Health Presbyterian, Texas Health Arlington Memorial, Texas Health Harris Methodist and Texas Health Huguley. Texas Health access points and services, ranging from acute-care hospitals and trauma centers to outpatient facilities and home health and preventive services, provide the full continuum of care for all stages of life. The system has more than 4,100 licensed hospital beds, 6,400 physicians with active staff privileges and more than 26,000 employees. For more information about Texas Health, call 1-877-THR-WELL, or visit www.TexasHealth.org.