November 08, 2019
Texas Health salutes employees with previous military experience
ARLINGTON, Texas — One is a stress technician in Plano, another an Emergency Department nurse in Fort Worth. Others are a nurse and a nursing clinical educator.
What do they have in common?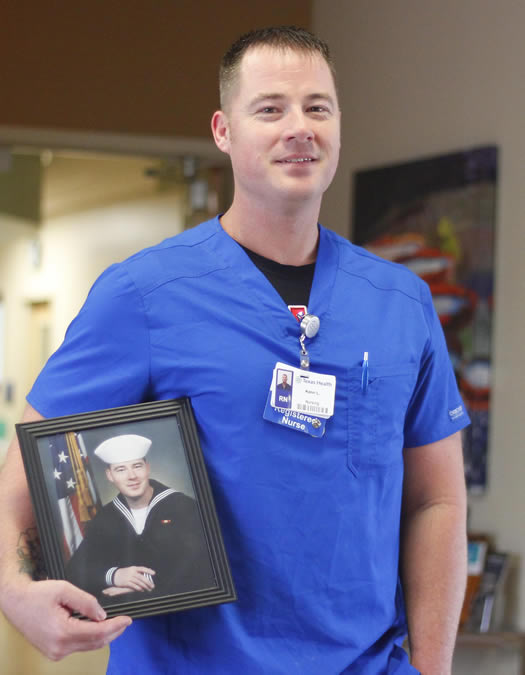 All of them work for Texas Health Resources, and all of them served in the military. But the common theme among them is a passion for service, both in and out of uniform.
The nation honors its veterans Nov. 11, including about 400,000 in North Texas, 689 of whom work at Texas Health. They selflessly served their country, so it's not surprising that veterans went on to continue serving others.
"Our veterans bring their courage and expertise to their jobs with Texas Health," said Michelle Kirby, executive vice president and chief people officer. "We are grateful for their sacrifices and service to our country."
We interviewed a few of the Texas Health men and women who traded in service uniforms for scrubs.
Kenn Lathers, R.N.
Kenn Lathers, who is at Texas Health Harris Methodist Hospital Cleburne, served for 10 years in the U.S. Navy before moving into health care. Having set his sights on a dental career, Lathers became a dental tech in the Navy and eventually a medic, deployed with the Fleet Marine Force.
He was stationed in Norfolk, Virginia, and helped tend to survivors of the 2010 earthquake in Haiti before he decided not to re-enlist and instead started to study dentistry, with an eye on becoming a dentist, at the University of Texas at Arlington. But Lathers said he didn't enjoy dentistry and switched to nursing school at Hill College in Hillsboro, near Cleburne, where he was born and grew up.
"This is my calling," he said. "God calls us to serve."
Lathers admits he's had to make some adjustments from his work as a medic.
"The scope of practice (in civilian nursing) is more confined, but I think the empathy part of it and compassion is a lot better," he said. "In the military, you're driven to suck it up and deal with it. Here we deal with the whole patient. I love that part of it."
Lonnie Robinson, B.S., Stress Technician
Lonnie Robinson, who is at Texas Health Presbyterian Heart and Vascular Group, a Texas Health Physicians Group practice in Plano, knew he wanted to be in the military from the time he was four years old.
"I have a picture of myself at four in my dad's helmet. He was in the Navy and worked on aircraft carriers. From that day on I knew I was joining the military. I felt like whatever he's doing, I've got to do."
Robinson served in the U.S. Army for six years as a military policeman. His time included deployments to Iraq and Afghanistan, as well as traffic patrol in Germany.
"I did it, experienced it, got what I could out of it and decided six years was enough. It was time to move on," Robinson said.
But his time in the military police shaped his future.
"I knew that helping people and responding to emergency situations was something I enjoyed. But I knew police work was not something I wanted to do. With emergency response and medical things, I felt like it clicked. Ruining peoples' day writing a ticket, not so much," Robinson said.
He went on to earn a bachelor's degree in exercise science from Texas Woman's University and is gearing up to go back to school to become a physician assistant using the Texas Health tuition reimbursement program.
Robinson said he uses aspects of his military police training in working with patients.
"They want to know they're going be safe," he said. "That's where my background in the police has helped. We keep everyone educated, so they know what's going on and know what needs to happen to improve their health."
Michael Tucker, B.S.N., R.N., CCRN
Enlisting in the military was a family tradition for Michael Tucker, now a clinical educator for Texas Health Resources University.
"My dad was in the Army, his dad was in the Army. It was a family legacy, but also a way for us to get out of the house and move away from home and start our course of being independent adults," Tucker said. So, he enlisted in the U.S. Air Force right after he graduated from Grapevine High School.
Tucker worked in supply, where he was responsible for expensive electronic components for fighter jets and other military gear. At first, at 18, he wasn't thinking much about service. But as time went on, he began to reflect.
"I developed more of a sense of having served a cause greater than myself," he said. "Finishing with the military and choosing a career in health care and nursing kind of established the baseline of my desire to serve others."
Tucker started at Texas Health Harris Methodist Hurst-Euless-Bedford as a patient care technician, worked his way through nursing school and hired on there as a critical care nurse. He stayed for 16 years before shifting to THRU.
"I felt that in an educator position I could have a broader influence directly with nursing and indirectly on patient care."
Elizabeth Weeks, B.S.N., R.N.
Her weeks can be hectic: Elizabeth Weeks works at Texas Health Harris Methodist Hospital Fort Worth, drives to Arkansas one weekend a month for that state's Army National Guard and is raising a family with her husband. She just completed her Bachelor of Science degree in nursing from the University of Texas-Arlington.
But she wouldn't do anything differently.
"I love it," Weeks said. "I love my country. It's just a sense of pride."
She joined the U.S. Army in 2002, the daughter of a military family — her parents met on a base in Indiana. Weeks had attended college, but couldn't decide whether to pursue architecture or pre-med. So she took some time off.
"I joined the military and off I went," she said. She has spent the bulk of her National Guard career in cadre, which means she teaches new recruits to prepare them for basic training.
Her most fulfilling moments come from hearing back from students or from patients who have been under her care.
"We see them at their worst here, but for them to remember my name makes me know I'm doing the right thing."
About Texas Health Resources
Texas Health Resources is a faith-based, nonprofit health system that cares for more patients in North Texas than any other provider. With a service area that consists of 16 counties and more than 7 million people, the system is committed to providing quality, coordinated care through its Texas Health Physicians Group and 29 hospital locations under the banners of Texas Health Presbyterian, Texas Health Arlington Memorial, Texas Health Harris Methodist and Texas Health Huguley. Texas Health access points and services, ranging from acute-care hospitals and trauma centers to outpatient facilities and home health and preventive services, provide the full continuum of care for all stages of life. The system has more than 4,100 licensed hospital beds, 6,400 physicians with active staff privileges and more than 26,000 employees. For more information about Texas Health, call 1-877-THR-WELL, or visit www.TexasHealth.org.