February 28, 2019
Surgeons at Texas Health Dallas utilize aortic balloon catheter in saving woman and her baby
A multidisciplinary team at Texas Health Presbyterian Hospital Dallas was the first in North Texas to use a special type of aortic balloon catheter in an OB-GYN case, which saved a woman and her baby.
Sunnee "Bee" Freebairn learned early in her pregnancy that there almost certainly would be dangerous problems.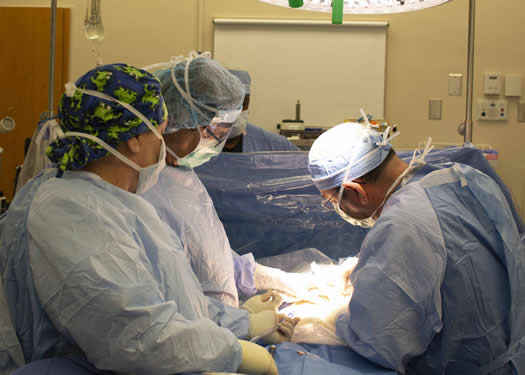 "I was very worried, anxious," Freebairn said, after she learned that her placenta was low in her uterus and positioned over an old C-section scar. That is believed to increase the chances of a placenta accreta, a condition in which the placenta essentially eats its way through the uterus and can attach to another organ, often the bladder. The mortality rate for placenta accreta as the baby is delivered by C-section: 6 to 7 percent, said Dr. Robert Cohen, an OB-GYN on the medical staff of Texas Health Presbyterian Hospital Dallas.
"That's huge," said Cohen, who has been performing surgeries in placenta accreta cases at Texas Health Dallas for five years. The condition is becoming more common.
Cohen said that placenta accreta occurred in one in 500-600 pregnancies from 1982 to 2002. A study from 2016 suggests the rate is now one in 277.
Possible reasons placenta accrete occurs include any prior uterine surgery, such as a C-section, miscarriage, or repair of an uterine abnormality. Cohen said the condition also occurs rarely in first-time pregnancies with no predisposing cause.
Special team
He and Dr. Jonathan Brough, a physician on the medical staff of Texas Health Dallas, were the surgeons in Freebairn's case. Cohen said the special Texas Health Dallas team assembled for the surgery typically includes the blood bank as well as physicians on the medical staff such as three anesthesiologists, an interventional radiologist, a urologist, a trauma doctor, possibly a vascular surgeon, and the surgeons performing the C –section.
Texas Health Dallas has a special operating room, called a hybrid room, which is equipped for the interventional radiology used during the procedure.
"Not every hospital has the hybrid room to provide additional interventional radiology support," said Dr. Eugene Hunt, chairman of the OB-GYN department at Texas Health Dallas.
Brough said that in Freebairn's case, the placenta had gone right to her bladder, and developed many large blood vessels, increasing the risk for catastrophic blood loss during the C-section.
They decided to use the aortic balloon catheter to stem blood loss, placing it before the C-section began.
The surgery, which took place in December, took about two hours, compared to a typical C-section, which takes about 45 minutes. Brough said.
Freebairn said both she and the baby are doing well.
Military use
Aortic balloon catheters were initially developed by the military for use on the battlefield, to stabilize soldiers and help stop blood loss. The early devices were large and therefore prone to cause complications. The catheter used by the team at Texas Health Dallas is considerably smaller.
About Texas Health Resources
Texas Health Resources is a faith-based, nonprofit health system that cares for more patients in North Texas than any other provider. With a service area that consists of 16 counties and more than 7 million people, the system is committed to providing quality, coordinated care through its Texas Health Physicians Group and 29 hospital locations under the banners of Texas Health Presbyterian, Texas Health Arlington Memorial, Texas Health Harris Methodist and Texas Health Huguley. Texas Health access points and services, ranging from acute-care hospitals and trauma centers to outpatient facilities and home health and preventive services, provide the full continuum of care for all stages of life. The system has more than 4,100 licensed hospital beds, 6,400 physicians with active staff privileges and more than 26,000 employees. For more information about Texas Health, call 1-877-THR-WELL, or visit www.TexasHealth.org.