March 15, 2019
Employees at Texas Health Alliance, Texas Health Fort Worth aid fellow caregiver
Susie Brantley was still in her scrubs as she navigated the congestion of rush hour traffic in Fort Worth on her way to complete her annual mammogram screening. As her car slowed to a stop behind the endless line of vehicles, the last thing she saw was a gray pickup truck in the rear-view mirror coming towards her at full speed. Then everything went dark.
"The next thing I knew, I was waking up in my car with extreme pain in my chest and the sound of sirens around me," said Brantley, an imaging supervisor at Texas Health Harris Methodist Hospital Alliance.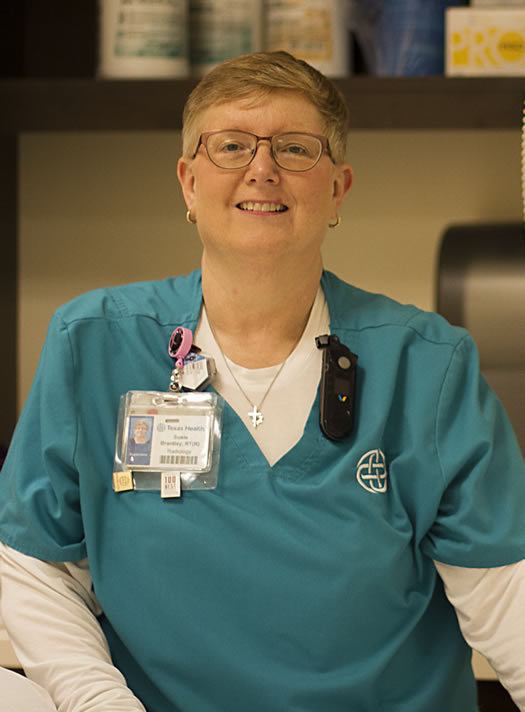 She later learned she had fractured four ribs, sustained a major fracture in her spine, broken her left foot, had a collapsed left lung, and was bruised from head to toe.
"I looked like I had just come out of battle," Brantley said.
From the outside looking in
She was transported from the scene of the accident to the emergency department at Texas Health Harris Methodist Hospital Fort Worth.
"They took such good care of me," Brantley said. "When we arrived at the ED the pain in my legs and foot was pretty bad. Everyone was so attentive in trying to stabilize me and alleviate that pain throughout the examination process. It was just an exceptional level of kindness."
Brantley said the extraordinary level of care continued as she was taken into her CT scan. "The nurses and technicians were just incredible," she said. "They helped me move over easily to the CT table and assisted me in everything I needed to do to maneuver myself through this part of the process."
After all the necessary examinations were competed, she was taken up to the trauma ICU department around 7 p.m., about four hours after the accident occurred.
"The whole process was as quick and as painless as it could have possibly been. Everyone was so efficient in getting me to the right place without having to wait a very long time," Brantley said.
"I really can't say enough about everyone I encountered while I was a patient there."
Practicing what we preach
Brantley stayed in the ICU overnight and then was monitored for four days because of collapsed lung. She said one of the most encouraging parts of her recovery came in the form of support from her Texas Health Alliance family.
She has worked in radiology at Texas Health Alliance for seven years, since it opened in 2012.
"During that time so many of my coworkers came to visit me," Brantley said. "They brought me and my son dinners, gifts, flowers and even a precious little blue stuffed owl — my favorite animal."
"When I got home they had even arranged for someone to come over and clean my house for me and take care of my animals while I was recovering for the next seven weeks."
Brantley said that going through this experience and seeing how she was treated through the patient experience at Texas Health has reminded and inspired her even more to extend sympathy and understanding for patients in similar situations now that she is back on the floor.
"This was such a good experience for me to see the 'practice what you preach' approach in action at both Texas Health Alliance and Texas Health Fort Worth," Brantley said.
"The entire organization took care of me, not just the hospital I work for, and that was a very inspiring experience."
About Texas Health Resources
Texas Health Resources is a faith-based, nonprofit health system that cares for more patients in North Texas than any other provider. With a service area that consists of 16 counties and more than 7 million people, the system is committed to providing quality, coordinated care through its Texas Health Physicians Group and 29 hospital locations under the banners of Texas Health Presbyterian, Texas Health Arlington Memorial, Texas Health Harris Methodist and Texas Health Huguley. Texas Health access points and services, ranging from acute-care hospitals and trauma centers to outpatient facilities and home health and preventive services, provide the full continuum of care for all stages of life. The system has more than 4,100 licensed hospital beds, 6,400 physicians with active staff privileges and more than 26,000 employees. For more information about Texas Health, call 1-877-THR-WELL, or visit www.TexasHealth.org.