April 30, 2019
30-year-old had suffered cardiac arrest while caring for infant son at home
DALLAS, Texas — A mother, overcome with tears, walked into a room with people who share a special connection — they helped save her life.
"I wouldn't have made it to my son's first birthday if it wasn't for everyone in this room," said Lindsay Casey, a cardiac-arrest survivor, as she wiped a tear from her cheek.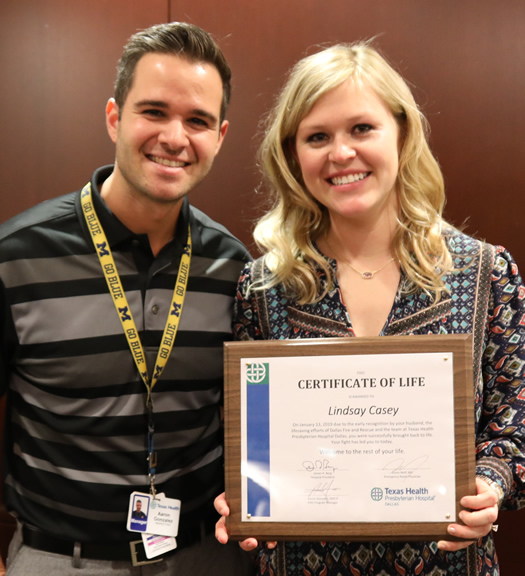 Lindsay and her husband Scott greeted hospital staff, firefighters, paramedics and dispatchers with big smiles and warm hugs during a celebratory event to honor their life-saving efforts at Texas Health Presbyterian Hospital Dallas.
Quick response
The Casey family said they're forever grateful for EMS and Texas Health after their quick response one Sunday morning. In their minds it was a typical weekend. The couple sat down to eat breakfast together at the kitchen table. When it was time to get ready for church, Lindsay went to dress their 11-month-old son Boswell in his nursery.
"Scott went to check on us," Lindsay said. "That's when he walked into the room and found me unconscious on the floor."
Scott didn't know it, but his 30-year-old wife was in cardiac arrest. She wasn't breathing and had no pulse. Luckily, their son was sitting on the floor next to her unfazed and unhurt.
"I remembered CPR from when I trained as a lifeguard and called 911," Scott said. He managed to stay calm and focused while doing chest compressions on his wife until help arrived.
Right time and place
Paramedics with Dallas Fire-Rescue used a defibrillator twice to revive Lindsay on the way to Texas Health Dallas.
"It's all hands-on deck when a patient arrives at our hospital," said Aaron Gonzalez, EMT-P, EMS program manager at Texas Health Dallas. "It's crucial for EMS to give us a good description of the scene and the condition of the patient so we can activate our team and get them in place."
Patients are transported to the hospital by ambulance or helicopter, depending on the severity of their condition. As a Level II Trauma Center, Texas Health Dallas works with EMS providers across North Texas including local fire departments. If needed, CareFlite helps transfer non-emergency patients to other facilities.
Lindsay remembers waking up in the ICU three days later. "I was confused and thought I was there to have another baby," Lindsay said. "I kept asking a lot of questions because I didn't know what happened."
She said there were no red flags prior to this incident. She had a normal pregnancy and postpartum recovery but suffers from low blood pressure. "I've had fainting spells before, but my doctor told me it was normal during pregnancy," Lindsay said.
"It's not common for young people to go into sudden cardiac arrest," said Charles Lampe, M.D., FACC, a clinical cardiac electrophysiologist on the Texas Health Dallas medical staff and a member of the Presbyterian Heart and Vascular Group, a Texas Health Physicians Group practice. "When it does happen, it's usually a result of a hereditary condition."
A new normal
After spending two weeks in the hospital, Lindsay returned home to her family but had to adjust to a new normal.
"For the first few weeks, I couldn't pick up my son. That was tough for me," she said. Lindsay, a CPA, returned to work part-time during the busiest time of the year — tax season. But she said the biggest challenge is being a one-driver household.
An Implantable Cardioverter Defibrillator (ICD) was surgically placed under Lindsay's skin to keep track of her heart rate. The ICD wires are connected to her heart. If an abnormal heart rhythm is detected, the device will deliver an electric shock to restore a normal heartbeat. In most cases, a patient stops driving for six months if they remain shock-free during that time. But Lindsay's physician, Lampe, expects her to make a full recovery.
"The recovery process can be short or long depending on how quickly the person wakes up after cardiac arrest," Lampe said. "There's usually no time to go to the hospital or wait for EMS to arrive. That's why immediate CPR is necessary."
And luckily for Lindsay, her husband Scott knew what to do.
Everyone involved in Lindsay's rescue received Life Saver certificates and CPR pins during an EMS luncheon at Texas Health Dallas.
"So much happens out in the field and crews don't always know the outcomes of their patients," Gonzalez said. "We keep them updated and go the extra mile to recognize their work. This makes it all worth it and re-energizes you for the next call."
About Texas Health Resources
Texas Health Resources is a faith-based, nonprofit health system that cares for more patients in North Texas than any other provider. With a service area that consists of 16 counties and more than 7 million people, the system is committed to providing quality, coordinated care through its Texas Health Physicians Group and 29 hospital locations under the banners of Texas Health Presbyterian, Texas Health Arlington Memorial, Texas Health Harris Methodist and Texas Health Huguley. Texas Health access points and services, ranging from acute-care hospitals and trauma centers to outpatient facilities and home health and preventive services, provide the full continuum of care for all stages of life. The system has more than 4,100 licensed hospital beds, 6,400 physicians with active staff privileges and more than 26,000 employees. For more information about Texas Health, call 1-877-THR-WELL, or visit www.TexasHealth.org.