March 13, 2019
Texas Health, paramedics collaborate in making home visits
ARLINGTON, Texas — An innovative community outreach program at Texas Health Arlington Memorial Hospital, in collaboration with the Arlington Fire Department, helps hundreds of patients with chronic conditions avoid emergency room visits and addresses social determinants of health before they become life-threating problems.
Paramedics make home visits to patients who are at risk for not properly managing their condition after leaving the hospital. Texas Health Arlington Memorial has seen between a 50 to 75 percent reduction in the number of ED or inpatient readmissions since the program started three years ago.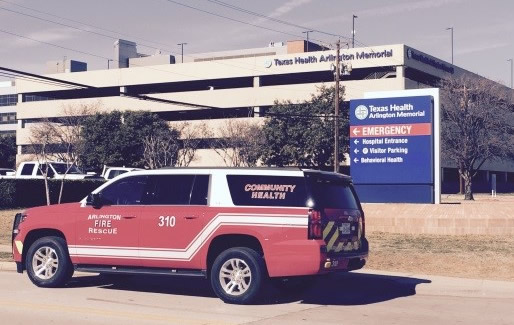 "Some patients are telling paramedics things they would never tell their doctors because it's in the comfort of their own home," said Lori Dachroeden, R.N., M.S.N., CPHQ, LBBP, the senior director of the program at Texas Health Arlington Memorial. "This kind of communication allows us to anticipate some problems before they become serious or even life-threatening."
How it works
The Texas Health Arlington Memorial outpatient clinic and other clinical staff identify patients who could benefit from this program or who may need support at home. "ED navigators, social workers, nurses — it's really up to the judgement of the clinical team," Dachroeden said. There's no specific criteria to enroll other than a patient needs additional support to manage their chronic illness. They must also be an Arlington resident.
Patients who enroll in the program get routine visits and have around the clock access to a paramedic, seven days a week. They are given a specific number to call for non-emergency matters.
The group of paramedics, known as the Arlington Community Healthcare Program (ACHP), receives additional training to help them assess and treat people with chronic illnesses, which often lead to frequent ED visits. They are assigned to a Texas Health patient and provide at-home care. Paramedics say this reduces the number of frequent 911 callers and makes room for more emergency-related calls.
How it helps
"We are usually the first point of contact for a lot of these patients," said Jason Adams, an engineer/paramedic with the Arlington Fire Department and coordinator of the program. "They feel better knowing they have someone they can call who knows them and understands their condition."
Once a patient registers with the program as part of their discharge from Texas Health Arlington Memorial, the hospital provides the paramedics with some basic information about each patient. "The paramedics work closely with the outpatient clinic or the patient's physicians to make sure patients are taking the right medication, understand their medication and dosage, and know when to take them," Dachroeden said. An outpatient clinic nurse practitioner or physician can tell the paramedic that a patient needs to get labs or make an adjustment to their medication.
The help of paramedics is often needed in other parts of the house. "They'll go into the kitchen and show patients how to read food labels," she said. "They help patients stay on their treatment plan and do assessments."
Dachroeden says they also see the living condition first-hand. "They noticed a patient, who had difficulty breathing, was living on the third floor of an apartment building. The paramedics worked with the staff at the apartment complex and got the patient moved to a ground floor apartment."
In the case of a real emergency, patients are still urged to call 911. The paramedic assigned to that patient will be notified and respond to their home as well.
Texas Health Arlington Memorial is the only hospital in the city that offers this type of program. Texas Health Presbyterian Hospital Plano has a similar program in conjunction with Plano Fire-Rescue. Texas Health Presbyterian Hospital Kaufman works with a paramedic from CareFlite who helps high-risk patients recently discharged from the hospital.
"Patients can't believe this is a free service," Dachroeden said. "They're learning to manage their health a lot better and this improves their quality of life."
"This program helps Texas Health patients beyond the walls of the hospital," said Adams. "It gives patients more confidence to manage their own health issues knowing they have someone to lean on."
About Texas Health Resources
Texas Health Resources is a faith-based, nonprofit health system that cares for more patients in North Texas than any other provider. With a service area that consists of 16 counties and more than 7 million people, the system is committed to providing quality, coordinated care through its Texas Health Physicians Group and 29 hospital locations under the banners of Texas Health Presbyterian, Texas Health Arlington Memorial, Texas Health Harris Methodist and Texas Health Huguley. Texas Health access points and services, ranging from acute-care hospitals and trauma centers to outpatient facilities and home health and preventive services, provide the full continuum of care for all stages of life. The system has more than 4,100 licensed hospital beds, 6,400 physicians with active staff privileges and more than 26,000 employees. For more information about Texas Health, call 1-877-THR-WELL, or visit www.TexasHealth.org.