March 01, 2019
Texas Health Burleson employees helping patient live life with Guillain-Barre syndrome
Trent Fielder isn't one to give up. He went from paralysis seven years ago, shortly after he was diagnosed with Guillain-Barre syndrome (GBS), to completing an Ironman event last year. That's a feat for anyone, but especially compelling considering he's been fighting pain and paralysis for years.
GBS can affect anyone, at any age. Each year, it's estimated that one person in 100,000 fall victim to the rare neurological disorder, according to the National Institute of Neurological Disorders and Stroke. The body's immune system attacks part of the nervous system — specifically the nerves located outside the brain and spinal cord. As a result, muscles and joints become weak. It the most severe cases, it can even lead to paralysis, for patients just like Fielder.
Understanding and battling GBS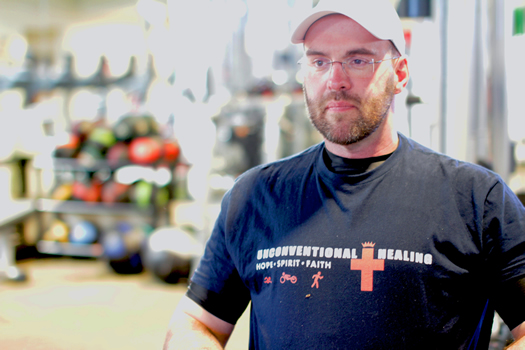 But now Fielder isn't fighting GBS alone. For the past four years he's trekked weekly to complete rehab and physical therapy at Texas Health Neighborhood Care & Wellness Burleson, a part of Texas Health Harris Methodist Hospital Fort Worth.
Fielder said he remembers his diagnosis like it was yesterday. After a CT scan and spinal tap were performed, several neurologists delivered the news as he waited in a Florida emergency room.
"One of the ER docs asked me if I'd heard of Guillain-Barre, and I honestly thought it was the name of a doctor at the hospital," Fielder said. "I had no idea they were talking about an illness. When they all pronounced it in different ways, I discovered how rare it is and how many physicians never see patients with GBS."
Soon after his GBS diagnosis, Fielder was dealt another painful blow. Doctors told him he also suffered from Chronic Inflammatory Demyelinating Polyneuropathy (CIDP), which is a rare, debilitating nerve disorder that diminishes movement in the legs and arms. Experts often consider CIDP the acute, chronic counterpart to GBS, according to the National Institute of Neurological Disorders and Stroke.
Doing the unthinkable
In 2012, Fielder moved back to Texas to be closer to family, beginning rehab at Texas Health Burleson two years later. With the help of a personal trainer and physical therapist, Fielder continues to strengthen his upper body muscles and maintain flexibility. But last year, he challenged himself to do the unthinkable.
"Arlene and I were talking about marathons, and I knew I wanted to compete. I decided to train for the half Ironman event," Fielder said.
Arlene White, nursing supervisor for Texas Health Burleson's cardiac rehab, and an avid triathlete, became Fielder's triathlete coach, providing him with the necessary tools to make his lofty goal a reality — a goal that included 1.2 miles of swimming, 56 miles of biking and 13.1 miles of running.
"It's no easy task for anyone," said White. "You have to commit — mind, body and soul — plus, you need that mental support from friends and family."
With White's help and others at Texas Health Burleson, Fielder trained diligently and competed in the half Ironman event back in October.
Swimming was the hardest training for Fielder. Both illnesses had diminished his lung capacity.
"My irregular breathing sometimes causes panic attacks, so I use an underwater mechanism that allows me to listen to music and breath to the rhythm."
But the highlight of the race was crossing the finish line, on his own two feet.
"At two-tenths of a mile left to go, I heard God's voice telling me to stand," Fielder said. With the aid of his friends and family, he finished the race.
Moving forward by faith
Fielder refuses to allow GBS to overshadow his quality of life. He continues his weekly physical training and therapy at Texas Health Burleson, with the possibility of another Ironman event this year.
"My illness has taught me so much. It's strengthened my faith and motivated me to achieve my goals, no matter the obstacles," Fielder said. "When we take those moments in life where we suffer — and we share our experiences with others — that load is lifted."
About Texas Health Resources
Texas Health Resources is a faith-based, nonprofit health system that cares for more patients in North Texas than any other provider. With a service area that consists of 16 counties and more than 7 million people, the system is committed to providing quality, coordinated care through its Texas Health Physicians Group and 29 hospital locations under the banners of Texas Health Presbyterian, Texas Health Arlington Memorial, Texas Health Harris Methodist and Texas Health Huguley. Texas Health access points and services, ranging from acute-care hospitals and trauma centers to outpatient facilities and home health and preventive services, provide the full continuum of care for all stages of life. The system has more than 4,100 licensed hospital beds, 6,400 physicians with active staff privileges and more than 26,000 employees. For more information about Texas Health, call 1-877-THR-WELL, or visit www.TexasHealth.org.