July 23, 2019
Cardiologist reflects on Apollo 11 anniversary and current IEEM research
On a warm July day in 1969, 13-year-old Benjie sat glued to the television with all the other summer campers as Neil Armstrong walked on the moon. It was a day that many will never forget, including Benjie, who dreamed of becoming an astronaut.
It was a day that many will never forget, including Benjie, who dreamed of becoming an astronaut. Fifty years ago, on July 20, Apollo 11 made its historical lunar landing. And now Benjamin Levine, M.D., is the director of the Institute for Exercise and Environmental Medicine (IEEM) at Texas Health Presbyterian Hospital Dallas, a partnership with UT Southwestern Medical Center.
"I didn't become an astronaut, but my fascination with space never faltered," Levine said. "Instead, I decided to research how people can survive in environments that aren't like Earth."
Research at the IEEM
Levine leads a group of researchers that conduct a myriad of studies that sometimes reference valuable knowledge from space exploration to benefit patients here on earth.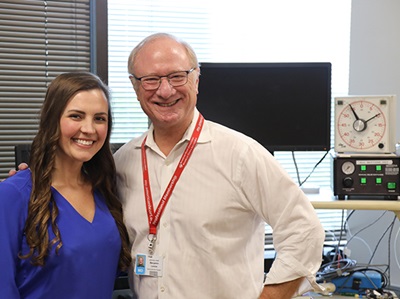 One area of study that the IEEM excels in focuses on how the human body responds to gravity. Specific examples of "gravity diseases" include:
Syncope (fainting)
Orthostatic hypotension (the inability to stand upright without a fall in blood pressure) or
POTS (the Postural Orthostatic Tachycardia Syndrome)
"One of the biggest problems since the inception of the manned space program has been that astronauts have fainted when they came down to earth. The longer the time in a gravity-free environment in space, the greater the risk appeared," Levine said. "This problem has bedeviled the space program for a long time, but this condition is something ordinary people often experience as well."
Julie's journey
People just like Julie Christoph, a 35-year-old neonatal intensive care nurse who sought treatment at the IEEM. She suffers from POTS, and with the illness came a racing heartbeat, lowered blood pressure, a smaller heart muscle and utter exhaustion.
"It was like I was running a constant marathon, and within a span of two months, I lost 25 pounds," Christoph said. "But just walking from the sofa to the bathroom, it took everything out of me."
She looked like a healthy female in her 20s, with normal results from cardiac stress tests and echocardiograms. "I even had two physicians tell me I was completely fine, and it was all in my head," Christoph said. Still, her heart kept racing and her symptoms became more debilitating.
Eight years ago, Levine performed a detailed exam that involved Christoph going from a resting to standing position. In less than two hours, she finally knew what had been plaguing her body and zapping her energy for several months. She was put on a high-salt diet and had to follow a strict exercise regimen, which included recumbent biking and swimming — she calls it the POTS protocol.
Levine said understanding the physiology of space flight can also be helpful for understanding many conditions experienced by non-astronauts, just like Christoph.
Helping astronauts above and patients below
In 2018, Christoph participated in a clinical trial that analyzed the benefits of POTS patients wearing cooling vests in extreme heat. During that same year, she observed an IEEM study that determined whether compression stockings were beneficial to astronauts, a collaborative project with NASA. For the first two years after her diagnosis, she even wore the stockings as soon as she got out of bed, taking them off only when she showered and slept. The studies successfully deduced that both accessories addressed certain POTS symptoms, such as dizziness, fainting, and lowered blood pressure.
"I've been symptom-free since 2015," Christoph said. "Dr. Levine's clinical trials and his POTS protocol has made it possible for me to work and help others in need."
With her heart no longer racing, Christoph is studying for the MCAT and applying to medical school with the ultimate goal of helping other POTS patients. She's grateful that the clinical trials are benefiting patients and astronauts when they return home.
Reflecting on the lunar landing
Armstrong, who walked on the moon 50 years ago, said, "I believe every human has a finite number of heartbeats. I don't intend to waste any of mine."
Levine and Christoph couldn't agree more.
That continued passion for collective greatness in outer space motivates those at the IEEM to continuously use lessons learned during space exploration to better care for patients on earth.
"This year marks the 50th anniversary of the Apollo 11 moon landing, and it's exciting to think of how our exploration in and of space can lead to important medical advances here on Earth," Levine said.
Levine's latest research regarding the effects of long duration spaceflight on blood pressure control recently published in the American Heart Association's journal Circulation.
About Texas Health Resources
Texas Health Resources is a faith-based, nonprofit health system that cares for more patients in North Texas than any other provider. With a service area that consists of 16 counties and more than 7 million people, the system is committed to providing quality, coordinated care through its Texas Health Physicians Group and 29 hospital locations under the banners of Texas Health Presbyterian, Texas Health Arlington Memorial, Texas Health Harris Methodist and Texas Health Huguley. Texas Health access points and services, ranging from acute-care hospitals and trauma centers to outpatient facilities and home health and preventive services, provide the full continuum of care for all stages of life. The system has more than 4,100 licensed hospital beds, 6,400 physicians with active staff privileges and more than 26,000 employees. For more information about Texas Health, call 1-877-THR-WELL, or visit www.TexasHealth.org.