October 10, 2019
Seven Texas Health hospitals have adopted the practice
ARLINGTON, Texas — Nurse Allison Laviolette knows from personal experience how nitrous oxide can help a woman in the throes of labor. She used it when she gave birth to her son, who is now 2-years-old.
"It takes the edge off," said Laviolette, RNC-OB, CCAP, who works in Labor and Delivery at Texas Health Harris Methodist Hospital Cleburne. "It made me able to focus on something besides the pain during the contractions."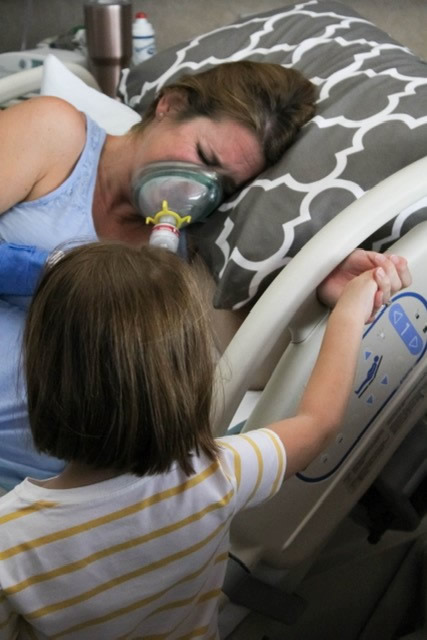 Texas Health Cleburne began using nurse-managed nitrous oxide to help relieve anxiety during labor and delivery in 2014. They were the first hospital in Texas to use the protocol; the practice has spread across the system to seven of the 10 wholly owned Texas Health hospitals that deliver babies today.
The program benefits patients in multiple ways.
"Having it nurse-driven (instead of involving anesthesiology) means no delay in treatment and it's more cost-effective for the patient and the hospital," said Toni Pinyan, B.S.N., R.N., RNC-OB, C-EFM, NCAP V, perinatal program coordinator for Women's Services at Texas Health Cleburne.
Six more Texas Health Resources hospitals have chosen to use nurse-managed nitrous oxide since Cleburne started the practice, and a seventh has it budgeted for 2020, according to Melanie Keever, manager of women and infant services at Texas Health Cleburne.
"This nurse-driven practice is spreading across the system to benefit consumers," said Mary Robinson, Ph.D., R.N., NEA-BC, Reliable Health chief nursing officer.
Safe and effective
Most people think of the dentist when they hear about nitrous oxide. The protocol Cleburne uses is different.
At the dentist's office, the gas typically is free-flowing, and the concentration can be up to 70 percent nitrous, 30 percent oxygen, Pinyan said. The Federal Drug Administration-approved system used for labor and delivery provides 50 percent nitrous and it's delivered on demand — "the patient has full control over when she uses it and when she doesn't use it," Pinyan said.
The gas is not passed through the placenta, so no extra fetal monitoring is necessary. In fact, routine fetal monitoring often shows the baby is better oxygenated after nitrous use because moms are relaxing and taking deeper breaths.
The patients use a mask, so there's no need for an IV and nitrous can be used during a water birth, Pinyan said.
"It will not make your pain go away," said Pinyan, who has presented nationally and at the state level about Cleburne's nitrous program. "It helps them get a grip on what's going on. It will get you back to where you were a couple of hours ago."
She added, "Not only is nitrous oxide used during labor and delivery, it also is beneficial to use during bedside procedures for cervical ripening, external cephalic versions, perineal repairs after delivery, IV starts, Foley catheter insertions and other invasive bedside procedures."
Overall birth experience
The use of nitrous oxide has contributed to Cleburne's reputation as a good place to go for a low-intervention birth experience, said Kelly Curlee, B.S.N., RNC-OB, NE-BC, director of Acute Care Services at Texas Health Cleburne. About 48 percent of patients choose to use the nitrous oxide.
Pinyan said the nitrous and other low intervention measures in use at Texas Health Cleburne have attracted patients who live well outside the hospital's service area.
The hospital also offers water births, an herbal bath for moms after delivery and aromatherapy.
"Cleburne has found a niche," Curlee said. "Because of our size and resources, we can cater to a population that wants a low intervention experience."
About Texas Health Resources
Texas Health Resources is a faith-based, nonprofit health system that cares for more patients in North Texas than any other provider. With a service area that consists of 16 counties and more than 7 million people, the system is committed to providing quality, coordinated care through its Texas Health Physicians Group and 29 hospital locations under the banners of Texas Health Presbyterian, Texas Health Arlington Memorial, Texas Health Harris Methodist and Texas Health Huguley. Texas Health access points and services, ranging from acute-care hospitals and trauma centers to outpatient facilities and home health and preventive services, provide the full continuum of care for all stages of life. The system has more than 4,100 licensed hospital beds, 6,400 physicians with active staff privileges and more than 26,000 employees. For more information about Texas Health, call 1-877-THR-WELL, or visit www.TexasHealth.org.