September 04, 2019
Great-grandmother also served as nurse at Texas Health Fort Worth
FORT WORTH, Texas — For nurse Emily Escobar, Texas Health Harris Methodist Hospital Fort Worth is a bridge across four generations.
Escobar, B.S.N., R.N., a Resource Center nurse in the Emergency Department, recently learned while researching her family history that her great-grandmother Ima Hazel Barnett was also a nurse at the hospital.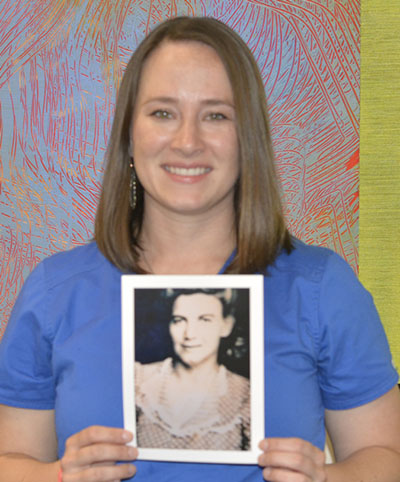 "Hazel started here in 1951 as a nurse's aide after her husband developed tuberculosis and was sent to a sanitarium," Escobar said. "She had five kids and applied because they had openings on the night shift. The hospital helped pay for her schooling, and she became a licensed nurse in 1953."
But wait, there's more
The similarities don't end there. Escobar also shares a birthday with her great-grandmother, who died of breast cancer in 1976. Both were born Aug. 12, 75 years apart. And they had similar hobbies.
"She liked to craft, and so do I," Escobar said. "Before I had kids, I used to collect glass bottles and make crafts with them. Then I read in a newspaper article that Hazel had a ton of glass bottles that she made crafts with. The more I read about her, the more I felt connected."
The two also shared a love of animals. Another newspaper article said Barnett got so attached to her 46-pound turkey that she sold it rather than eat it.
Escobar said she was surprised to learn about their shared history from her grandmother.
"My church is very interested in family history, and when I started doing it, my grandmother told me all this stuff," she said. "It's really cool to find out where you come from, and how there are characteristics and traits that are interwoven."
Joseph DeLeon, hospital president, said Escobar's story is a perfect example of the facility's deep roots in the community.
"We have been providing quality care for the residents of Fort Worth for nearly 90 years," he said. "Many of our employees were born here, and quite a few have parents or even grandparents who worked here. But the parallels between Emily and her great-grandmother are extraordinary."
Changing direction
Just as nursing wasn't in Barnett's original plans, the career wasn't what Escobar wanted early on, either.
"My mother and sister are nurses, but I wanted nothing to do with health care," Escobar said. "I always wanted to be a teacher. But when I asked my teachers how they felt about their jobs, most of them had negative things to say. When I talked to medical professionals, they loved their jobs."
Escobar also had a strong aversion to blood — "anytime I saw it, I got sick to my stomach," she said — but one experience changed all that.
In 2008, Escobar went with her mother to aid Hurricane Ike victims in Houston, where she helped a physician assistant treating a man who had fallen off a roof while using a chainsaw.
"For some reason, in that moment, it didn't bother me," she said. "I just knew that the man needed our help. It never bothered me again."
Finding her purpose
After getting a degree in biology with the goal of becoming a podiatrist, Escobar switched gears and earned her nursing degree at the University of Texas at Arlington.
"Now I feel like I'm doing what I'm supposed to be doing," Escobar said. "I love it."
She hopes to find out even more about Barnett and calls her grandmother regularly to learn more about her history.
"The more I learn, the more I want to learn," she said. "My grandmother is an amazing person, so I know her mother must have been amazing, too."
About Texas Health Resources
Texas Health Resources is a faith-based, nonprofit health system that cares for more patients in North Texas than any other provider. With a service area that consists of 16 counties and more than 7 million people, the system is committed to providing quality, coordinated care through its Texas Health Physicians Group and 29 hospital locations under the banners of Texas Health Presbyterian, Texas Health Arlington Memorial, Texas Health Harris Methodist and Texas Health Huguley. Texas Health access points and services, ranging from acute-care hospitals and trauma centers to outpatient facilities and home health and preventive services, provide the full continuum of care for all stages of life. The system has more than 4,100 licensed hospital beds, 6,400 physicians with active staff privileges and more than 26,000 employees. For more information about Texas Health, call 1-877-THR-WELL, or visit www.TexasHealth.org.