November 12, 2019
Pilot effort evolves into fixture at Texas Health Dallas
Regular meals and visits are making a difference for senior patients who are discharged from the hospital.
Meals that Heal, a pilot program for senior patients that was started two years ago by two Texas Health Presbyterian Hospital Dallas nurse practitioners, has been so successful that it's evolved into a fixture at the hospital, funded for the next three years through the Texas Health Resources Foundation.
Through the program, Stephanie Lindsey-Taylor, M.S.N., R.N., AGNP-BC and Rincy Thomas, M.S.N., APRN, AGPCNP-C, connect seniors being discharged with meal programs and follow up to make sure they're doing well.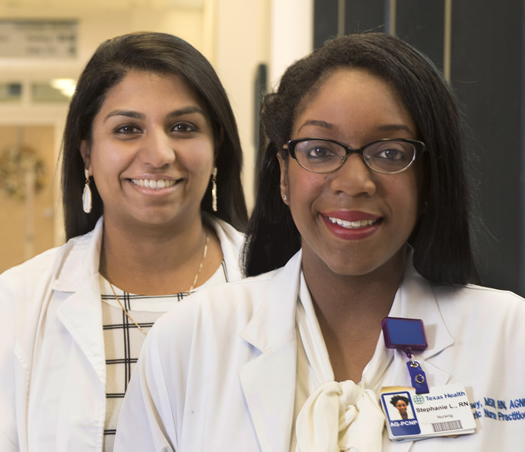 "This program really speaks to the Texas Health Resources Mission and Vision by not only providing these patients with regular healthy meals but establishing a true collaboration with our caregivers," said Julie Balluck, M.S.N., R.N., NEA-BC, interim chief nursing officer at Texas Health Dallas
In the time since it started, they've seen no readmissions for the 85 patients in the program within 30 days, and fewer visits to the Emergency Department within 30 and 60 days, Lindsey-Taylor said.
"This reflects better mood and understanding of discharge instructions and medical regimens," Lindsey-Taylor added.
Further, she said the patients have had lower Nutritional Risk Assessment scores, which are used to evaluate nutritional status and detect the presence of malnutrition.
Inpatients receive a pre-NRA score and a post NRA score weekly after the meal service begins.
Questions for patients
The meals are delivered through the Visiting Nurse Association and Meals on Wheels. The deliverers ask a series of questions when they visit a patient's home: Are they feeling better? Taking their medication, or have questions about them? What's their follow-up plan with their physician?
If there are problems, the deliverer contacts the Visiting Nurse Association social worker, who contacts Thomas and Lindsey-Taylor for follow-up.
"We have prevented many hospitalizations," Thomas said. "We deferred them to their primary care physician and talked with them about what they needed to do. We've created a protocol for different levels of situations."
In one case, she said, they found that a patient had a poor living environment and were able to work with state Adult Protective Services to have the patient moved to a better place.
"We build a relationship with them," Thomas said.
Catherine Oliveros, DrPh, vice president of Community Health Improvement, said the program is similar to other data driven Texas Health initiatives targeting social determinants of health.
"Making sure seniors have nutritious meals after discharge addresses a barrier that can result in post-discharge complications and the follow up provided by the Visiting Nurse Association is a great way to ensure seniors have the support they need once home," she said. "These efforts are necessary when we consider all the factors that play a role in health and well-being."
About Texas Health Resources
Texas Health Resources is a faith-based, nonprofit health system that cares for more patients in North Texas than any other provider. With a service area that consists of 16 counties and more than 7 million people, the system is committed to providing quality, coordinated care through its Texas Health Physicians Group and 29 hospital locations under the banners of Texas Health Presbyterian, Texas Health Arlington Memorial, Texas Health Harris Methodist and Texas Health Huguley. Texas Health access points and services, ranging from acute-care hospitals and trauma centers to outpatient facilities and home health and preventive services, provide the full continuum of care for all stages of life. The system has more than 4,100 licensed hospital beds, 6,400 physicians with active staff privileges and more than 26,000 employees. For more information about Texas Health, call 1-877-THR-WELL, or visit www.TexasHealth.org.