March 07, 2019
Unique center at Texas Health Plano focuses on holistic, comprehensive care
PLANO, Texas — Every morning was a painful guessing game for Nora Manning. She never knew if a sharp pain in her lower back, a throbbing ache in her left hip or uncontrollable muscle spasms and joint pain would stop her mid-motion, before she even thought about getting out of bed.
That was before Manning heard about the Texas Health Pain Relief & Wellness Center at Texas Health Presbyterian Hospital Plano.
The center brings together nurse practitioners, nutritionists, physicians on the medical staff and physical therapists to create customized care, all in one centralized location. The Pain Center also consults with on-site chiropractors. The wide range of specialties work to enhance a patient's quality of life.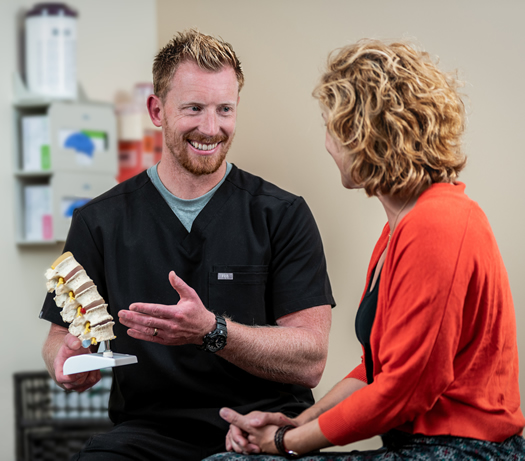 "There has to be a paradigm shift where you don't want to just cover up the pain — instead, you want to fix it," said Jon Koning, M.D., a pain management physician on the Texas Health Plano medical staff.
At 70 years old Manning constantly battled painful episodes brought on by fibromyalgia and osteoarthritis.
"This is what I was looking for 10 years ago," said Manning, who lives in Frisco. "My pain was so bad, I went from pills to patches, and it wasn't getting any better." 
The pain drastically affected her lifestyle. But several months ago, Manning's life completely changed after she began treatment at Texas Health Plano's Pain Center.
Since then she's benefited from physical therapy, warm pool therapy and chiropractic therapy. As a part of her pain management treatment, she's currently seeing a behaviorist.
"When you're in constant pain, you feel isolated and you can't really plan anything," Manning said. "Most days you wake up with the pain. Some days you feel good and you tend to overdo it, and then you're paying for it the next day. It's not just a vicious physical cycle. It's a mental one, too."
Pete Peterson truly feels her pain — he's been dealing with chronic back pain for more than 15 years.
As a respiratory therapist, 50-year-old Peterson helps patients throughout Texas Health Plano breathe better, from the smallest newborns to elderly patients. Years ago, Peterson injured his back helping a patient.
Over the years, Peterson has visited the ER numerous times to address his pain.
"Sometimes I couldn't even walk, and when I'd go to the hospital, I'd receive narcotics and muscle relaxers," Peterson said. He even tried physical therapy, but the pain progressed and intensified.
"When I heard about the Pain Center, I looked at it as a way for me to get ahead of the pain instead of staying behind it. I was tired of chronic pain dictating my life."
According to Koning, more than 26 million Americans between the ages of 20 and 64 experience frequent back pain, and pain management centers are becoming a necessity.
"Pills can't be thrown at every ailment to mask the pain," Koning said. "Chiropractic care, exercise and healthy eating are sometimes prescribed to address the pain — it's more about a lifestyle change."
Koning said the center provides patients with valuable resources, but each patient must commit to getting better.
Both Manning and Peterson agree their pain levels have diminished considerably.
"When I first came, I was taking eight pills a day for the pain," Manning said. "Now I'm down to just three, and that makes a huge difference."
After devising a plan of chiropractic and physical therapies, Peterson's chronic pain is under control.
"I'm six-foot five, so when I move patients, I adjust the beds to properly accommodate my height and my back," Peterson said. "I'm more aware of what I need to do, and now that my pain is gone, I want to keep it that way."
According to Koning, patients that visit the Pain Center most commonly have back and neck pain issues.
Koning emphasizes that not everyone has the same pain, and not everyone needs the same care.
"Cookie-cutter medicine isn't a good formula for addressing pain," Koning said. "Customized treatment, and addressing it early, is the best plan of action. But most importantly, realize that you don't have to live in the pain that you're in right now."
To learn more about Texas Health Plano's new approach to pain care, visit TexasHealthPainRelief.com.
About Texas Health Resources
Texas Health Resources is a faith-based, nonprofit health system that cares for more patients in North Texas than any other provider. With a service area that consists of 16 counties and more than 7 million people, the system is committed to providing quality, coordinated care through its Texas Health Physicians Group and 29 hospital locations under the banners of Texas Health Presbyterian, Texas Health Arlington Memorial, Texas Health Harris Methodist and Texas Health Huguley. Texas Health access points and services, ranging from acute-care hospitals and trauma centers to outpatient facilities and home health and preventive services, provide the full continuum of care for all stages of life. The system has more than 4,100 licensed hospital beds, 6,400 physicians with active staff privileges and more than 26,000 employees. For more information about Texas Health, call 1-877-THR-WELL, or visit www.TexasHealth.org.