March 05, 2019
Texas Health Cleburne pilots paramedicine program

CLEBURNE, Texas — Texas Health Harris Methodist Hospital Cleburne is testing a program to help chronically ill patients avoid reoccurring emergency department (ED) visits. The pilot program, in conjunction with the Cleburne Fire Department, allows paramedics to address health-related needs of patients in their homes after they're discharged from the hospital.
"It's a way to evaluate and educate patients for continued recovery," said Judy Laviolette, M.D., chief medical officer at Texas Health Cleburne. "The extension of such clinical resources into our community allows our patients to remain well at home, help prevent the frequent need for emergency room visits or hospital admissions that often accompany chronic medical conditions, such as congestive heart failure or chronic lung disease."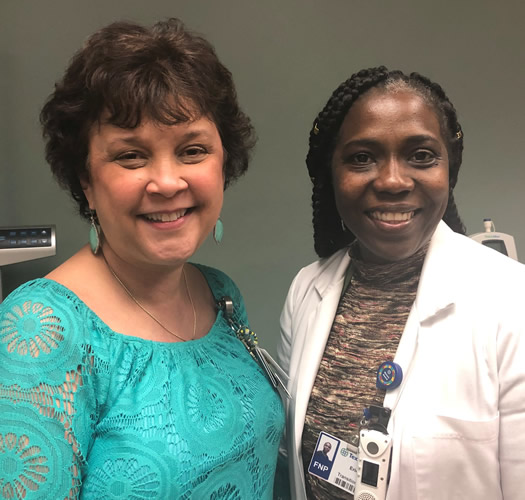 Outpatient clinic staff identify 10 patients who could benefit from this program and agree to participate. There are no specific criteria to enroll but a patient must be a Cleburne resident and need additional support to manage their chronic illness. The pilot lasts for one year with the official rollout in early March.
During their visits, specially trained paramedics will go over discharge instructions to help the patient understand them, assist with medication and nutrition needs, and check the home for safety hazards.
"Paramedics will be able to serve as the eyes and ears for the nurse practitioners and physicians," said Denice Black, M.S.N., APRN, ACNS-B.C., program director at the Texas Health Cleburne outpatient clinic. "They'll be looking out for any changes or deterioration in the patient, if the patient needs to change their medication, and they can alert a physician to those situations."
"This is not meant to take the place of someone's physician," said Scott Lail, fire chief for the Cleburne Fire Department. "We want to make sure patients are taking their medications correctly and improve their quality of life."
Lail says many health-related situations can be addressed in the home, saving patients the inconvenience of additional trips to the hospital.
There are similar programs at several entities including Texas Health Arlington Memorial Hospital, Texas Health Presbyterian Hospital Plano, Texas Health Presbyterian Hospital Kaufman and Texas Health Harris Methodist Hospital Azle. Texas Health Arlington Memorial has seen between a 50 to 75 percent reduction in the number of ED or inpatient readmissions since the program started three years ago.
About Texas Health Resources
Texas Health Resources is a faith-based, nonprofit health system that cares for more patients in North Texas than any other provider. With a service area that consists of 16 counties and more than 7 million people, the system is committed to providing quality, coordinated care through its Texas Health Physicians Group and 29 hospital locations under the banners of Texas Health Presbyterian, Texas Health Arlington Memorial, Texas Health Harris Methodist and Texas Health Huguley. Texas Health access points and services, ranging from acute-care hospitals and trauma centers to outpatient facilities and home health and preventive services, provide the full continuum of care for all stages of life. The system has more than 4,100 licensed hospital beds, 6,400 physicians with active staff privileges and more than 26,000 employees. For more information about Texas Health, call 1-877-THR-WELL, or visit www.TexasHealth.org.