February 20, 2019
Mother and daughter endured escape on Vietnamese fishing boat
As Thao Nguyen tends to babies in the Texas Health Presbyterian Hospital Dallas NICU, she is driven to help others, in part, by the suffering her own family has known.
In 1981, when she was just 17 months old, Nguyen and her parents escaped the Communist regime in Vietnam on a small fishing boat in near-starving conditions, below deck with 72 other people. They navigated the South China Sea for four days and were attacked by pirates. Finally, shortly after the attack, they were rescued by a U.S. Navy ship, USS John Young.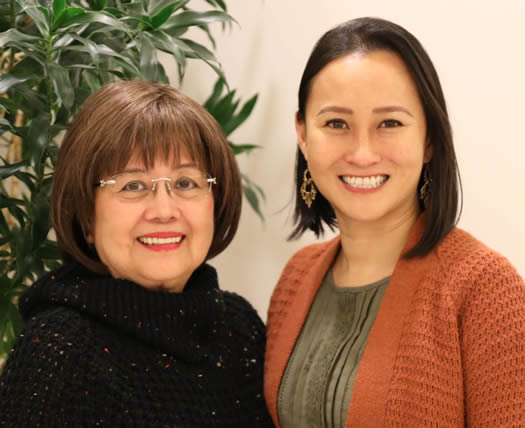 Even after the rescue, the journey to a better world would be a long one. The family of three went first to a refugee camp in Thailand, to another in the Philippines and then finally to the United States. They finally found a place to call home in a rough neighborhood in Dallas, where they set about building a new life.
'We survived'
Previously a teacher and a pilot in Vietnam, Nguyen's parents did whatever work they could find. Her mother, Thanh, remembers the hardship. "My husband got a job at a 7-11 store — that store was robbed so many times," she remembered. "We survived."
The family went on to do much more than just survive: Thanh retired two years ago from Texas Health Dallas as a Rehabilitation nurse supervisor after 29 years. Thao, the daughter she protected on the journey from Vietnam to the United States, has been a NICU nurse at the hospital for 15 years.
The mother, whose first language was Vietnamese, had a woman who sold Avon products in her neighborhood read the thick nursing books to her so she could record them and listen to them later. She graduated with an associate's degree in 1988 and went straight to Texas Health Dallas. Thanh went on to earn her bachelor's degree online in 2015.
By her retirement, she was more than just a supervisor to her colleagues.
"They called me Mama Thanh. I was the one everybody came to for every occasion — birthdays, retirements, baby showers," she said. "I connected people together and that's how I see the hospital, as my family."
She added, "I try to pay back and pay forward by helping people."
A love of science
For her part, daughter Thao had never planned to be a nurse, wishing to follow a different path from her mother's.
But as it happened, she found teachers at Richland College who inspired her to love science and turned to nursing for her bachelor's degree. She enrolled in nursing school at Texas Woman's University, graduated in 2004 and came to work at Texas Health Dallas the same year.
Thao's mother instilled in her daughter a passion for giving back. Her deep desire to help others comes in part from the moving stories her parents would tell of people reaching out to care for them in their time of need. Thao has been on nine mission trips since 2012, to countries as far away as Romania and Laos.
She also uses her love of photography to help others, creating ArtBark, a dog-friendly event to raise money for those in need. Proceeds from dogs' photos with Santa and from vendors were donated to charitable organizations.
"She has used her photography skills for us in a very meaningful way," said Thao's supervisor, Dede School, nursing manager of the Texas Health Dallas NICU. Thao photographs NICU babies with Santa at Christmastime and makes sure families get the photos, and also takes bereavement photos for families of babies who have died.
As a nurse, Scholl said, Thao is "very empathetic. She makes lasting relationships with families, she really does. She is always cognizant of their cultures and how they may be different from our culture, which I think is huge."
'I've never been happier'
One of the family's proudest moments came in 2012 when mother and daughter both took the stage at the Great 100 Nurses celebration – both received the honor that year, the first mother-daughter pair to do so.
Thao, just like her mother, said Texas Health Dallas has become a family to her.
"I grew up with my co-workers, met them when they were single, know their maiden names, married names, now their children. You go through the highs and lows of life together. I feel like they're extremely supportive."
For instance, Thao said the NICU has a committee that raises money to help colleagues in need.
She also credits becoming a Christian with giving her new purpose in life.
"I've never been happier" as a NICU nurse, she said.
Thao wrote down her thoughts for a final takeaway from all her family's hardship and experience: "Don't harden your heart to the underprivileged. It's amazing what someone can achieve once they realize they're loved and supported. One day that person might be there to help you in your greatest time of need."
About Texas Health Resources
Texas Health Resources is a faith-based, nonprofit health system that cares for more patients in North Texas than any other provider. With a service area that consists of 16 counties and more than 7 million people, the system is committed to providing quality, coordinated care through its Texas Health Physicians Group and 29 hospital locations under the banners of Texas Health Presbyterian, Texas Health Arlington Memorial, Texas Health Harris Methodist and Texas Health Huguley. Texas Health access points and services, ranging from acute-care hospitals and trauma centers to outpatient facilities and home health and preventive services, provide the full continuum of care for all stages of life. The system has more than 4,100 licensed hospital beds, 6,400 physicians with active staff privileges and more than 26,000 employees. For more information about Texas Health, call 1-877-THR-WELL, or visit www.TexasHealth.org.