November 20, 2019
THPG physician assists in resuscitating football official after sudden cardiac arrest
Cheers from the stands suddenly went silent with only three minutes left in the game. The crowd watched from afar as an official dropped to his knees, collapsing on the football field.
"I didn't know what happened," said Dennis Bennett, umpire and heart attack survivor. "I felt a little dizzy and the next thing I knew, people were standing over me."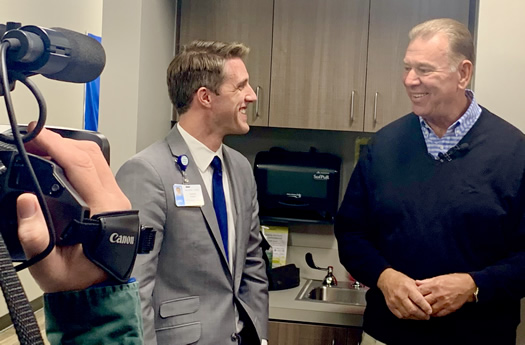 Bennett, a football official for more than 25 years, went into sudden cardiac arrest during the Celina High School versus Melissa High School football game on Oct. 18.
Andrew Parker, M.D., happen to be volunteering on the sidelines that night and saw Bennett fall to the ground.
Parker and Jose Mendez, an athletic trainer from Melissa High School, rushed to Bennett's side. Parker said he reacted quickly and began to assess the situation.
"When we first got to the field, he was unresponsive and it was hard to find a pulse," said Parker, an orthopedic surgeon and sports medicine physician on the medical staff at Texas Health Presbyterian Hospital Allen and a member of Allen Orthopedics and Sports Medicine, a Texas Health Physicians Group practice. "We had someone call 911 and got the AED out there immediately."
Parker and the athletic trainer used the device, an automated external defibrillator, on Bennett as he lay on the grass and began CPR. He was out of it for less than five minutes, Parker said.
Miraculously, after the first round of CPR, Bennett gasped and opened his eyes. EMS arrived shortly after and paramedics were able to stabilize him. He was transported to a local hospital for further medical evaluation and treatment.
"We're there on the front lines to assess and triage sports-related injuries as well as any other serious medical condition that could happen on the field," said Tom Caldwell, vice president of Texas Health Sports Medicine. "Our main concern is safety for everyone involved in the game."
Bennett was recently reunited with both men who saved his life.
"Dr. Parker and Jose, the athletic trainer, are the real heroes," Bennett said.
His family presented Parker with a framed note along with family photos to show their appreciation.
"If it wasn't for them, my husband wouldn't be here right now," Sharon Bennett said.
About Texas Health Resources
Texas Health Resources is a faith-based, nonprofit health system that cares for more patients in North Texas than any other provider. With a service area that consists of 16 counties and more than 7 million people, the system is committed to providing quality, coordinated care through its Texas Health Physicians Group and 29 hospital locations under the banners of Texas Health Presbyterian, Texas Health Arlington Memorial, Texas Health Harris Methodist and Texas Health Huguley. Texas Health access points and services, ranging from acute-care hospitals and trauma centers to outpatient facilities and home health and preventive services, provide the full continuum of care for all stages of life. The system has more than 4,100 licensed hospital beds, 6,400 physicians with active staff privileges and more than 26,000 employees. For more information about Texas Health, call 1-877-THR-WELL, or visit www.TexasHealth.org.