July 23, 2019
Texas Health empowering heart disease patients with invaluable knowledge, before and after discharge
Looking over the checklist, Carol McDonald frantically rattled off the warning signs to the doctor. She didn't know if Charles was suffering from heart failure, or if she was overreacting.
"Get your husband to the hospital, now!" the cardiologist said.
McDonald kept reading, making sure she shared every detail with the physician on the other end of the phone.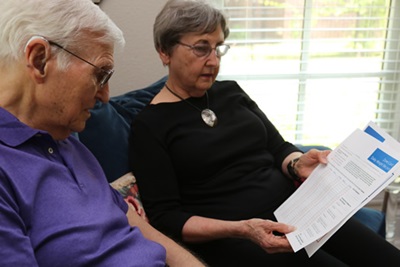 "I said, get your husband to the emergency room, now!" he ordered. She hung up the phone, rushed her husband to the car, and drove to Texas Health Harris Methodist Hospital Southwest Fort Worth.
"He was suffering from heart failure, and I'm just grateful that I knew about the hospital's Heart Failure Zone Card checklist. It was a lifesaver, along with the doctor's urgent instruction," she said.
Based on a report published by the American College of Cardiology Foundation, heart failure happens to be the most common cause of hospitalization for patients 65 and older. That's why Texas Health hospitals have empowered patients and their loved ones with invaluable information and resources, before and even after they leave the hospital, ranging from customized follow-up care, educational tools and support groups.
Created several years ago by Texas Health Resources, the Heart Failure Zone Card is part of a Reliable Care Blueprinting™ initiative, which creates consistent, evidence-based processes.
"Reliable Care Blueprinting™ is Texas Health's approach to care design, which allows patients to have a reliable, quality experience during every encounter at a Texas Health facility," said Brandie Meyer, Texas Health's senior vice president of Strategic Transformation. "The process is designed to find ways to best support our patients both while they're being treated in our hospitals or by physicians in the clinics, but also so they can live their best lives at home."
Heart Failure patients receive the Zone Card checklist upon admission and it is reviewed daily to ensure understanding of disease-specific warning signs of exacerbation. It's also provided during Texas Health Southwest's monthly Heart Disease support group.
"When Mrs. McDonald told the support group how the Zone Card checklist played a major role in her husband receiving immediate medical treatment, that put all of our hard work into perspective," said Regina Harrison, Texas Health Southwest's Chest Pain/Heart Failure & Stroke program coordinator. "This is what we want to see happen — people recognizing the signs and symptoms of heart failure before it's too late."
Using verbiage created by the American Heart Association and the Heart Failure Society of America, along with referencing clinical practice guidelines, Texas Health's cardiovascular service team crafted the Heart Failure Zone Card. Detailing numerous heart failure signs and symptoms, the two-page document highlights three zones:
Green Zone — all clear, symptoms under control
Yellow Zone — warning, symptoms are cause for concern and warrant a call to the doctor
Red Zone — emergency, symptoms require immediate medical attention and calling 911
We don't want patients to veer off into the Red Zone," Harrison said. "We want to empower them and make sure they don't end up in the emergency room, or worse."
McDonald attends the monthly Heart Disease Support Group, on behalf of her husband Charles, who also suffers from a-fib and hearing loss. That's where she learned how to properly complete the Heart Failure Zone Card. Back in April, the McDonalds had collected about a week's worth of information.
"He'd gained close to five pounds in less than five days. His breathing was labored, and his ankles and feet were swollen," she said.
The wheezing, dizziness and unexplained weight gain were all tell-tale signs of heart failure. When the McDonalds arrived at Texas Health Southwest, he received intravenous diuretic therapy.
"It's a common practice in the emergency department, because the diuretics help to address the congestion-like symptoms of heart failure," said Dr. George James, a cardiologist on the Texas Health Southwest medical staff.
James said those symptoms, better known as pulmonary congestion, cause fluid to accumulate in the lungs, along with an abnormally low level of oxygen in the blood. If left untreated, heart failure can lead to death.
"Mrs. McDonald did the right thing. She recognized the symptoms and immediately got her husband the life-saving treatment he required," James said.
"Dr. James didn't say Charles was about to die, but I picked up on the urgency in Dr. James' voice," Carol McDonald said. "Plus, I could tell my husband was in distress — just hearing and seeing his labored breathing was cause for alarm."
Charles McDonald acknowledges that his illness is probably hereditary. Both his mother and one of his older brothers died from congestive heart failure.
"That's the same diagnosis I was given, but I seem to be in pretty good condition right now," he said.
The couple are forever grateful, and Carol McDonald said she'll remain a faithful attendee of Texas Health Southwest's Heart Disease Support Group.
"And this little piece of paper sure made a big impression on our lives. It is invaluable for heart patients and their family members," she said. "I have no doubt it helped saved my husband's life that day."
About Texas Health Resources
Texas Health Resources is a faith-based, nonprofit health system that cares for more patients in North Texas than any other provider. With a service area that consists of 16 counties and more than 7 million people, the system is committed to providing quality, coordinated care through its Texas Health Physicians Group and 29 hospital locations under the banners of Texas Health Presbyterian, Texas Health Arlington Memorial, Texas Health Harris Methodist and Texas Health Huguley. Texas Health access points and services, ranging from acute-care hospitals and trauma centers to outpatient facilities and home health and preventive services, provide the full continuum of care for all stages of life. The system has more than 4,100 licensed hospital beds, 6,400 physicians with active staff privileges and more than 26,000 employees. For more information about Texas Health, call 1-877-THR-WELL, or visit www.TexasHealth.org.