December 16, 2019
$270 million campus features innovative design features, numerous specialties for region's fastest-growing city
FRISCO, Texas — Leaders from Texas Health Resources, UT Southwestern Medical Center and the city of Frisco gathered Saturday afternoon to celebrate the grand opening of Texas Health Hospital Frisco, part of a $270 million health campus in the heart of one of the fastest growing areas in the country.
The 63-bed hospital, located on the Dallas North Tollway just north of Eldorado Parkway, expands Texas Health's hospital access points into Frisco and western Collin County. The 20-acre campus is a collaboration between Texas Health and UT Southwestern, which will have a medical office building that includes primary care practices and a multispecialty clinic. With the addition of Texas Health Frisco, Texas Health now has 27 hospital locations in the North Texas area.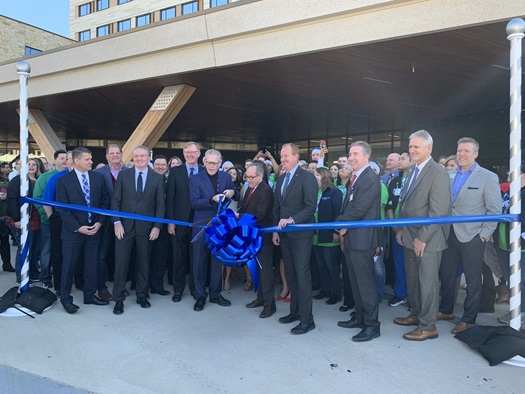 "We wanted to create a campus that was not only a premier destination for medical care but would also be a gathering place for the community, focused on the well-being of Frisco residents and those it serves in surrounding areas," said Barclay E. Berdan, FACHE, CEO of Texas Health Resources. "This reflects Texas Health's pledge to be a good member of the community and our Mission of improving the health of the people in the communities we serve."
Texas Health Frisco comprises 325,000-square-feet and includes a 24/7 emergency room, surgical services, women's services and a neonatal intensive care unit (NICU), in addition to the UT Southwestern medical office building.
"The Frisco medical campus represents an important next step in the relationship between UT Southwestern and Texas Health, building on the success of our clinically integrated network and long history of collaborating to improve health care in North Texas," said Dr. Daniel K. Podolsky, president of UT Southwestern. "Together, our two organizations will bring a constellation of services to create a very special health campus in this unique community."
The campus' medical staff includes independent physicians from throughout the area, UT Southwestern physicians, and members of Texas Health Physicians Group.
On the outside, the towering glass exterior and landscaping might seem more like a high-end hotel than a hospital, but hospital president Brett Lee says, "It's really what's on the inside that counts."
And Frisco residents have played a key role in almost every element of the facility's design and amenities, Lee said. "They've helped us create a customized health care experience, tailor-made to fit the community's needs."
Feedback collected from focus groups, city leaders and homeowner's associations informed decisions about the design of the campus. Demographic trends, census information and population growth patterns were also key components in designing the hospital's layout, which features rooftop patios, coffee shop-like waiting areas and chapels near patient areas, not tucked away in hard-to-find areas of campus, as is often the case in traditional, older hospitals.
The interior design takes full advantage of exterior views, bringing the outdoors in to help create a more peaceful experience. Natural lighting, oversized hallways and wide-open waiting areas all work together to help reduce the feeling of anxiety that often comes in a clinical environment.
The goal, Lee said, was to create a space that is "welcoming, warm and open."
Each floor of the eight-story hospital has a snack bar on both ends, charging stations for smart phones and accessories, and spacious, family-friendly entertainment areas furnished with comfy seating and big-screen televisions mounted on opposite walls.
A small nurses' station sits between every room, keeping caregivers close to patients. These "mini" stations are equipped with a privacy button. When pushed, the glass windows of a room instantly turn an opaque shade of gray, creating privacy for patients from busy hospital hallways.
"Our goal is to meet consumers exactly where there are in their health care journey, down to the very last detail," Berdan said. "We want Texas Health Frisco to be the consumer choice throughout that journey."
Designers also built the hospital and campus to be environmentally friendly. Pre-cast concrete facades on the hospital exterior absorb heat during the day, reducing demand for air conditioning. A self-sustaining irrigation system is fed by rainfall and excess condensation from the air-conditioning system. In addition, the native plant life on campus is sustained through an underground detention pond in the landscaped area of the parking lot, which was used instead of flood-water drainage basins typically seen near large commercial developments.
Labor in luxury
A key demographic emerged from the data that were collected during the design of the facility. About 1,000 people a month move to Frisco, according to Frisco.com, and the median age in the community is 36 years old. Overall, a third of residents are parents with children under 18 years old.
"That's why we designed a one-of-a-kind space for parents and their newborns," Lee said.
The 22 mother-baby suites, 12 labor-and-delivery rooms and eight-bed NICU are part of the hospital's robust services for women and newborns.
"We want this to be a place where the comfort and luxury you find at a hotel coexist with the important work of caring for patients," said Dort Foglia, B.S.N., M.S., Ph.D., R.N., NEA-BC, chief nursing officer at Texas Health Frisco.
In addition to mother and baby amenities, the hospital features an adult intensive care unit with 16 rooms and 14 rooms for medical and surgical patients.
Beyond hospital care: community connections
As leaders began to hire, they used behavioral interviewing to ensure new employees were the right fit for the hospital, which will start out with 227 caregivers and support staff.
Hospital leaders worked to find employees willing to pitch in and help, work outside of their job descriptions, wear multiple hats — but also have a heart for service. In addition to employees, the hospital has already had 30 volunteer applications and another 15 from high school students who want to serve as junior volunteers in the summer.
A robust community outreach program is already in motion at the hospital and includes collaborating with the Frisco Chamber of Commerce, the local school district, and nonprofits like the food pantry run by Frisco Family Services.
It's all part of Texas Health's vision to partner with communities for a lifetime of health and well-being.
"We want this to be a gathering place for the community," Lee said. "We're planning cooking classes and a community garden. We want people to come and have coffee here. I think that's the changing role of a health care provider. It's less about, 'We're the experts, come to us.' It's more, 'Let's partner with you.' That's our vision. We want to improve the well-being of people for generations to come."
About UT Southwestern Medical Center
UT Southwestern, one of the premier academic medical centers in the nation, integrates pioneering biomedical research with exceptional clinical care and education. The institution's faculty has received six Nobel Prizes, and includes 22 members of the National Academy of Sciences, 17 members of the National Academy of Medicine, and 15 Howard Hughes Medical Institute Investigators. The full-time faculty of more than 2,500 is responsible for groundbreaking medical advances and is committed to translating science-driven research quickly to new clinical treatments. UT Southwestern physicians provide care in about 80 specialties to more than 105,000 hospitalized patients, nearly 370,000 emergency room cases, and oversee approximately 3 million outpatient visits a year.
About Texas Health Resources
Texas Health Resources is a faith-based, nonprofit health system that cares for more patients in North Texas than any other provider. With a service area that consists of 16 counties and more than 7 million people, the system is committed to providing quality, coordinated care through its Texas Health Physicians Group and 29 hospital locations under the banners of Texas Health Presbyterian, Texas Health Arlington Memorial, Texas Health Harris Methodist and Texas Health Huguley. Texas Health access points and services, ranging from acute-care hospitals and trauma centers to outpatient facilities and home health and preventive services, provide the full continuum of care for all stages of life. The system has more than 4,100 licensed hospital beds, 6,400 physicians with active staff privileges and more than 26,000 employees. For more information about Texas Health, call 1-877-THR-WELL, or visit www.TexasHealth.org.