October 15, 2019
$300-million Justin Tower at Texas Health Fort Worth to open in 2022
FORT WORTH, Texas — Texas Health Resources joined with community leaders, caregivers, volunteers and employees today to celebrate the groundbreaking of the Jane and John Justin Patient Surgical Tower at Texas Health Harris Methodist Hospital Fort Worth.
The $300 million expansion project — the largest in the history of Texas Health — will add 144 patient beds, 15 surgical suites and new pre-operative and post-operative units to the Texas Health Fort Worth campus.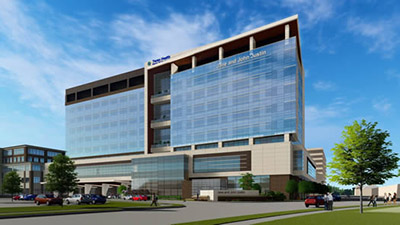 The expansion will help Texas Health Fort Worth, which has grown from a small community hospital when it opened in 1930 to one of the busiest medical centers in the state, meet the health care needs of Tarrant County residents and other fast-growing communities it serves.
"The new facility is needed, given the explosive growth in Tarrant County and surrounding areas," said Barclay Berdan, FACHE, CEO of Texas Health. "And while our system has been expanding our focus from solely sick care to working toward the health of our consumers beyond the walls of our facilities, we never lose sight of the vital part hospitals like Texas Health Fort Worth play in our care system. The need for hospitals and their dedicated caregivers will always remain."
Fort Worth ranks third in population growth of all U.S. cities, according to census data. The service area for Texas Health Fort Worth, which is routinely at maximum capacity, includes numerous other growing cities in the western part of the Metroplex. In all, the hospital serves residents from 41 ZIP codes with a population of more than 1.2 million people in four counties. Those communities are expected to grow by another 100,000 people over the next five years.
"That means we have to grow as well," said Joseph DeLeon, president of Texas Health Fort Worth. "Building this tower will allow us to meet the needs of these communities and achieve our vision of expanding specialty services, including trauma, neuroscience, transplant, and heart and vascular."
In addition to more inpatient beds, the nine-story tower will feature cutting-edge surgical suites that will accommodate advanced technologies and provide more space for the latest surgical equipment.
"Modern operating rooms have to be big enough for more than clinicians and the patient," DeLeon said. "ORs now house all kinds of equipment, from advanced imaging technologies to surgical robots to large microscopes. That's what makes today so exciting. Justin Tower will feature new patient rooms and treatment areas, along with the construction of modern surgical suites."
These surgical suites, which are twice the size of existing ORs, are expected to increase daily surgical capacity by 30 percent, reducing patient wait times. "This is about expanding our ability to provide complex procedures in a new, modern facility, which means patients can get world-class care right here in Fort Worth," DeLeon added.
Beyond the ORs, special attention has been paid to the layout and design of patient floors and public areas. Design elements will include the use of natural light, indoor and outdoor spaces for visitors, artwork and a home-like soothing environment. There will also be family-centered rooms so loved ones can stay close to the patients.
"Every element of this tower has been designed to provide reliable, quality care in an environment that fosters healing for our patients and comfort for their families," Berdan said. "The surgical suites will have the latest advancement in treatment technologies while design features, such as the layout of patient rooms, will bring patients and families close together during recovery. This is all part of putting consumers at the center of everything we do."
The surgical patient tower will include space for support services and two floors of shell space to accommodate future expansions. Additional parking will be added to the campus to accommodate current and future needs.
The tower will be named in honor of the Jane and John Justin Foundation's lead gift for the project, which reflects the Justin family's long legacy of giving back to Fort Worth, said Lynn Montgomery, a local business leader and chair of the Justin Tower Campaign Steering Committee. In the early stages of the philanthropic campaign, the Texas Health Resources Foundation has raised nearly $19 million toward its $50 million campaign goal.
"Philanthropy has been so important to the growth of this hospital campus for almost 100 years," Montgomery said. "Fort Worth families have taken pride in cementing their names in the rich history that is Texas Health Harris Methodist Hospital Fort Worth. This still holds true today as we embark on this new tower. We're humbled by the generosity of the community as they help us make this facility one-of-a-kind."
Texas Health Fort Worth is the sixth-busiest hospital in Texas and cares for more stroke patients than any other hospital in North Texas. It recently received the Joint Commission's Gold Seal of Approval and the American Heart Association/American Stroke Association's Heart-Check mark for Advanced Certification for Comprehensive Stroke Centers. The 720-bed hospital also ranks second in neurology and third in cardiology cases overall in Texas and is routinely ranked among the best hospitals in North Texas by U.S. News and World Report. Its trauma center, one of only two in Tarrant County, serves 23 counties west of Fort Worth.
"We're proud of the care we've provided over the decades, and we want to build on that by focusing on the future," said Dr. Douglas Lorimer, a surgeon and chief of the Texas Health Fort Worth medical staff. "That's what Justin Tower is all about. It's about the future of surgery and the future of medicine in Fort Worth and beyond."
Construction is expected be completed in late 2021 and the tower will open in early 2022. The building will be located on the east side of the main Texas Health Fort Worth campus.
About Texas Health Resources
Texas Health Resources is a faith-based, nonprofit health system that cares for more patients in North Texas than any other provider. With a service area that consists of 16 counties and more than 7 million people, the system is committed to providing quality, coordinated care through its Texas Health Physicians Group and 29 hospital locations under the banners of Texas Health Presbyterian, Texas Health Arlington Memorial, Texas Health Harris Methodist and Texas Health Huguley. Texas Health access points and services, ranging from acute-care hospitals and trauma centers to outpatient facilities and home health and preventive services, provide the full continuum of care for all stages of life. The system has more than 4,100 licensed hospital beds, 6,400 physicians with active staff privileges and more than 26,000 employees. For more information about Texas Health, call 1-877-THR-WELL, or visit www.TexasHealth.org.